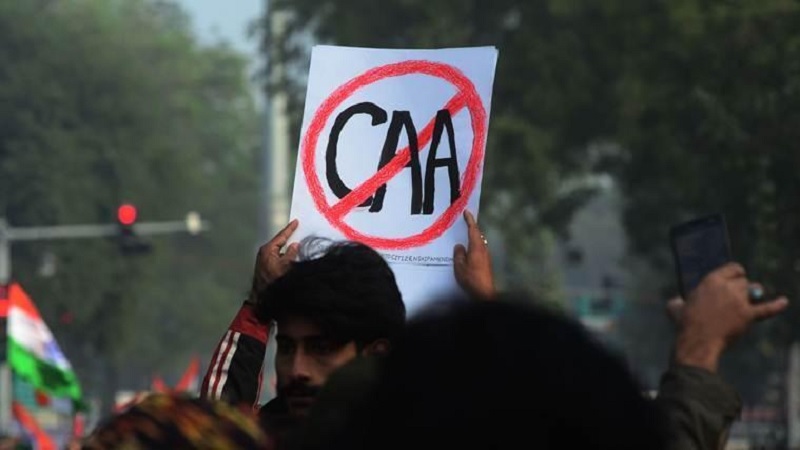 Image Courtesy:newsclick.in
On February 2, the second day of business of the Budget Session, the Ministry of Home Affairs (MHA) faced questions about Census, National Register of Citizens (NRC) exercise in Assam, as well as the controversial Citizenship Amendment Act (CAA) passed in December 2019.
MP V.K.Sreekandan of Congress Party, representing Palakkad, Kerala questioned the government on how soon it plans to implement CAA and whether the law remains ineffective without the Rules which are yet to be framed. To this, MoS MHA, Nityanand Rai in a written reply stated that CAA has come into force with effect from January 10, 2020 and the Committees on Subordinate Legislation, of both houses have been granted extension of time to frame the rules. The Lok Sabha Committee has time until April 9, 2021 and the Rajya Sabha committee has been given time until July 9, 2021.
The CAA was passed in Parliament in December 2019 amidst much opposition from members and citizens alike which was followed by nationwide protests led by students and people from different walks of life to raise their voice against the discriminatory law that seeks to facilitate grant of citizenship to non-Muslim people hailing from Afghanistan, Pakistan and Bangladesh who entered India seeking refuge.
Further, Abdul Khaleque of Congress, representing Barpeta, Assam, questioned why the final list of NRC in Assam has not been notified yet as per Clause 7 of the Schedule to the Citizenship (Registration of Citizens and Issue of National Identity Cards) Rules, 2003 despite publication of the final NRC on August 31, 2019. The written response of Rai stated that the apex court has directed the NRC state co-ordinator to apply the same security regime as for AADHAAR data, to NRC data on inclusions and exclusions, and hence only thereafter the same shall be notified and be made available to the State Government, Central Government and Registrar General India.
It is pertinent to note here that recently a plea has been filed and notice has been issued by the apex court to state coordinator Hitesh Dev Sarma as Jamiat Ulema-i-Hind has questioned why the final NRC is being reverified when the entire process was carried out under the close monitoring and scrutiny of the Supreme Court itself.
The answers may be read here:
Related:
NRC Reverification: SC responds to contempt petition, issues notice to Hitesh Dev Sarma
Government tries to dodge questions about NRIC, says no decision yet
SC allows declared foreigner to file review petition before Guwahati HC first