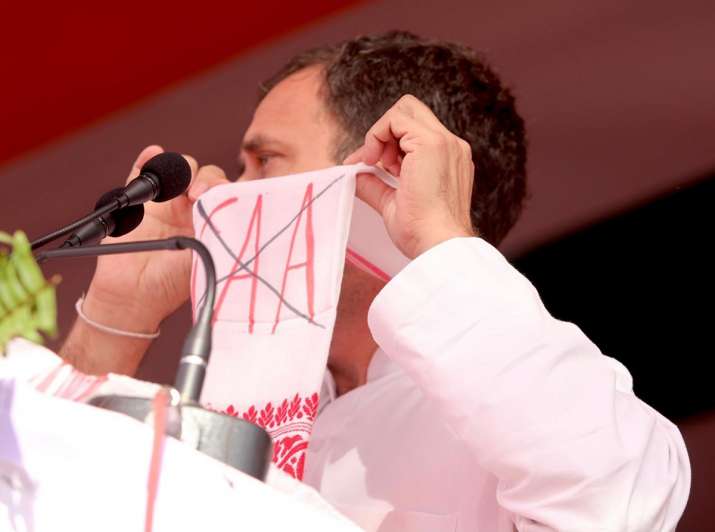 Image courtesy : CONGRESS/TWITTER

Rahul Gandhi has promised the people of poll-bound Assam that the Citizenship Amendment Act (CAA) would not be allowed. Speaking at a pre-poll rally in Shiv Sagar, Gandhi said, "whatever happens, the CAA will not happen. Hum do, hamare do, acchi tarah se sun lo, (CAA) nahi hoga, kabhi nahi hoga, (Us two, our's two, listen carefully, it will not happen, it will never happen)" reported The Telegraph.
The state of Assam that has its own violent history when it comes to the citizenship issue. The Assam Accord was signed in 1985 by Gandhi's father and former Prime Minister Rajeev Gandhi, after a six-year long agitation in the state that saw the killings of many student leaders who had been protesting the alleged influx of illegal Bangladeshi migrants into the state.
Gandhi said, "The Assam Accord is Assam's protector, it protects you.… First thing I want to say to you all on the Assam Accord, me and all Congress leaders will defend and protect the Assam Accord, will not move back an inch on the Assam Accord.… Influx is an issue and it can be resolved through talks."
Assamese people have raised concerns about a change to the demography of the state due to this alleged influx. This is why they fully supported the update of the National Register of Citizens (NRC) and the final NRC was published on August 31, 2019. However, they see the CAA as a threat because this allows the granting of citizenship to refugees from Bangladesh. The Assam Movement was never communal, the opposition was to all "outsiders" including Bengali Hindus from Bangladesh. This is why Assam saw some of the most vehement anti-CAA protests. Thus, Gandhi's stand against CAA is expected to allay fears of the state's citizens.
Gandhi also promised a hike in wages of tea garden workers. The minimum daily wage is proposed at Rs 365. Tea garden workers hail from 'tea-tribes' and are a special group of people in the state. They were brought in to work in Assam's sprawling tea estates by the British during colonial times. Many of them trace their origin to indigenous Adivasi and forest-dwelling communities from Jharkhand, Bihar, Madhya Pradesh, Chhattisgarh and Odisha. Many of them are gravely impoverished and unlettered.
Related:
Don't need Miya Muslim vote: Himanta Biswa Sarma