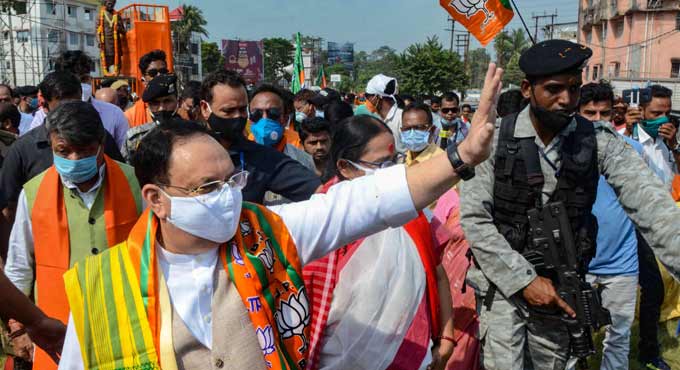 On October 19, BJP president Jagat Prasad Nadda addressed a 'Samuhik Samaj' meeting in Siliguri in West Bengal where apart from launching a volley of allegations against West Bengal Chief Minister Mamata Banerjee, he made one key announcement, that implementation of the Citizenship Amendment Act (CAA) would resume soon.
Nadda said, "The Act has already been passed. We were in the process of formulating necessary rules related to the Citizenship Amendment Act. It is because of Coronavirus that the process got delayed. But as the epidemic slows down, our work will gain speed."
It may be recalled that after the enactment of the CAA, protests had broken out against the law that linked citizenship to religion across the country. Anti-CAA protests took place across West Bengal and had turned violent in many places. The West Bengal Assembly has also passed a resolution against the CAA, making it the fourth state to do so after Kerala, Punjab and Rajasthan. Addressing the assembly at that time, chief minister Mamata Banerjee had said, "In Bengal, we will not allow CAA, NRC (National Register of Citizens) and NPR (National Population Register). We will fight peacefully…" She had further reassured citizens of her state, "I am your pahradar (guardian)."
In terms of poll preparation for the West Bengal assembly elections due next year, Nadda laid the groundwork against Mamata Banerjee accusing her of a "divide and rule" strategy in her state while his party under Prime Minister Narendra Modi was committed to "Sabka saath, sabka vikas, sabka vishwas (Supporting everyone, development for everyone, everyone's trust)".
Nadda appeared to be in relationship management mode and reiterated the party's commitment to different groups and communities including Gorkhas and Yadavs. "We are committed to providing recognition to 11 Gorkha tribes. When we come to power, we will fulfil our commitment to the 'Yaduvanshi Samaj' Development Board. I must remind you that it was only the Modi government that gave the Backward Commission Constitutional status."
Earlier in the day, he held meetings with party workers and asked them to protest the politicisation of the police by the Banerjee government.
Related:
JP Nadda filling in for Amit Shah again?
Modi-Shah to prepare the ground for Bengal elections
Chaos in Kolkata as BJP members clash with cops