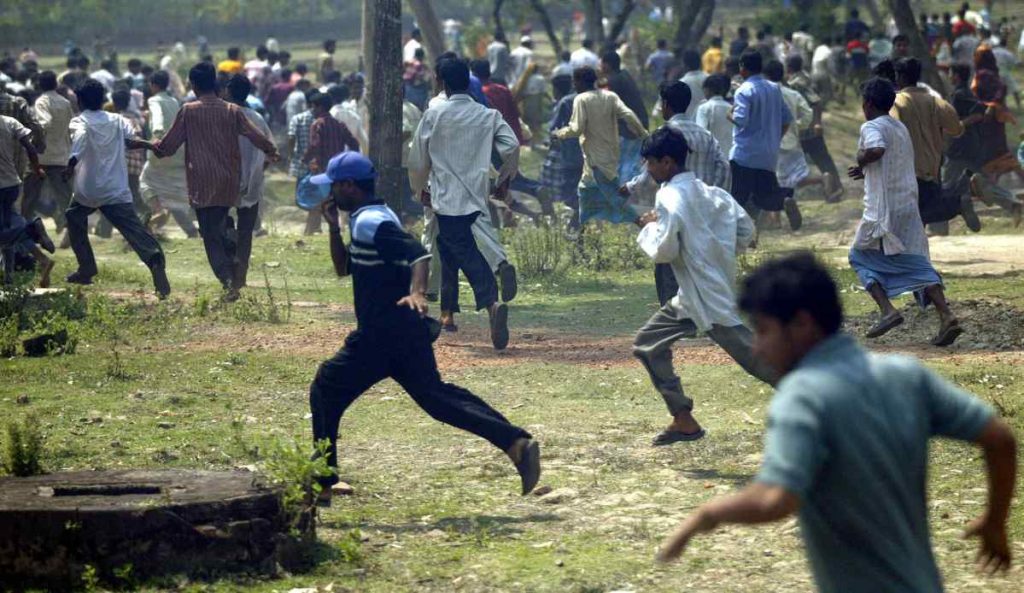 Image courtesy: Reuters
The Calcutta High Court has directed to maintain status quo with respect to 14 persons in as much as the execution of warrants against them by the Calcutta police in a case related to the reopening of old criminal cases against SK Supian in the Nandigram violence case. He is the Election Agent of West Bengal's Chief Minister Mamata Banerjee in the upcoming Assembly polls.
On March 5, the Calcutta High Court had had passed an ex-parte order on a PIL filed by BJP member Dipak Mishra, re-opening criminal cases against SK Supian in which he was discharged in February 2020.
The High court via its order dated March 5 had said, "… having considered the stereotype orders which are impugned in these writ petitions and looking into the contents of those orders, we are, prima facie, satisfied that exercise of judicial power in terms of Section 321 Cr. P.C. to grant consent to a prosecutor to withdraw has, prima facie, not been appropriately exercised. We make this cautious observation because the formation of opinion of a prosecutor to withdraw a particular case from prosecution is, itself, an activity which is regulated by the statute and the judicial precedents governing the field."
However, on March 26, Supreme Court Bench of Justices Indira Banerjee and Krishna Murari granted ad-interim stay against this Calcutta High Court order observing, "However, since the order which affects the petitioner, herein, has been passed without hearing the petitioner, we deem it appropriate to pass an order staying the operation of the order dated 05-03-2021, only insofar as it pertains to the petitioner viz. SK Supian, for a period of two weeks till date or until further orders of the Division Bench of the High Court, whichever, is earlier."
After the Calcutta High Court verdict on March 5, arrest warrants were also issued against Swadesh Das, Abu Taher Mohammad, Sankar Kumar Das, Tapan Gayen, Debabrata, Swadhin Mandal, Haripada Karan, Sudarson Das, Palash Karan, Chandan Pal, Subhendu Kumar, Brajagopal, Saiyam Kaji and Babul Akhtar.
All these 14 persons filed an application before the High Court Bench of Justices I.P Mukerji and Aniruddha Roy, seeking the stay of the high court's March 5 order, in pursuance of the Supreme Court order staying the operation of the former's order.
The Bench, today on March 31, ruled in their favour and said, "In view of the judgment and order of the Supreme Court in Special Leave to Appeal (Crl.) Nos. 2669 – 2670 of 2021 in State of West Bengal and Ors. –vs- Dipak Mishra on 26th March, 2021, we direct status quo, as of today, with regard to the applicants before us shall be maintained till 8th April, 2021 or until further orders, whichever is earlier."
Post this order, Advocate Ayan Poddar (appearing for one of the applicants) wrote to the Superintendent of Police, District Election Officer/District Magistrate and Officer-in-charge of the Nandigram Police Station to follow the directions issued by the Calcutta High Court today and refrain from proceeding with execution of warrants of arrest against all 14 persons.
Supian along with others had been booked for unlawful assembly and violence in relation to the 2007 Nandigram violence. These cases were based on charge sheets filed in the context of mass protests against improper land acquisition measures undertaken by the Government of West Bengal during the years 2007-2009 to create a Special Economic Zone (SEZ) in Nandigram.
The High Court order and Advocate's letter may be read here:
Related:
SC stays Calcutta HC order reviving Nandigram violence cases against Mamata Banerjee's Election Agent
Battleground Bengal: Nandigram emerges as new epicenter of violence