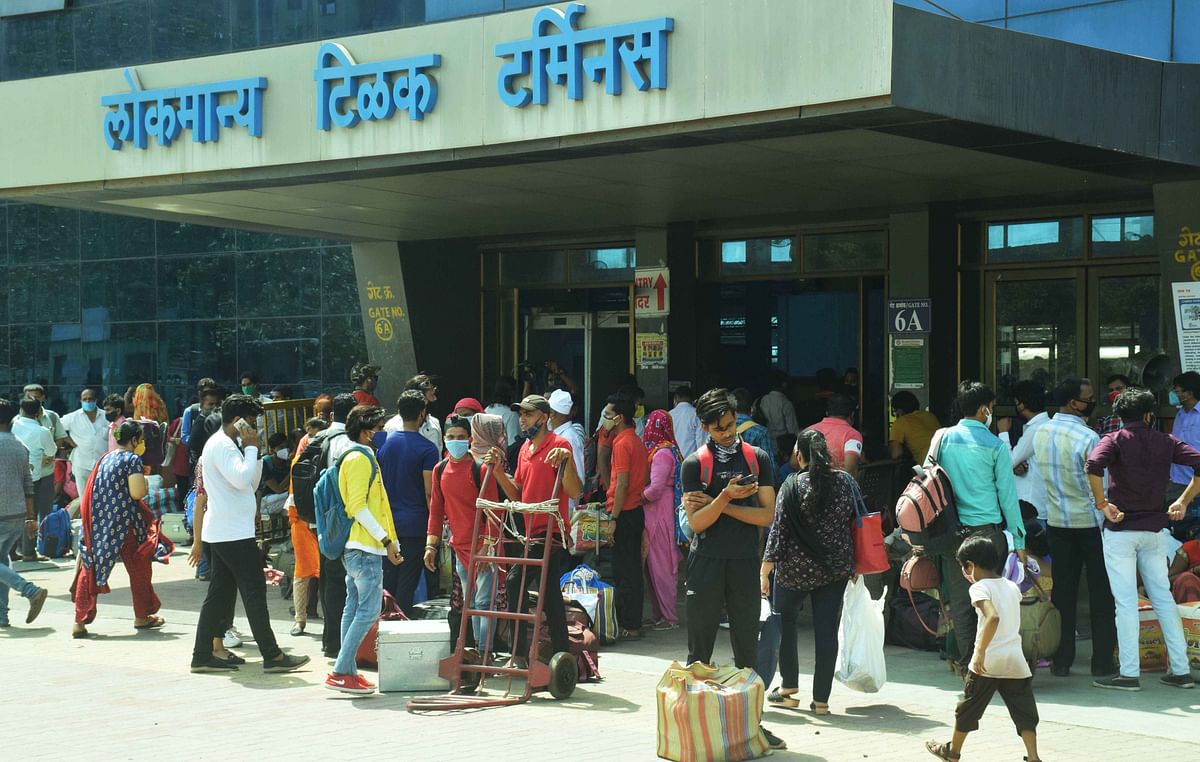 While there has been no official announcement yet, reports of scores of migrant workers packing their belongings and leaving cities to go back home to their villages have surfaced again. Fear of uncertainty, and trauma of being abandoned last year when the sudden lockdown was announced, are back to haunt migrant workers who had bravely returned a few months ago to the cities to rejoin work and rebuild their life.
A year has passed and the situation of the migrant worker seems to have remained as precarious as ever, if not worse. The only difference is this time around, many of them do not want to wait for a sudden announcement of a lockdown and have reportedly begun packing their belongings and heading back to the villages.
Multiple news reports have come in from cities across the country, from Mumbai to Delhi, of workers reaching train stations and bus terminals and boarding the commute back home to their villages. Last year, these were the areas where lakhs congregated, and many got stuck, often without food or shelters. Most were hoping to head back home to rural Uttar Pradesh, Bihar, West Bengal, Rajasthan etc. from the big cities where their workplaces had suddenly shut down. It was left to citizens groups such as Citizens of Justice and Peace (CJP) to provide food rations and essential supplies to thousands of migrant labourers who were stuck as the cities locked down. The volunteers reached out to close to 6,000 families of migrant workers hailing from Jharkhand, West Bengal, Odisha, Bihar, Rajasthan, and even those who come from far-flung villages in interior Maharashtra. Deliveries of food and other essentials were made across Mumbai, Navi Mumbai and Thane, despite challenges in procurement and transportation.
Migrant labourers were forced to choose between two extremely difficult options; continue to stay in cities where expenses kept mounting and income sources dried up, or go back home to their families in their villages, but face an uncertain economic future. Many chose to leave, and CJP's team of volunteers helped them get on to buses, trains, trucks so they could reach home safely. There were many more who were not so lucky, they had no option but to walk home. Many died on the way. 16 migrant workers run over by train in Aurangabad in May 2020.
The SabrangIndia-CJP series titled Migrant Diaries is a reminder of the ordeals the migrant workers were forced to face as they took an arduous journey back home, and some stories of those who stayed back. These stories of the most difficult days ever were reported by the migrant workers themselves.
Now, many fear they will have to relive the 2020 exodus. But this time they say they want to leave the big city well before the lockdown is announced. And the announcements of 'night curfews', 'weekend lockdowns', 'corona curfews' etc are just adding to the worry. According to news reports, in Maharashtra, trains at Mumbai's Lokmanya Tilak Terminus are now packed with migrant workers heading back to their villages. Congress leader Sanjay Nirupam told the media that the migrants fear that a lockdown will be imposed in the state due to rising Covid cases. However, he said the state government has no such plans as they "do not want businesses or small businessmen to incur losses."
Anand Vihar bus terminal right now. Migrants fleeing night curfew in Delhi & Noida. They are terrified they will be caught in another lockdown..
Has the Govt learnt absolutely nothing since last year?? #COVIDSecondWave #COVID19India (Photos by Gajendra Yadav) pic.twitter.com/jfncEAEmES

— Annu Jalais, PhD (@AnnuJal) April 8, 2021
According to a report in the India Today, in Delhi, many migrant workers have been coming to the Anand Vihar Bus Terminals to start the journey home to their native places. They do not want to wait for the sudden announcement of yet another lockdown. They do not want to be stranded in the city without jobs, shelter, money and food. Many migrants are daily wagers, many others work as domestic helps or guards. Some group housing societies in Delhi have once again begun restricting entry of domestics staff as cases continue to rise again in the NCR. The aim this time is "better to leave now than be stuck here again". According to the IT report, 50 percent of migrant workers in Pune, Maharashtra, are planning to go back to their home states due to the closure of hotels, bars and restaurants in the city.
Last year, people like Ganesh Yadav, chronicled their tough journey back home to Bihar. Once the CJP volunteers told him about the Shramik Special trains that were starting from Mumbai, Ganesh registered the next day. However this train journey from Mumbai to Danapur, Patna, that normally takes 18 hours, took almost 72. "The route was the same, but there were many stops and delays, it was exhausting," Ganesh was travelling with his wife and three young children.
Others like Hrudanand Behera traveled by bus all the way to Odisha. He recalled that en-route he saw something that still haunts him. "I sat near the window, and soon could see many migrants walking, and struggling to reach their villages."
The tragedy of the migrant worker exodus had just begun in 2020 when they began heading home by whichever means possible, around 97 migrant workers died on Shramik trains that the Centre ran, during Covid-19 in 2020. Union Minister Piyush Goyal recently referred to the data provided by the State Police stating that "97 persons have been reported dead while travelling on board Shramik Special Trains during Covid-19 situation/crisis." Shockingly, no financial assistance has been provided to the families of the deceased workers, as compensation can only be provided in cases of death or injury due to train accidents under the Railways Act.
According to a report in the Hindustan Times, migrant workers from Delhi, Maharashtra and Gujarat returning to their villages in Uttar Pradesh, Bihar and other eastern states, are taking trains packed to the brim. There is no way Covid-19 distancing or safety protocols are being followed on board the trains. The HT reported that on Friday, 17 workers from Mumbai tested positive for Covid-19 at Patna railway station. They were reportedly given the option to avail of government isolation facility or isolate themselves at home. According to the report the Railways is operating 16 special trains to Bihar from Maharashtra.
As reported, there has been no official announcement or indication from the Centre of any national lockdown so far, nor has there been an assurance that it will not happen suddenly as it did in 2020. However, for the migrant workers of India, the lack of a plan of action is scary enough.
Related:
Covid-19: 71 Vaccination centres shut in Mumbai, shortages reported elsewhere too
Political blame game continues as Covid-19 infections rise making India 3rd worst hit
Union Health Minister blames states, citizens for Covid surge