Khan has been consistently making comments about having friendly ties with India and said that citizens of both countries are ready to forget the past and build a shared future which takes the subcontinent to new heights.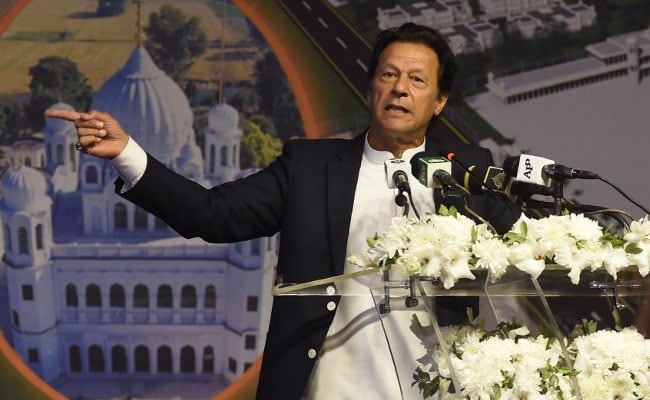 Kartarpur: No one would have imagined that a message of peace and friendship would have arrived in such a way and anyone would hear the words that Pakistan's Prime Minister Imran Khan said. Khan's speech at the inauguration of the much talked about Kartarpur corridor has left many stunned. What could be the implications of this move?

The much-awaited Kartarpur corridor will connect Darbar Sahib in Pakistan's Kartarpur, the final resting place of Sikh faith's founder Guru Nanak Dev, with Dera Baba Nanak shrine in India's Gurdaspur district and facilitate visa-free movement of Indian Sikh pilgrims who will have to just obtain a permit to visit Kartarpur.

Kartarpur Sahib in Pakistan is located across the river Ravi, about 4 km from the Dera Baba Nanak shrine. It was established in 1522 by Guru Nanak Dev who is believed to have spent 18 years here. The first Gurdwara, Gurdwara Kartarpur Sahib, was built here, where Guru Nanak is said to have died.

The historic corridor and its inauguration, besides leaving the domestic Punjab politics stunned, has left many feeling carefully optimistic.

Imran Khan's speech
"Both countries are nuclear armed. We both have atomic weapons…It is madness for such countries to think (of a war). Only a foolish individual can think one can win a nuclear war," he said. He said there are no winners in such a war, only survivors.


The past was a place to learn from and not to remain in, Khan said, adding that both sides have made mistakes in the past. "If France and Germany, which have killed millions of each other's people, can today be part of the same union with open borders and enjoy trade, it is because their political leadership decided they don't want to remain in the past."

"We have just one problem, Kashmir. If a man can walk on the moon, what problems are there that we cannot resolve? We only need determined leadership on both sides," he said.

His comment immediately drew a rebuke from India's external affairs ministry, which said it was unfortunate that Khan politicized a solemn religious occasion, and that Kashmir was an integral part of India.

Addressing pilgrims at the venue, Khan said, "The happiness I see in you today, if I were to explain to my Muslim brothers and sisters, is that imagine that you are standing 4 km outside Medina (a city in Saudi Arabia where the Prophet is buried) and cannot go in, and you are then given the chance to go. That is the happiness I see here."

He assured the Sikh community that facilities at Kartarpur Sahib will be even better for the 550th birth celebrations for Guru Nanak Dev next year.

Khan made an extended appeal for peace between India and Pakistan and said that there was a desire for peace from all sections on the Pakistani side and India should not be sceptical. "When I used to visit India for conferences, I used to be told that the Pakistani army will never allow for peace to take hold between the two countries. So let me tell you today. The government of Pakistan, the army, the political parties and the people of Pakistan are all on the same page. I have said it before and I'll say it again. If you (India) will take one step towards peace, we are willing to take two steps," he said.

Union minister Badal also made an international reference when she repeated Prime Minister Narendra Modi's evocation of the collapse of the Berlin wall. "If the Berlin wall could fall, so can the walls of hate between the two countries, if we make a new start in the name of Baba Nanak," an emotional Badal said.

The Akalis, who are BJP's partners in the state, are deeply grateful for the corridor and have thanked Pakistan.

None of this appeared to detain Khan, who laid down the political vision to achieve lasting peace in Pakistan in cricketing terms. "I played cricket for 21 years. And I encountered two kinds of players. There were those who were too scared to lose and played very safe. And then there were those who took calculated risks and led from the front. The latter were the kind that became champions. It's similar in politics too. There are politicians who divide people with hate for votes. And then there are those who are in politics to do right for their people. They are not going by popular sentiment. That is the leadership we need," Khan said.

Consistent with past speeches
It was surprising to see Khan talk about the poverty levels in both countries and mentioned the 'subcontinent' many times. It is no secret how much the subcontinent can achieve through peaceful borders and open trade, for Khan to pose this question to the India political leaders was unprecedented and historic. The last time someone from Pakistan really wanted better relations with India, he (Zulfikar Ali Bhutto) was killed by the Pakistan military.

He spoke about the stunted growth of children and providing jobs to the unemployed youth. He gave the example of China and how the country managed to bring '70 crore people above the poverty line in the last 30 years,' he said it was possible because of a visionary leadership at the centre.

His thoughts and ideas may seem news as the Kartarpur corridor news gains steam. He has remained consistent with his words in the past.

In this very old interview with Rajat Sharma in Aap Ki Adalat, he speaks about peace, friendship and brotherhood with India. This interview is presumably from a time when his party Tehreek-I-Insaaf was just formed.

"The people on both sides of the border are tired of this conflict. As Dr. Manmohan Singh said, there is something stopping the subcontinent from going forward. We have hardliners on both sides who take advantage of this hatred and come to power. It is easy to get votes based on hate and difficult to get it through love. Two atomic nations are pointing the guns at each other on the border and the whole progress of the subcontinent is on hold," he said.

In a recent interview after he became the PM, he reiterated the need for peace with neighbours. "Pakistan needs peace and stability. The decades after 9/11 brought a lot of turmoil to the country. It was a war we had nothing to do with. Our tribal areas were devastated and tribes were internally displaced. We lost 80,000 people. We lost 100s of billions of dollars to the economy. Because of the instability and war, investment dried up. Unfortunately, due to the election year, the Indian politicians have rebuffed our hand of peace. Sadly, anti-Pakistan rhetoric gets votes. We will resume peace talks after the elections are over in India. We would rather have money diverted to our human resources than contributing to the arms race. In Pakistan, there is a complete consensus amongst all stakeholders that what our country needs are peace and stability and we will do whatever it takes to bring in more investments and reduce poverty," he said.

Hilary Clinton had attested to the fact that the USA had created Al Qaeda in the subcontinent and left them there after their mission against the Soviet Union was accomplished.

His speech at the inauguration of the corridor came just days after India marked the 10-year anniversary of the Mumbai terror attacks which left 166 people dead and were carried out by a militant group based in Pakistan. The 2008 attacks dealt a critical blow to relations between the neighbours.

A new puppet from the military?
Many believe that he is an army stooge. They also say that even if he is honest, will the military allow for peaceful relations?

He had recently said that small men in big offices in India weren't allowing the friendship to bloom and received backlash for it. He repeatedly called for visionary leaders who can look at the 'big picture' instead of petty quarrels.

Leading up to 25 July 2018, the day when Pakistan went to polls, it was clear as day that Khan was a Pak military puppet like many others before him. The Pakistan military did not want Nawaz Sharif-led PML-N to return to power. Nawaz Sharif had challenged the military hegemony over foreign and domestic policy when he was the Prime Minister in the last government.

"Sharif had a fall out with the Generals due to a number of reasons, especially with regard to Sharif's vision of trying to improve relations with India. He also wanted civilian supremacy to prevail, and tried to initiate a treason case against General Pervez Musharraf, the former Pakistani Army Chief, and the country's last military dictator, who ousted Sharif's government in 1999 in a coup," reported Quint.

The Al Qaida-linked Harkat-ul-Mujahideen (HuM) terror outfit, initially funded by the USA, also announced their support for Khan's Pakistan Tehreek-e-Insaf (PTI) in a Facebook post which had the group's leader posing with a PTI candidate in the picture. USA has now branded this outfit as a terrorist organisation.

Maulana Fazal ur Rehman Khalil, the alleged leader of HuM is an Islamabad-based cleric accused by the USA of plotting terror attacks in Pakistan, Afghanistan and India and of nurturing close links with Osama Bin Laden, who was killed in Pakistan's northern city of Abbottabad during a raid by US special forces in 2011.

Imran Khan invoking religion in his first speech after winning elections reminded of Zia-ul-Haq's speech in UN invoking religion that made him popular among the right-wing Pakistanis.

Questionable takes on feminism
Imran Khan was seen as a progressive and liberal whose promise of a 'Naya Pakistan' had the masses feeling optimistic. It was not to be as he began pleasing the extreme religious factions. He consistently speaks for the patriarchal system that benefits him.

During an interview with a Pakistani television channel, he said that Western feminism had degraded the role of mothers.

"A mother is the biggest influence in her child's life," Khan said in an interview with Hum News. "I disagree with the Western concept of feminism; it has completely degraded the role of a mother."

In the book which also bears her name, Khan's former wife and TV presenter made serious allegations against Khan, including accusations of sexual misconduct and harassment.

In an exclusive interview to CNN-News18, Reham Khan said in the book she reveals instances of rampant sexual coercion and use of sexual favours for political gains within the ranks of Pakistan Tehreek-e-Insaf.

Imran Khan might be walking on a tightrope here because the Pakistani parliament has never been fully independent of military influence. One of the earliest demands by the Prime Ministers of Pakistan was to allow full transfer of power. Pakistan is also a highly divided society with sectarian, regional and lingual differences. The political alliances are as unpredictable as the Indian political circus.