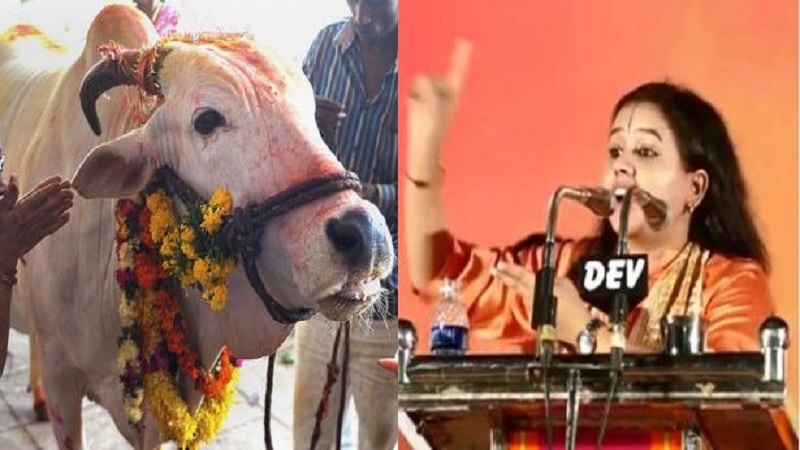 Image Courtesy:pragnews.com
Vishwa Hindu Parishad (VHP) leader Sadhvi Saraswati has once again made it to the news by asking Hindus to "buy swords and keep them at home to protect cows." According to her, if people can buy phones worth a lakh, they can also buy swords "to protect cows from those who slaughter them."
Her words seem to be a call to violence against a minority community. Saraswati was speaking at the Hindu Sangama programme organised by the VHP and Bajrang Dal at the Karkala Gandhi Maidan on Sunday, December 12. According to local news reports Saraswati said, "Across the world 'Gau Matha' (mother cow) is respected, but in Karnataka, the cow is killed for meat. Such slaughterers have no right to live in this country. Cows are being stolen from the cowsheds of Hindus showing arms. We all should carry swords to save the Gau Matha."
Controversial statement by Vishwa Hindu Parishad leader Sadhvi Saraswati in Karkala :Buy swords & keep them at home to protect cows.
Says when people can buy phones worth a lakh they definitely can buy swords & keep it at homes to protect cows from those who slaughter them. pic.twitter.com/twQLAayYHL

— Deepak Bopanna (@dpkBopanna) December 13, 2021
She seems to have rehashed her 2018 script, when she had reportedly said, "Love jihadis and cow slaughterers of Kerala should have their throats slit". According to a 2018 report by New Indian Express, Saraswati, who is also the president of Sanatan Dharma Prachar Seva Samiti, was addressing audiences at the Virat Hindu Convention, organised by the VHP and the Bajrang Dal at Badiadka.
Saraswati's vitriolic speech had then called on Hindus to take up arms and "start a revolution if the country and the religion had to move forward." Then too she had used the 'expensive phone' analogy and reportedly said, "If you can spend Rs 1 lakh and Rs 50,000 on phones, you should also spend Rs 1,000 on a sword and keep it at home."
Fast forward to Karkala in Udupi, Karnataka, December 2021. Saraswati has decided to incite possible violence the community by using the "sacred mother cow" as a focal point. She claimed, as reported by the news portal Mangalorean.com, "Cows are being stolen from the cowsheds of Hindus showing arms. We all should carry swords to save the Gau Matha," adding, "Some anti-nationalists are praising Tippu Sultan in Karnataka. We should protest against them. Government should bring strict laws against Cow slaughter, Conversion and Love Jihad. Bhagavad Geeta says that every soul is the child of God and every life is divine. Bharat Matha is our land. We should fight against love Jihad and put an end to cow slaughter."
Recently, Rajeev Brahmarshi, a man aspiring to be a Hindutva leader had announced on his Facebook page, "Weapons will reach every corner of #Hindustan." He claimed he had started the supply in November for Begaluru. A "Public Figure", Brahmarshi's page has over 62,000 followers. "I have started sending weapons to every house of my Hindu brothers in every corner of the whole of India. There is a weapon in the hands of my deities, keep weapons in the temples," he had claimed.
On Monday December 13, Karnataka Chief Minister Basavaraj Bommai announced that the Bharatiya Janata party (BJP) government will bring laws "that are good for the people and in the larger interest of society," adding that "every law will have pros and cons and there will be discussions. But, what is good for the people would be made as a law. We are ready to discuss the new law in the session."
Related:
Karnataka's Right-Wing groups most active against Christians ahead of State Assembly meet
Hate Watch: Are swords being sent to Hindutva groups?
Hate Watch: Dalit worker's hand chopped for seeking wages in MP
Is Nihang leader Baba Aman closely connected to Agriculture Minister Tomar?