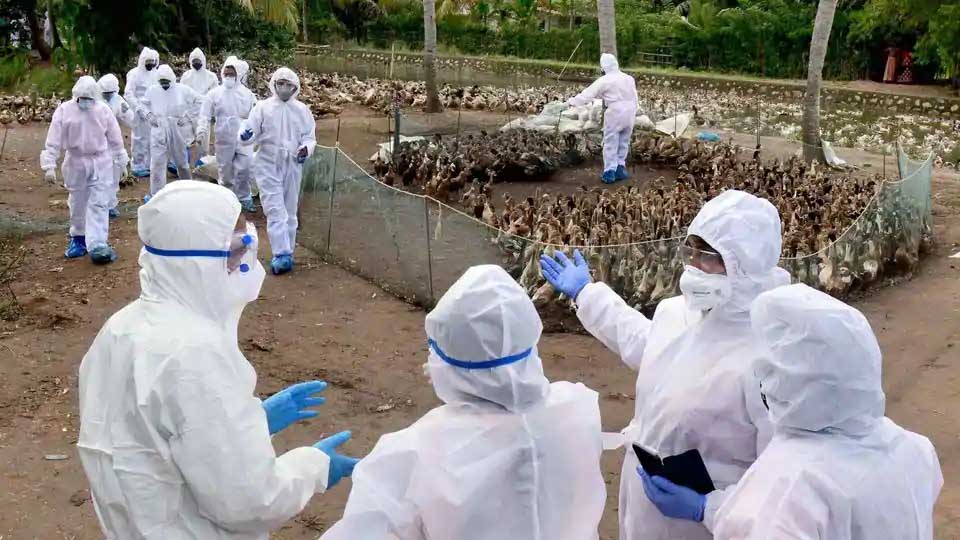 Cases of Avian Influenza are being reported from as many as eight Indian states; Kerala, Himachal Pradesh, Madhya Pradesh, Uttar Pradesh, Odisha, Punjab, Haryana and Rajasthan. A central team visited Alappuzha in Kerala, which is the worst affected region.
In a statement released, the Ministry of Health and Family Welfare said, "The Ministry of Health & Family Welfare has deployed multi-disciplinary teams to Avian Influenza affected Alappuzha and Kottayam districts in Kerala, and Panchkula District, Haryana." It added, "The Department of Animal Husbandry on 4th January 2021 notified detection of Avian Influenza (H5N8) in samples of dead ducks from Alappuzha and Kottayam districts in Kerala. A similar report of Avian Influenza has also been received from poultry samples from Panchkula District of Haryana."
MoHFW further said that it had dispatched two multi-disciplinary teams comprising experts from National Center for Disease Control, National Institute of Virology, PGIMER, Chandigarh, Dr. RML Hospital, New Delhi and Lady Hardinge Medical College, New Delhi to the affected districts on January 4, 2021 to assist the State Health Departments in implementation of the Ministry's Avian Influenza containment plan.
The Ministry further said, "So far, no human case of Avian Influenza has been reported. Ministry of Health & Family Welfare continues to keep a strict watch over the evolving scenario."
So far, over 3000 migratory birds have been reported dead in Himachal Pradesh, while several crows were reported dead in UP's Sonbhadra district prompting authorities to check the birds for the H5N8 virus as per media reports. Crows and cranes are also reported to have died in Punjab's Gurdaspur district and Haryana's Jind district. Culling of birds is underway in Karuvatta, Pallippad and Thakazhi in Kerala, reported The Times of India. Rajasthan has reported bird fatalities of around 300 every day for the last two days. Samples taken from Jhalawar, Kota and Bran were found to be H5N8 positive, reported Hindustan Times. Poultry birds were found dead in Odisha, though authorities say that the dead poultry birds did not show signs of H5N8.
According to the Mayo Clinic, "Bird flu is caused by a type of influenza virus that rarely infects humans. More than a dozen types of bird flu have been identified, including the two strains that have most recently infected humans — H5N1 and H7N9. When bird flu does strike humans, it can be deadly."
Avian flu fears have been compounded due to the prevailing Covid-19 pandemic, though the H5N8 strain is considered less pathogenic i.e of lower risk of spreading to humans as compared to the lethal H5N1. According to the World Health Organization (WHO), "Human infection with the A(H5N8) virus cannot be excluded, although the likelihood is low, based on the limited information obtained to date."