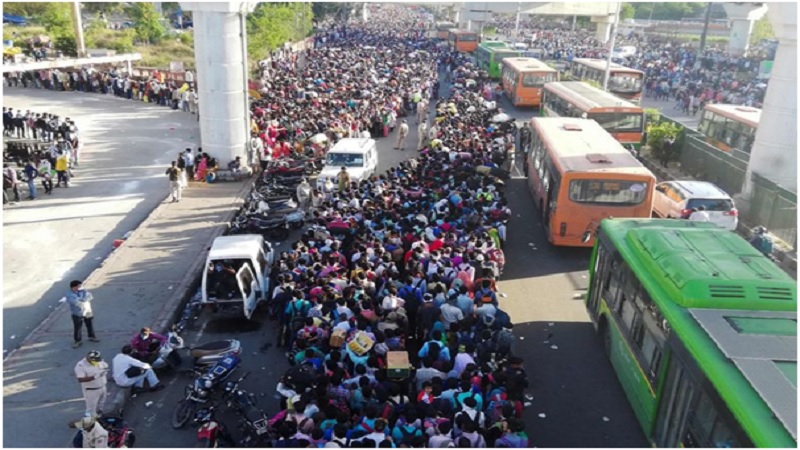 Image credits: Reuters
Description: Migrant workers line up at Anand Vihar Bus Terminal awaiting transport to take them back to their villages.
A picture is worth a thousand words, and in the recent weeks we have seen too many pictures that can shake us to the very core. The numerous heartbreaking images of migrant workers walking hundreds of kilometres to their villages should make any country hang their heads in shame. However, the events unfolding in present day India are leading many to realize that caste and class privileged India has no shame. Be it certain hate spinning media who cannot get their heads out of the gutters of communal hatred generation machines that their news channels have become, or the rich and famous showing complete apathy to the plight of India's economically disadvantaged population, or those who actively used their privilege to avoid quarantines while migrant workers were sprayed with disinfectant as they were made to crouch on the streets in an appalling show of dehumanization.
India has lost its façade of dignity and pride as the worst caste, class, and religious prejudices have been laid bare. Painful pictures are now coming forward from the aftermath of the "disinfectant" spraying which has been proved to be the very harmful chemical- bleach, and was supposed to be used for disinfecting buses. This powerful painting made by Rakesh Sarkar sums it up:
Painting by Rakesh Sarkar depicts the difference in treatment of people who land at an airport vs the migrant workers.
There is also a caste undertone to this incident. Dalits being treated in inhuman and demeaning ways by administrations and governments even in 2020 during a Pandemic is exactly why their lack of representation in decision making positions is still an issue. This is why caste is still an issue, and affirmative action and sensitization is needed in an even greater degree.
The biases of cis-Brahminical-Patriarchy are quite evident in all the measures that are being taken to fight the CoronaVirus Pandemic. Transpersons who were already suffering because of the discriminatory and atrocious Transgender Persons' (Protection of Rights) Act and NRC/CAA which would throw their gender identity and citizenship in crisis, are now struggling to make ends meet during the hastily implemented lockdown as their main source of earning has been begging- whichwas not just because many of them have not received opportunities to skill themselves for jobs, but also because even the skilled transpersons cannot find paid work in any field due to discrimination and bias. Now that the lockdown is in effect, many are left without their daily income. It seems as if leaders only address a certain section of people while they talk endlessly about "work from home". Not everyone has that luxury. It seems as if the powers that be are blind to the homeless, the sanitation workers, the daily wagers, the doctors working without PPE, the disabled, the chronically ill, the elderly, the destitute, the sex workers, or pretty much anyone who is not the typical middle-class household with a "balcony" to stand in.
A section of Brahmins on social media have also been making light of the practice of "Untouchability", waxing eloquent about the advantages of the age-old practice when social distancing has become the way of this new world. This is a disgusting and dangerous precedent to set. Untouchability and caste discrimination are cruel and hateful practices that can have no place in society. Caste atrocities, even verbal, even "memes" and "jokes", are still atrocities.
While complete mayhem rages on social media, caste erasure and appropriation are also alive and thriving. The example of Badshah vs Ratan Kahar is disturbing and hurtful. Badshah recently released the visibly misogynistic and objectifying video for the song Genda Phool, with Bengali lyrics thrown in from a Bengali folk song that was originally written by Ratan Kahar in the 1970s. When the world is relying on art to carry their mental health through this extremely difficult time, Caste privileged artists like Badshah are still busy appropriating Dalit art and then blatantly denying and even demeaning Dalit art. The plagiarism argument is ongoing, but the issue is also about the misuse of the context of the lyrics. "Boroloker biti lo…" is a song that talks about a single mother telling her daughter that she has a rich (upper caste) father who has apparently abandoned/failed to acknowledge them and that the daughter looks like her father. Then she sings about wanting to adorn her daughter's long hair with a red Genda flower. The historical and cultural context of Dalit women exploited/abandoned by upper caste/wealthy men has been completely erased and misappropriated as a sexually objectifying song by Badshah and the fact that this is happening during a Pandemic, precluding any legal recourse for the wronged artist, is the cherry on top.
While all of this unfolds, some are shocked, some have thrown themselves into relief efforts to meet the gaps of Government aid, and some simply do not care, others are busy spinning superstitious fake messages on WhatsApp. Whether it is calculating the meaning of 9PM and 9 minutes designated for the April 5, 2020 Diya/candle lighting, or claiming that Prince Charles was cured because of Ayurveda (claimed by Union Minister of State for AYUSH Shripad Naik, no less)- all of which has been debunked– the WhatsApp University is in overdrive to mislead and distract people. We have already seen the devastating results of misinformation when people came out in large crowds on the day of Junta Curfew (March 22, 2020) and made a mockery of social distancing, leading to possible large-scale transmission of CoronaVirus, which is slowly becoming evident in the rising number of cases. The danger of fighting a battle with COVID-19 while fighting the battles of caste, class, and superstition, is becoming double jeopardy for India. With media fanning the flames of communal tension, and rampant misinformation creating panic and retaliation against doctors, the informed citizen wonders which fire to put out first.
Reader, I do not have the correct answer, and there is no single answer to this issue. All we can do is call out these harmful acts and practices wherever and however possible, and show our support in whatever way we can. Empathy can build a better India. We just need more people to practice it. We need more people to come forward and fight these ever-raging micro battles so we can fight the bigger threat of COVID-19 as a country.
Related articles:
Hate Pandemic: Minorities unfairly targeted as 'corona carriers'
Dealing with Corona Virus: No place for blind Faith
Corona's mirror
Analysis: SC order on plight of migrants and related media reportage