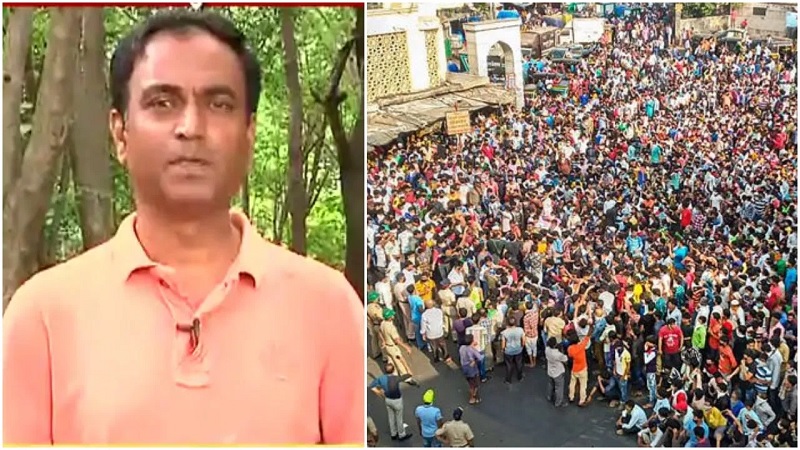 Image Courtesy: opindia.com
Rahul. Naam toh suna hee hoga? Though he's the namesake of many characters played by superstar Shah Rukh Khan, Rahul Kulkarni might not be a journalist many outside Maharashtra know. Others might be interested in knowing that this "television journalist" with ABP's Marathi subsidiary ABP Majha was the one who had 'broken' the story that Rahul Gandhi was contesting elections from Osmanabad in the 2019 general election.
Seven years earlier, in 2012, Kulkarni had claimed he had influenced NCP supremo Sharad Pawar's decision to not contest the parliamentary polls from the Madha parliamentary constituency and retire from electoral politics. These are just two of his many exclusives debunked as 'fake news.'
Kulkarni was arrested by the Mumbai Police along with 10 others on April 15th "for misleading people with his false reportage that led to migrant workers gathering in Bandra on 14 April demanding to be sent back to their home towns." The misleading report by Kulkarni had "played a part in the rumour mongering" that led to nearly 2,000 alleged migrant workers assembling in Bandra on April 14th despite a nationwide lockdown in the country.
An FIR was then lodged against Kulkarni, in this regard for misleading people with his false reportage. The police said that the video report was incorrect while arresting Kulkarni under various sections of the IPC and the Epidemic Act 1897.
After thousands of migrants gathered at a Mumbai's Bandra railway station reportedly after hearing on TV that train services were being resumed, the TV Channel, ABP Majha had been issued a notice yesterday, for proceedings under NBSA regulations as well as criminal legal action under Indian Penal Code, 1860, for broadcasting fake news and inciting public disorder.
A day of detention later, Kulkarni was granted bail. He came out of the Bandra police station to go live on his channel claiming this was a victory for free speech, media's right to tell the truth, etc. The fact that none of the charges against him have been dropped did not seem to matter.
Of course, people with much more serious misdemeanours and crimes to their record are sitting in positions of power having twisted the legal process, so it was not really surprising that Kulkarni got bail.
One would say he is lucky. Especially when you contrast this with how intellectuals/activists who questioned authorities were treated by the Devendra Fadnavis government? Readers may recall how the Pune city police had come under international scrutiny for arresting five activists — Varavara Rao, Sudha Bharadwaj, Vernon Gonsalves, Arun Ferreira, and Gautam Navlakha — from different parts of the country for allegedly being 'Maoist supporters,' under what is now known as the Elgar Parishad case. Among the many who raised questions on the police's high-handedness is the architect of the current alliance in power in Maharashtra and NCP supremo Sharad Pawar.
As early as December 2019 Pawar had termed the arrest of activists in the Elgar Parishad case "wrong" and "vengeful," demanding a Special Investigation Team (SIT) under a retired judge to probe the Pune police action. He had called for the suspension of police officers involved with the arrests. "It is wrong to imprison the activists on the charge of sedition. Voicing extreme views is allowed in a democracy. The action of the Pune Police is wrong and vengeful. It is a misuse of power by the police commissioner and some of the officers. They had attacked the basic freedom of people and one cannot be a mute spectator to all this," the Maratha satrap had said.
To come back to Kulkarni, who knows how this will pan out. The Narendra Modi government in the Centre might want to transfer this case too to the National Investigation Agency like the Bhima-Koregaon case and make it out to be that there is no case at all.
Fora like Broadcast Editors' Association (BEA), the Mumbai Press Club have come out quick to denounce Kulkarni's arrest and even demanded that all charges be dropped. This brings back memories of when the Anna movement had driven the UPA government up the wall in 2011. The media had almost unitedly pitted its might with the movement to question those in power. Interestingly this is only possible when the BJP is in Opposition. When the saffron party is power, apart from the few exceptions one can count on the fingers, most media is happy to crawl even when all that they are asked to do is bend.