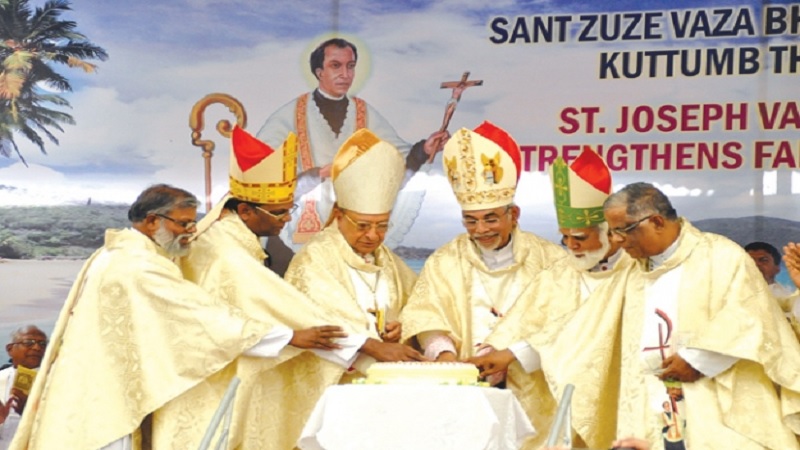 Image Courtesy:heraldgoa.in
In the wake of alleged threats by right-wing groups, ahead of the January 16 Feast of St Joseph Vaz, the Catholic Association of Goa (CAG) has urged law enforcement authorities to ensure peace and harmony that is allegedly being threatened by some right-wing elements near the Our Lady of Health Church in Sancoale area.
According to a news report in Heraldgoa, the CAG president Emidio Pinho has written to the government and Goa Police, and also requested the public not to fall prey to the "false propaganda carried out by individuals/groups". The CAG has stated that they "hope that the law enforcement authorities (Civil as well as Police) will take the necessary steps, either preventive or protective, to ensure peace and security during the ongoing novena and the feast of St Joseph Vaz and that stringent action will be taken on individuals or groups that are hell-bent on taking law in their own hands."
The traditional celebration of the Feast of St Joseph Vaz at the Sancoale church is scheduled to be held on January 16, 2022. However, the CAG fears that some "right-wing outfits might create mischief" resulting in communal disharmony in the poll bound state. "Goa being in the din of Assembly Elections these days, there is also a high possibility of vested political interests fomenting these flames for political mileage and polarization. The law-enforcement authorities must, therefore, come down heavily on such elements that create enmity and conflict amongst the people and communities without any fear or favour," stated the letter.
What is the threat?
A few days ago, according to the local media reports, right-wing groups had issued "video warnings" against the Novenas and Feast of St Joseph Vaz being held on what they claimed is a protected archaeological site. According to the Herald report, the Sancoale area was tense after a video went viral where "a rightwing outfit member is seen forcing the Archives and Archaeology employee to stop the Novenas and Feast of St Joseph Vaz, which take place at the Frontispiece of Sancoale Church." The man was purportedly ordering the employee to "tell the police or the collector to pass an order and stop the services," and threaten him saying, "If you don't stop, we will stop (you)."
According to the right-wing man, who is yet to be identified, "No structure can be built within 100 meters of the archaeological site and a chapel that has been built should be demolished." He reportedly warned the government employee that his group will take action, "Now we are telling you peacefully and, in a language, known to you, otherwise we will have to use another language."
Hindutva on the rise in the poll-bound state?
While addressing a gathering at Goa Liberation Day celebration on December 19, 2021 Prime Minister Narendra Modi had claimed that Goa came under Portuguese domination around the time when many parts of India was under Mughals. "Portuguese came to rule in Goa when other parts of the country were ruled by the Mughals. After that the country witnessed many political storms and changes in power, but despite all the changes in politics, Goa did not forget its Indian identity, nor did India forget Goa," said the PM.
However, this claim was proven incorrect by fach checkers and historians. A report in FactChecker debunked the Prime Minister's claim and found that "the Mughal empire was established at least over a decade after the Portuguese colonised Goa." In 1510, the Portuguese had defeated the ruling Bijapur kings with the help of a local ally called Timayya and set up a permanent settlement in Velha Goa (or Old Goa), according to the website of Goa's Department of Information and Publicity, stated the report.
However, facts do not matter to right-wing forces for whom this "indian identity" invoked by the PM, is often read as Hindu identity and this in turn is then used by Hindutva forces to fuel propaganda against Christians, Muslims, Sikhs and others.
Assertion of religious identity essential for poll win?
Goa with 40 seats will go to polls in a single phase on February 14. Incumbent Chief Minister Pramod Sawant of the Bharatiya Janata Party is now donning his religious identity with pride.
Attended Shrimad Devi Bhagwath Puran organized by Union Minister Shri @shripadynaik ji and family at his residence in Adpai. Sought blessings from Vedmurti Vivekshastri Godbole ji and Vedmurti Ganesh Salaskar ji. pic.twitter.com/ZvpyfFcYiE

— Dr. Pramod Sawant (@DrPramodPSawant) January 11, 2022
With blessings of the Almighty, I begin my campaign for @bjp4goa. I sought blessings & prayed for the success along with good health and safety of every Goan. Let us together work towards development of Goa. pic.twitter.com/h7BTA1XsKI

— Dr. Pramod Sawant (@DrPramodPSawant) January 9, 2022
This is not new however, he had remarked in December that temples destroyed during Portuguese rule need to be rebuilt in the 60th year of Goa's liberation. He was speaking at an event at the Mangueshi temple, an important pilgrimage destination, reported Indian Express.
Sawant had said, "Some temples that were destroyed during the Portuguese rule were rebuilt by our ancestors and now the government also has helped in beautification of some of these temples — like the Mhalsa temple in Verna, It is among the country's temples that were destroyed and rebuilt. This is a matter of pride for Goans," adding, "I ask you to once again preserve Hindu Sanskriti and Mandir Sanskriti (Hindu culture and temple culture). I ask you to give us the strength to rebuild these temples."
One of those in charge of Bharatiya Janata Party (BJP) campaign in Goa is its National general Secretary Chikkamagaravalli Thimme Gowda Ravi aka CT Ravi the latest partyman to invoke the "desh ke gaddaro ko goli maro!" (shoot the traitors) slogan. The 'goli maro' slogan was first made famous by his fellow partyman Anurag Thakur and Parvesh Verma in January 2020, ahead of the Delhi Assembly elections held in February that year.
Related:
Minorities Commission forwards CJP's complaint against Tejasvi Surya Bengaluru DGP
With her poll strategist this time, Didi might be missing the wood from the trees!
Assembly election dates announced for five states
Dharma Sansad an attack on India's Constitution: Open letter