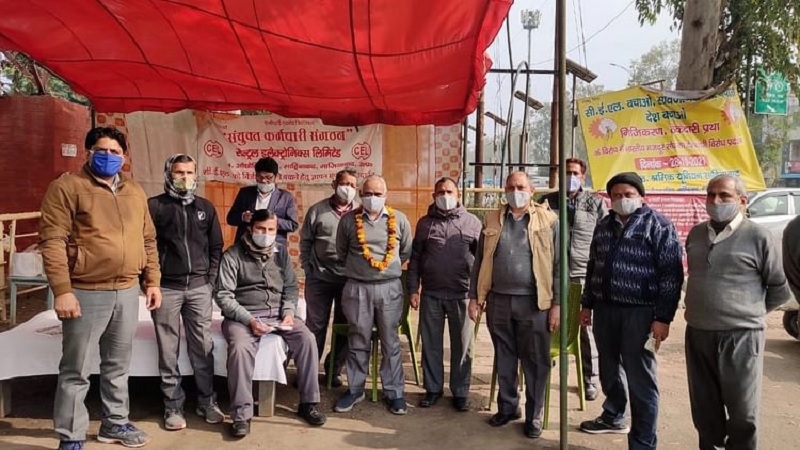 Image Courtesy:nationalheraldindia.com
Rampant privatisation of government establishments like the Central Electronics Limited (CEL) can put national security at a risk, company employees told SabrangIndia.
Employee unions breathed a sigh of relief when the central government put a hold on the sale of CEL to Delhi-based company Nandal Finance and Leasing on January 12, 2022. However, the battle is far from won for them, as members are acutely aware of the government's authority in disinvesting companies at will.
"Since the Centre has the power to disinvest in government companies at will, we cannot say anything about the privatization drive. However, this is only true for companies making a loss. CEL has been making profits over the past year. So, how can the government just hand over the company to an inexperienced company? This is ghotala," said CEL's Bharatiya Mazdoor Sangh (BMS) leader Manjeet Singh to Sabrang India.
According to employees, CEL is a profit-making PSU with a net sale of ₹ 296 crores and gross profit of ₹136 crores in 2020-21. The company manufactures crucial state of the art technology products for Defence, Railway, Solar business and Security systems such as: ceramic radomes for seeker missiles, laser-based Perimeter Intruder Detection System (PIDS), dielectric substrates, Piezo-Electric Generator Fuse for Heat-55, circulator and isolator for satellite systems, bullet proof material for body armour, material for night vision devices. Further, the company has pending orders worth ₹ 1,592 crores since October 31, 2021, providing a gross profit of ₹730 crores.
All of this highlights CEL's status as a strategic player in these fields and thus begs the question as to why a profit-making PSU was to be handed over to Nandal Finance and Leasing Pvt Ltd, a company majorly held by a furniture and interior company owner.
"As per 2019-20 financial statements, 99.96 percent of Nandal Finance's equity is held by Premier Furnitures and Interiors Pvt Ltd. How can you hand over items of national safety to a company that looks into furniture and interior?" asked CEL Employee Union General Secretary Virendra Kumar Singh while speaking to Sabrang India.
The South-Delhi based company's statements also showed that the company had less than 10 employees with less than five years of continuous service, while it had a case pending in the National Company Law Appellate Tribunal (NCLAT).
"We do not mind if a good group with proper evaluation that considers employee benefit takes over CEL. But it should have a similar type of experience. Handing over the company to a blacklisted group threatens national security," said Manjeet Singh.
When the company was first put up for auction in 2016, the government had not found a bidder. Then in November 2021, the government found two bidders including Nandal Finance. But employees looking into this move questioned the inter-connection between the aforementioned company and the other bidder, JPM Industries, both of whom share the same parent company. Directors of both these groups also share the same position in other company Sharda Tech.
While the case remains with the court until July 2022, employees allege that the other party is targeting CEL's land property.
The total area of land available with CEL was 2.02 lakh sq.m. with a circle rate valuation of the land at ₹440 crores. Similarly, CEL's valuation was estimated at ₹957 crores that can rise up to ₹1,300 crores in coming years. Yet, the reserve price was set at ₹ 194 crore by the government. The whole enterprise was finally sold for ₹ 210 crore – less than half of the land's circle rate valuation.
Threats of privatising PSUs
The threat to human and national security by way of PSU privatisation is among the last and most disconcerting worries mentioned in the 'Privatisation: An Affront to the Indian Constitution' report. Created by the Peoples' Commission on Public Sector and Public Services, the report talked about how disinvestment in public enterprises over the years concentrated economic power, creating an oligopoly in India.
"Given the fact that these are public assets, many of which have been established over many years following sustained public investment, how fair is it to offer the assets to private interests at deeply discounted rates?" said the report.
It argued that potential investors were offering only a fraction of what the government considered the asset's value considering investors value their bids in terms of the expected discounted returns over the lifetime of the lease. Alienating massive public assets at net present value in the garb of monetisation can lead to very low returns, asset stripping and promotion of an oligopoly, said the report.
This also hinders national productive capacities. Intersectoral connections such as energy, capital goods, machine tools, material/natural resources processing allowed central public sector enterprises to remain effective and competitive, while furthering national self-reliance. Privatising PSUs and breaking these connections will rob them of their effectiveness and ability to contribute to national productive capacities.
Public assets such as CEL are the arms and legs of the manufacturing and infrastructure in India. According to the report, such enterprises were developed as a technology commons for "a latecomer catching up to be able to face foreign competition".
"The NMP and privatisation thus threaten to dismember the development block, thereby adversely affecting the commons and hollowing out the manufacturing arm of the Indian state," said the report.
On January 19, Finance Minister Nirmala Sitharaman spoke on the Antrix-Devas issue, condemning the previous Congress-government for robbing the people of India. However, if the sale of CEL is allowed, the current ruling regime will not only be robbing citizens but severely hurting the international standing of India in terms of defence and science.
According to The Wire, former directors and retired senior scientists of the Council of Scientific and Industrial Research already expressed shock at the government's announcement on the sale.
Related:
Gadbadjhala: Mystery that is PM CARES
Chhattisgarh: Ministry of Coal plan to acquire nearly 2000 hectares of protected forest land
Centre's plan to privatise PSUs an anti-people policy: AITUC
AIFAP voices support for pan-India strike against Electricity (Amendment) Bill