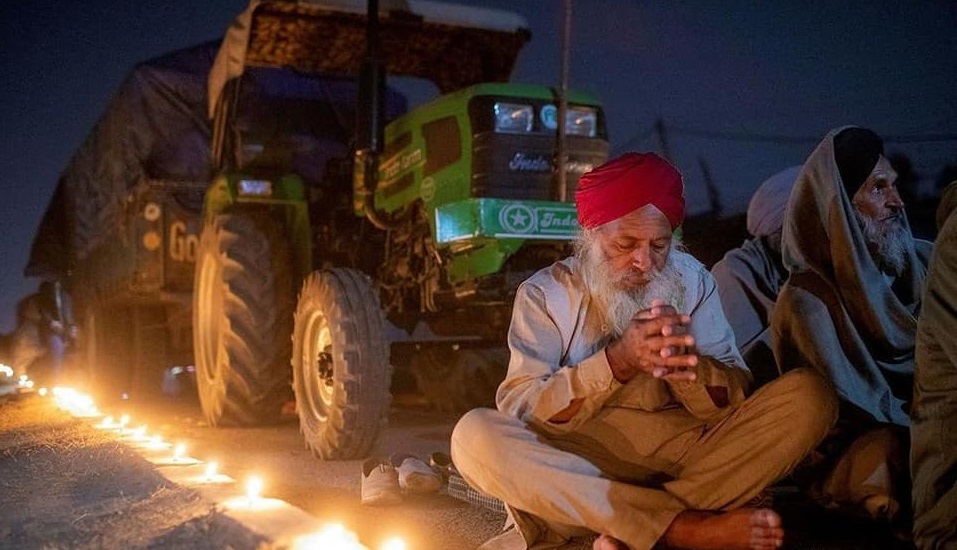 Image: Reuters
After nearly a year of peaceful protests, farmers on November 19, 2021 finally celebrated the repeal of the three farm laws forcibly passed by the central government.
On the morning of the holy Guru Purab, Prime Minister Narendra Modi addressed the nation and said, "I have come to tell the whole country that we have decided to withdraw all three agricultural laws. In the Parliament session starting later this month, we will complete the constitutional process to repeal these three agricultural laws."
Since November 26, 2020, many farmers from Punjab, Haryana, Uttar Pradesh, Uttarakhand and other states, had been camping at Delhi borders to demand the repeal of:
the Farmers (Empowerment and Protection) Agreement on Price Assurance & Farm Services Act,

the Farmer's Produce Trade and Commerce (Promotion and Facilitation) Act, and

the Essential Commodities (Amendment) Act.
Farmer leaders and many experts showcased how the laws benefit private companies rather than the farmers.
Over the months, the movement continued to gain the support of trade unions, civil society groups and marginalised communities and their demands evolved accordingly. Thus, while some people punch their fists in the air, the farmers' groups and leaders remain wary of Modi's speech.
"While this announcement is a huge victory for the movement, issues like legalisation of MSP, Electricity Bill 2021 and other demands have not been addressed. These demands are equally crucial," said All India Kisan Sabha (AIKS) President Ashok Dhawale.
Similarly, Punjab leader and Bhartiya Kisan Union-Ekta (Dakonda) General Secretary Jagmohan Singh said that while Modi has made his speech, the actions will determine what happens next. And though the demand that sparked the movement has been upheld, Singh reiterated that farmers have long since demanded the legalisation of Minimum Support Price (MSP) at C2 + 50 percent as per the Swaminathan Commission report, something that remains as yet unaddressed.
"We will have a meeting soon to decide what we do next. We also want to talk to central government authorities before we make a final decision. For now, farmers are still at Delhi borders celebrating. We will similarly celebrate November 26 this year," said Singh.
During his speech, Modi also talked about forming a committee to promote zero-budgeting-based agriculture, to change crop patterns as per India's changing needs and to make MSP more effective and transparent. The Committee will have representatives of the central government, state governments, farmers, agricultural scientists, and agricultural economists.
Similarly, on the matter of MSP, Modi said that the central government has increased MSP and created a record number of government procurement centres. He claimed that the ruling regime broke the procurement "records of the last several decades." However, this statement is at odds with Rajasthan and other state farmers who have repeatedly voiced complaints about MSP rates.
Further, farmers group Samyukta Kisan Morcha (SKM) also welcomed the decision but said it will wait for the announcement to take effect through due parliamentary procedures. It also paid homage to the near-700 farmers who were martyred in this struggle.
"The central government's obstinacy is responsible for these avoidable deaths, including the murders at Lakhimpur Kheri," said the SKM in a joint statement.
During the speech, the Prime Minister lamented how the government could not explain the benefits of the three laws to "some farmers despite our efforts." Meanwhile, social media is flooded with congratulatory notes to the farmers' struggle.
And its a WIN, after long 1 year!!
Modi Govt decides to REPEAL ALL 3 FARM LAWS- says PM Modi
Unity & Justice Is On Its Way to Success#VictoryForFarmers #FarmersProtest #KisanMajdoorEktaZindabaad

— Kisan Ekta Morcha (@Kisanektamorcha) November 19, 2021
"First they ignore you, then they laugh at you, then they fight you, and then you win."#FarmersProtest #FarmLaws pic.twitter.com/XX6hDX4OR9

— Advaid അദ്വൈത് (@Advaidism) November 19, 2021
Now that they have withdrawn the 3 farm laws, next step is to withdraw cases slapped on farmers, free those still in prison and pay reparations to all the protesting farmers who've had to endure the vileness of this government in full.

— Disha Ravi ? (@disharavii) November 19, 2021
The repeal of Farm Laws is not a 'gift' on Gurupurab. It was fought and earned.

— Kawalpreet Kaur (@kawalpreetdu) November 19, 2021
This is a wonderful news!
Thank you,@narendramodi ji, @PMOIndia, for taking back the farm laws. Thank you, farmers, for raising just demands through peaceful protests. Hope you will happily return to be with your families on the Parkash Purab of Sri Guru Nanak Dev Ji today.

— sonu sood (@SonuSood) November 19, 2021
Political parties and other experts also commented on the timing of the announcement that came just around approaching UP and other Assembly elections.
What cannot be achieved by democratic protests can be achieved by the fear of impending elections!

PM's announcement on the withdrawal of the three farm laws is not inspired by a change of policy or a change of heart. It is impelled by fear of elections!

— P. Chidambaram (@PChidambaram_IN) November 19, 2021
Don't be mistaken, this repeal of three farm laws is not for farmers but for elections in Uttar Pradesh where all @BJP4India internal surveys predicted massive loss in western UP where party won 70 percent of seats last time. BJP leaders were not being allowed entry

— Chetan Chauhan (@chetanecostani) November 19, 2021
Related:
Amendments to agricultural laws, dangerous for farmers: National Unions
Lakhimpur Kheri killings: Sessions Court rejects bail plea of Ashish Mishra, two others
New farmer suicide data showcases continuing social inequalities