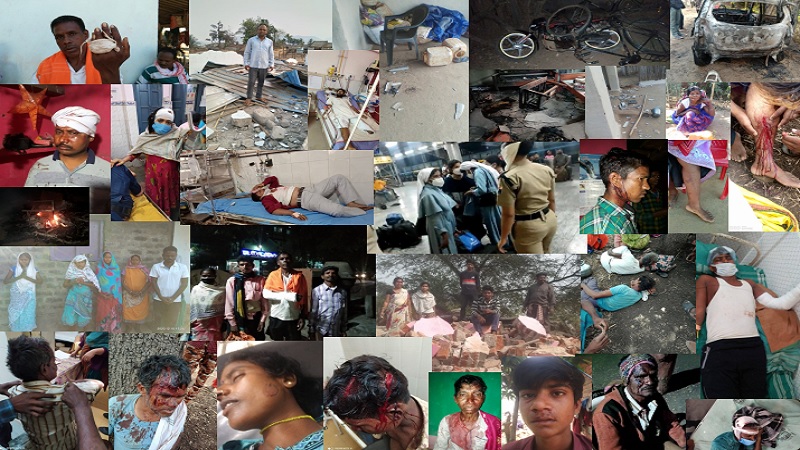 Image Courtesy:counterview.net
Recently, in Chitrakoot, that lies on the border of Madhya Pradesh and Uttar Pradesh, a conclave of the Rashtriya Swayamsevak Sangh [RSS], discussed their latest war cry: "Chadar aur Father Mukt Bharat" (An India liberated from Chadar (Cloth Sheet symbolizing Muslims) and Father (Christian Priests). This slogan, though yet to be made public, has set, rather reinforced the agenda for right wing groups across the country. Most of these right wing groups make it to the news only when they attack or threaten Muslims, Adivasis, Christians, Bahujans, Adivasis. This strategy succeeds often in keeping the violent focus on only one of the vulnerable groups each time.
However this slogan of a 'combined targeting of Muslims, and Christians, that even went largely unreported by the mainstream media with only the Dainik Bhaskar newspaper carrying out an extensive undercover investigation of the conclave. The newspaper, which was subjected to IT rains and investigations recently, had reported from Chitrakoot that this anti-Muslim, anti-Christian 'campaign' and slogan had been discussed, and will slowly be shared with the RSS cardes whenever the organisation deems fit. It is just a matter of time that this 'Muslim, and Christian free India" agenda percolates via whatsaap groups and other social medias to the foot soldiers of hate mongering.
Some are not even waiting for that. The Religious Liberty Commission (RLC), an initiative of Evangelical Fellowship of India (EFI) has just released its half-yearly report that lists 145 incidents of religious persecution against Christians, including three murders. According to Rev. Vijayesh Lal, National Director, EFIRLC as the commission calls itself, all these incidents have been verified by the organisation's network of volunteers, who spoke to the victims, the local police, and where possible a witness, in each case. The attacks and threats against Chrisitans, mostly first generation followers of the faith or independent pastors, have been reported from across the country. These also include attacks or desertion of 22 churches, places of worship, and also recorded "20 cases of ostracisation or social boycott in rural areas of families which had refused to renege on their Christian faith and had stood up to mobs and political leaders of the local majority community".
Lal also recalled how the RSS conclave also addressed the possibility of suggesting that the Narendra Modi-led government "bring a nationwide anti-conversion law." Around 30 cases of anti-christian violence have been reported to the EFIRLC from Madhya Pradesh alone. "The state, which has large pockets of forest lands where Adivasis, or Tribals live, was amongst the earliest to enact anti-conversion laws, which it has periodically applied on the ground with increasing viciousness," stated the report. Not far behind was neighbouring Uttar Pradesh, from where 22 cases were reported. Cases were also reported from Karnataka and Chhattisgarh, even at a time when COVID-19 restrictions severely impacted data collection, grassroots investigations and even limited expressions and measures of solidarity with victims in distant villages, stated EFIRLC. According to Lal, while the attacks continue so does the fear among victims of more violence that keeps them from approaching the local police. Due to Covid-19, the access to courts for relief was restricted as was the freedom to protest against communal attacks and threats.
The report also raises concerns over the "expansion and scope of the notorious Freedom of Religion Acts," also known as the anti-conversion laws, which are finding favour in states governed by the Bharatiya Janata Party. "Once targeting only Christians, they are now armed also against Muslims in the guise of curbing 'Love Jihad'. This is an Islamophobic term coined some years ago to demonise marriages between Muslim men and non-Muslim women, particularly those belonging to the Hindu upper castes. The laws ostensibly punish forced or fraudulent religious conversions. But in practice, they are used to criminalise all conversions, especially in non-urban settings," stated the report.
Uttar Pradesh became the eighth state in India to enforce an anti-conversion law which is already in place in Odisha, Madhya Pradesh, Chhattisgarh, Gujarat, Himachal Pradesh, Jharkhand and Uttarakhand. "Christian activists fear that the expanding footprint of the anti-conversion laws bring a step closer the BJP's manifesto promising a nation-wide law to check evangelisation by "missionaries", a term designed to impute western conspiracy to Christianise Dalits, Tribals and others in rural areas, small towns and urban slums," the report notes.
"In Odisha's Rayagada district, there are over 20-15 Christian families that are now living outside their village, as they are facing social boycott, they can only return to their village if they deny their [Christian] faith. But they don't want to do that," Lal told SabrangIndia, adding that cases of such social ostracisation were on the rise across the country. These too have gone unreported, and the victims remain wary of seeking legal protection. Even the much reported case of nuns being harassed on a train in March 2021 at Jhansi, Uttar Pradesh, seems to have died out. According to Lal, it is not known if any further legal action was taken against the group of religious extremists, who harassed and threatened the nuns, accusing them of religious conversion. The nuns had been taken to the police station and released hours later only when advocacy groups intervened and shared the documents that proved that the nuns had been falsely accused. "The case seems to have been forgotten," said Lal. He recalled another recent case from Haridwar where a pastor was beaten when he had gone to pray with a Chrisian family. He alleged that it was the local police that beat him; however he too was reluctant to file a written complaint. "The pastor chose to leave Haridwar where he had been living for 12 years, and returned to his village in another state" said Lal, who has also sent copies of the report to the Prime Minister's office, National HUman Rights Commission and to all state governments.
"Right wing outfits often challenge us to show FIRs of the attacks. The victims are too scared to go to the police. We send copies of our report with verified cases, to PMO, MHA, NHRC, and hope they take action. The NHRC has taken cognisance of the last report," said Lal, adding however that the cases reported have not made much headway by way of further investigations. The EFIRLC has once again appealed to the Government of India and the governments of the States named in the report to "ensure the rule of law and the security of religious minorities in India", adding that they "especially appeal to the State Governments of Madhya Pradesh, Uttar Pradesh, Karnataka and Chhattisgarh to deal stringently with the various right-wing organizations operating in these states whose primary agenda is to create an atmosphere of fear among the Christian community and other religious minorities."
The Hate and Targeted Violence Against Christians in India Half Yearly Report 2021 may be read here:
Related
Can Delhi's demolished church, and shattered trust be repaired?
"Help! I'm being threatened because I'm a Christian"
Regime shamelessly rewards hate offenders and stooges promoting a divisive agenda
Role of RSS & police in communal riots, Aligarh: Parliamentary debates
Poll violence, attacks on Dalits, Muslims: What is happening in UP?