After 'unknowingly' endorsing Jio cellular services and PayTM, Prime Minister Modi 'unknowingly' replaced Gandhi on the KVIC calendars. Or so the PMO claims. One may wonder why it took the PMO so long to come out and say that permissions were not sought for the same. The intentions of the Chairman of KVIC seem to be to flatter the PM and reinforce his allegiance, while disrespecting the decades old Gandhi-charkha legacy. Daniel Mazgaonkar, a Gandhian, weighs in.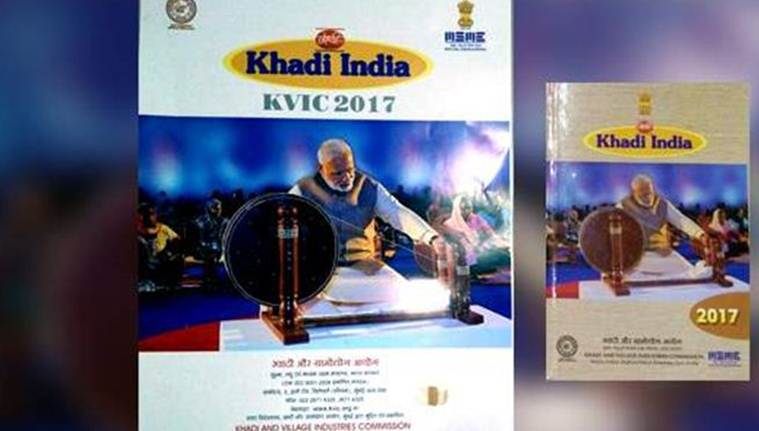 Prime Minister Modi trying to identify himself with various icons, wanting to milk various political constituencies, needing to grab the headlines one way or another, dying to appropriate credit for anything anyone has done anytime (whether Mr Modi was born at that point of time or not) is not news anymore. In the recent past he has tried to pretend to be in the same boat as Netaji Subhas Chandra Bose, Bhagat Singh, Dr Babasaheb Ambedkar, Swami Vivekanand and many others. Much as Mr Modi and his Bhakts would like to believe that all these icons owe their existence to him the absurdity and obscenity of his attempts simply expose him more and more.
A serious controversy has arisen out of Khadi and Village Industries Commission displaying 'Modiji with Charkha' as playing a role of Mahatma. This latest attempt at abusing the charkha touches the height of intellectual bankruptcy and depth of unscrupulousness, both at the same time!
And, how did it come to this point in the present case? Who placed Modi in place of Gandhi? It was none other than the Chairman of Khadi Village Industries Commission (KVIC). What are antecedents of the current KVIC Chairman? He is "original product" from House of Adanis!
Can the outcome be any different, then?
There have been a number of incumbents in this position who had come and gone, including during the earlier NDA rule under Mr. Vajpayee's Prime Ministership. From Surendra Mohanji, socialist thinker to Mahesh Sharmaji associated with BJP, none dared exhibit such serfdom! But the present Chairman is bound to be different. Mr. V.K. Saxena maybe the first Chairman who has no background of home, village or small scale industry but has come from the big corporate regime. He was with Adanis since years working with different offices. He, no doubt, functioned as an NGO with hardly any activities of rural industrialisation, that too at the smallest units with a vision of decentralisation, self-reliance or Swaraj.
Mr. Saxena is the one who worked on Dholera Project of Adanis & JK industries, which almost failed for years facing number of protests by local farmers for land grab. This is also a project relying on Narmada waters at the cost of drought prone areas of Gujarat. Saxena took to many actions (on behalf of whom, no one knows) to defame Narmada Bachao Andolan, but lost. He still continued with this main mission as announced in the advertised interviews and also was a part of the incident of physical attack on Medha Patkar at Sabarmati Ashram, during a peace meeting, after Gujarat riots in 2002. A criminal case against him and other politicians from Ahmedabad continues to be heard at snail's pace, even today. He also faces defamation cases filed by Medha Patkar of NBA. He had done this to Mallika Sarabhai and Ashis Nandy too but lost those cases too before the apex court.
The BJP government no doubt has promoted him and facilitated all these actions for which he has to pay back, exhibiting loyalty and obliging his masters!
That is why the new calendar!
But the need is also to question Saxena's appointment itself choosing and picking him, not for contribution to Khadi and Village Industries but loyalty to Adanis and Modi. His master's voice on this matter is yet to be heard!
Courtesy: India Resists