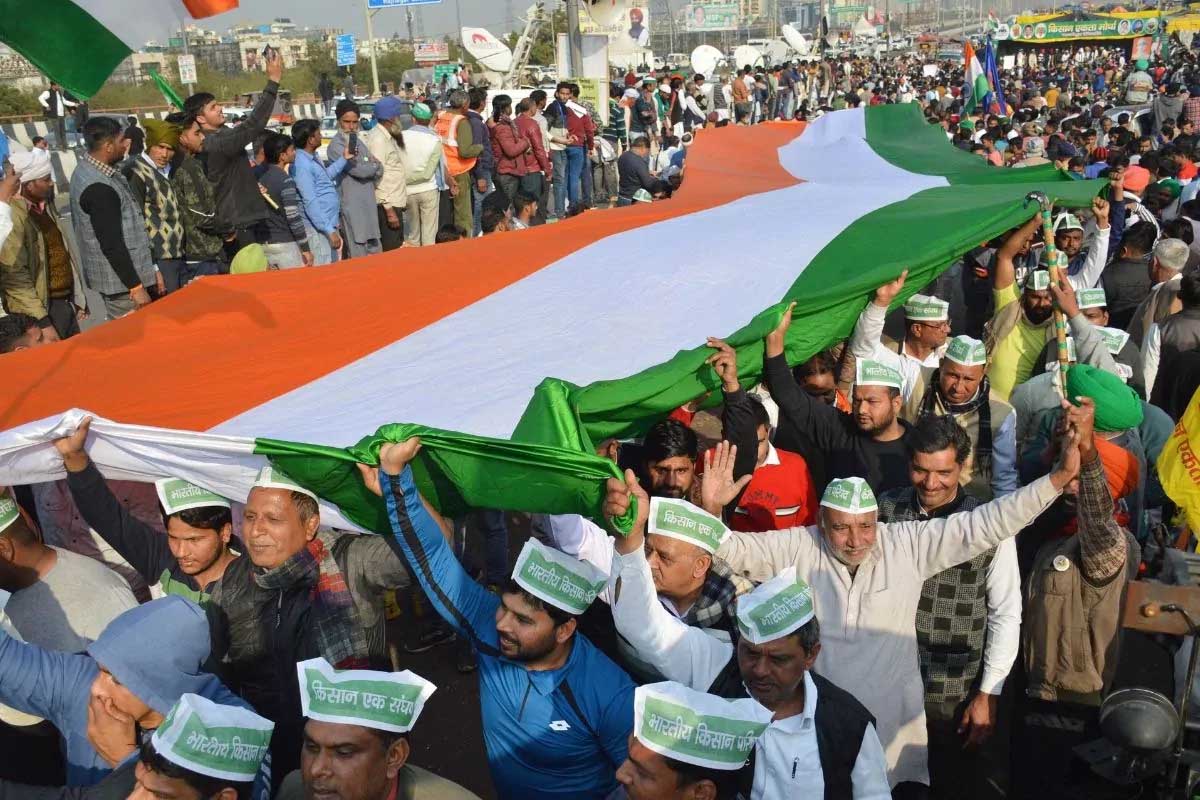 Image courtesy: www.news18.com

After erecting fortified multiple layered barricading at the farmers' protest sites at Singhu, Tikri and Ghazipur borders, there is heavy deployment of security personnel, including those armed with anti-riot gear, to stop any agitators from entering the Capital, reported the Hindustan Times.
Security deployment has been stepped up since the events of January 26, and in view of the three-hour 'chakka jam' called by farmer unions on Saturday February 6. However Samyukt Kisan Morcha (SKM), an umbrella body of 40 farm unions has already announced that "there will be no Chakka Jam in Delhi NCR as all the protest sites are already in Chakka Jam mode." All roads will be open to enter Delhi, except where the security agencies have already put up the massive barricadings. The farmer leaders have also issued guidelines to farmers, and supporters who will participate in the 'jam' that has called for ceasing all traffic movement, including on National and state highways across the country from 12 noon to 3 PM, on Saturday.
Emergency and essential services such as ambulances, school busses etc. will not be stopped, said the organisers. They have also told participants not to "engage in any confrontation with any officers, employees or common citizens during the event."
As a symbol of peace and non confrontation, BKU leader Rakesh Tikait even planted flowers at the spot where the spikes were put (and later reportedly repositioned) on the road leading to the farmers protest site at the Ghazipur border that connects Delhi and Uttar Pradesh. The farmers unloaded mounds of soil from their villages near the barricades and then planted flowers on it. The message is loud and clear.
According to NDTV, Tikait, also announced after a meeting that farmers of Uttar Pradesh would "take a break" and would not participate in the three-hour "chakka jam". He cited sugarcane harvesting as the reason. It is also reported that Uttarakhand will also not observe the chakka jam, nor will Delhi.
However, in the national capital the security continues to be amped up, not only the farmers' protest sites at Singhu, Tikri and Ghazipur borders but also in city areas state news reports. According to a report in Hindustan Times the Delhi Police on Friday reiterated that they have not granted any permission to hold the 'chakka jam' in the city and have warned that legal action will be taken against those found disrupting the city's traffic and law and order. Nearly 15,000 personnel of the paramilitary forces of Rapid Action Force (RAF), Central Reserve Police Force (CRPF) and Central Industrial Security Force (CISF) – all armed with anti-riot equipment – will be on duty along with thousands of Delhi Police personnel to maintain law and order during the 'chakka jam', reported HT.
According to the news report, the police are also "keeping a tab on social media to keep a watch on those spreading rumours or instigating people against the government and the police" adding that "videographers and photographers will also be present for capturing the activities of protesters. We will also be using drones for aerial surveillance." Citizens groups have planned a peaceful protest in solidarity with the farmers, and are expected to gather at Shaheed Park near Delhi Gate in Central Delhi. According to news reports, checking of vehicles at the city border points was intensified since Friday evening "to ensure that protesters or antisocial elements were not entering the city for Saturday's traffic blockade".
News reports quoted Delhi Police spokesperson Chinmoy Biswal as saying, "A full-scale police deployment will be in place at all borders and on streets across the city on Saturday. Traffic police personnel will also be deployed in full strength to regulate traffic. While our prime focus will be on maintaining traffic as well as law and order, those attempting to disturb these will be dealt with strongly as per law. We are in touch with the police force of other states as well."
According to HT Delhi Police commissioner SN Shrivastava has held a meeting with senior police officers and reviewed security arrangements. On Thursday, Shrivastava attended a meeting chaired by Union Home Minister Amit Shah at the Parliament complex to review the security situation in Delhi-NCR ahead of the chakka jam. National security advisor Ajit Doval was also present at that meeting, stated the news report.
Meanwhile, the UN Human Rights body has also called on both the authorities and protesters to "exercise maximum restraint in ongoing farmers protests" adding that "rights to peaceful assembly & expression should be protected both offline & online."
#India: We call on the authorities and protesters to exercise maximum restraint in ongoing #FarmersProtests. The rights to peaceful assembly & expression should be protected both offline & online. It's crucial to find equitable solutions with due respect to #HumanRights for all.

— UN Human Rights (@UNHumanRights) February 5, 2021
Related:
Youths, women, workers and farmers prepare for Feb 6 'chakka jam'
Listen to the lament of the landless-farm labourer!
Release Dalit Trade Union activist Nodeep Kaur: CJP
Farmer focussed Mahapanchayats getting massive response in UP as well