32-year-old TV artist and dancer, Chandramukhi Muvvala believes that there wouldn't be a Mahabharat without Shikhandi and the state legislature needs transgender representation.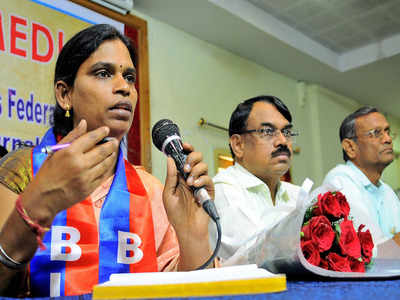 Hyderabad: "No Mahabharat without Sikhandi, no Legislature without Transgender," says 32-year-old Chandramukhi Muvvala, possibly the first transwoman to contest in the upcoming Telangana Assembly elections on a party ticket.

Even after the landmark Sec 377 judgement, trans representation in the legislature is dismal. There were transgender nominations in the past but all of those were as independent candidates. This is the first time in Telangana a party has given a ticket to a tans-woman.

While everyone in Telangana is busy looking at the stiff competition between the incumbent TRS and the Prajakutami led by Congress, she filed her nomination on Nov 19. Chandramukhi is contesting on a CPM-led Bahujan Left Front or BLF ticket from Goshamahal constituency.

Out of the total of 3,584 candidates that filed their nomination for the upcoming polls, she is the only candidate representing the transgender community.

A TV artist and Bharatnatyam dancer, she is pitted against former minister and senior Congress leader Mukesh Goud and controversial BJP leader T Raja Singh in the constituency.

"We have been subjected to exploitation and there was no one in lawmaking bodies to represent us, now it's time to change it," said Chandramukhi. She said that her main agenda if elected would be to represent the transgender community in the legislature and to curb the issue of child labour in the constituency. "It is the first step in making our voice heard, and we will use it to the last extent" she adds. She said that they go to slums, they sit and eat with the people in those slums and they all have been very sweet to the community. She says that she draws confidence from the immense support she receives from within and outside the community.

"While the seed to do something related to politics was planted four years ago, Chandramukhi didn't think she would actually run for MLA, but only that she would canvass for and promote a party. "I thought I'll canvass for some party and I'll make my work, words, or a member of my community a part of it. But I got a BLF ticket and my entire community was happy. It is the first time in both the Telugu states that a member of the trans community has got a ticket from a party," she said in a report by The News Minute.

The area suffers from civic issues, for which locals blame the incumbent BJP MLA Raja Singh, and local issues are what Chandramukhi aims to give her attention to, the report said.

"I'm transgender and I never said that I'll only work for trans people. I have been part of women's issues, children's rights and in Goshamahal, I have seen a lot of child labour. I want to curb child labour. Education must be good in this constituency," she added in a report.

"Senior members of the trans community have settled in Goshamahal. The area is very friendly to the community because all women know transgender persons and we know what they do daily. People from the Marwadi community used to take blessings from us and it's a good thing for us. They ask for us blessings and even we need their support. We give blessings regularly – for whatever function that happens in the families we go, bless them and dance – that kind of friendly relationship exists with the people of Goshamahal constituency," she said.

"People who live in the slums have always been friendly with us because we also belong to the slum. We are with the slum, working with them and eating with them. So, I thought that Goshamahal will be the best place to contest."

Telugu states have not executed any substantial reformative measures for the transgender community unlike their counterparts in Kerala and Tamil Nadu. Although there is a sizeable population of the community in the state, there isn't much being done for their upliftment.

"Regardless of whether she wins or loses, Chandramukhi says that efforts will be on for one thing – the implementation of the 2014 Supreme Court judgement in the National Legal Services Authority v. Union of India, known as the NALSA judgement. "The NALSA judgement should be implemented, and I'll put my heart and soul into it. When it is implemented, Telangana's trans community will get whatever they need. I'll do as much as I can to ensure that each point of it is implemented," said Chandramukhi in the report.

Chandramukhi was born Rajesh Muvvala took and underwent a sex change surgery ten to 15 years ago.

Hyderabad has about 2,700 odd registered transgender voters.