With the Yogi Adityanath-led BJP regime in UP openly backing upper-caste goons, and with their leader jailed under NSA, the Bhim Army continues to mobilise people outside Uttar Pradesh too.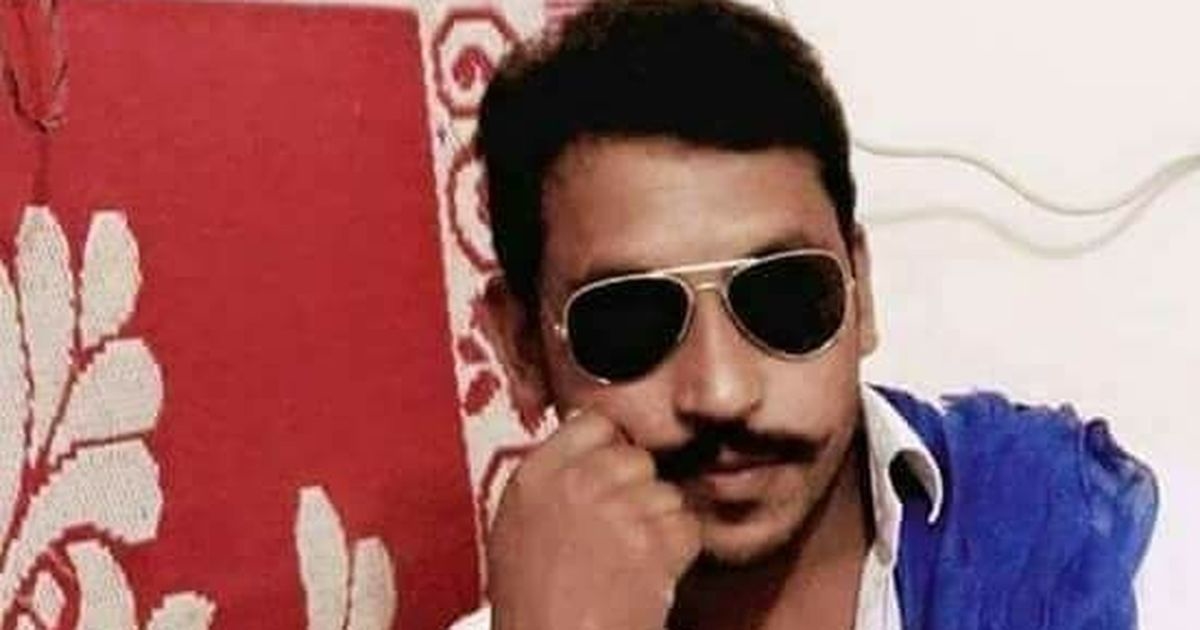 "There are rumours that they want to bump us off — the three brothers," said Kamal Kishore, the youngest brother of Bhim Army leader Chandrashekhar Azad 'Ravan', while walking through the inner lanes of the 'Harijan Basti' in Chhutmalpur, near Saharanpur, on the Dehradun Road in western Uttar Pradesh.
The 31-year-old Chandrashekhar Azad 'Ravan' is now a legend in western UP. For nearly the past one year, he has been imprisoned in Saharanpur jail with no evidence against him, "purely on cooked up charges" as his supporters say.
After the Allahabad High Court quashed all charges against him, he was booked under the draconian National Security Act (NSA), under which one can be jailed for an indefinite period of time.
Chandrashekhar was arrested on 9 June last year from Dalhousie in Himachal Pradesh by the UP police, after he had gone underground. A year later, the situation in and around Saharanpur is tense. Dalits were attacked and their houses burnt in Shabbirpur village on 9 May 2017, by goons from the upper-caste Thakur community. Dalits were attacked because they wanted to install a statue of Dr BR Ambedkar.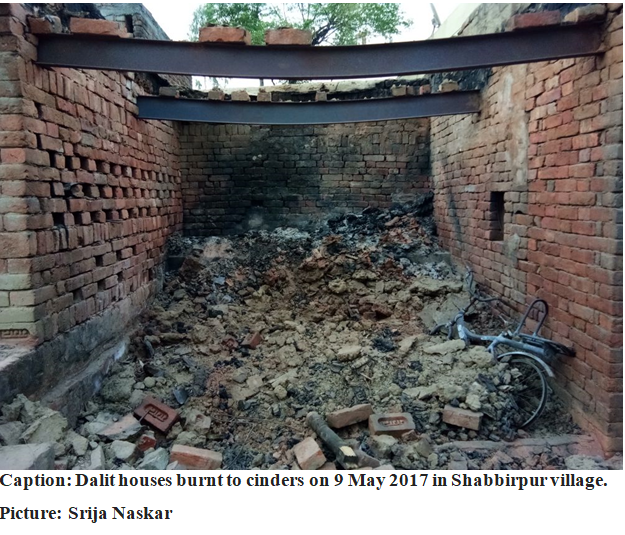 Now the local scenario has become volatile once again — since Sachin Walia, the younger brother of Bhim Army's district president Kamal Walia, was shot dead in Ramnagar on 9 May this year, as the aggressive upper-caste groups, mainly Thakurs, were preparing to celebrate the Maharana Pratap Jayanti. Even the police versions say the situation was peaceful and there was no provocation from the Dalits in Ramnagar, where they are the majority. According to the autopsy report, one bullet from a .315mm pistol hit Sachin's lower lip and entered his brain, leading to instant death.
Sachin, a science graduate, was the media coordinator of the Bhim Army. Locals say he looked exactly like his brother, Kamal — and that could be a possible reason behind his murder. Three days after the funeral of Sachin, the entire Ramnagar was in mourning. Sachin's mother was crying non-stop. She and her family members were not in a position to talk to reporters.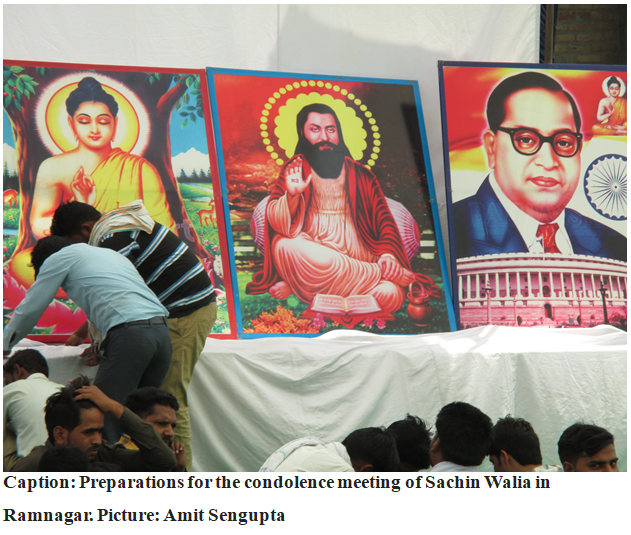 On 12 May, the Ramnagar area was barricaded by a huge posse of armed Rapid Action Force personnel and the UP police with armoured vehicles. But youngsters — mostly students and graduates, many wearing jeans, t-shirts, sneakers and the blue scarf representing the Dalit movement — had gathered from all over Saharanpur district at Ambedkar Bhavan in Ramnagar under a make-shift white tent fluttering in the scorching summer wind, with a small statue of Dr BR Ambedkar installed on a brick pedestal.
"The cops are stopping our people from gathering to mourn. So we can't even mourn when they shoot us down? They have shot dead our brother, and the cops are surrounding us as if we are the killers! Why have they barricaded us like this? Can't we even have a condolence meeting," asked Rajan Gautam, a young graduate.
Along with scores of young boys, Rajan too was picked up last year by the cops after they protested against the burning of Dalit homes in Shabbirpur. He was beaten up in custody and, like many others, "tortured and given third-degree" treatment. The "third-degree" is a term commonly used by young, educated Dalits here, when referring to the atrocities inflicted on them by the police, even as the Thakurs roam scot-free.
"We can't even celebrate our birthdays because the cops don't allow us," added Gautam. "We are not allowed to take out bike rallies on Republic Day or Independence Day. But the upper castes, backed by the BJP and the police, are allowed to make a naked display of swords and weapons, and shout aggressive hate slogans, including abuses at Ambedkar. They never impose Section 144 on them."
There are about 1,500 Dalit families in Ramnagar. In nearby Nandgaon, there are about 400 to 500 Muslim families, some of whom had rushed to help Sachin when they heard the news. They are allies of the Bhim Army, which has spread across western UP — especially in Saharanpur and the areas in its vicinity, Thana Bhawan, Nakur, Shamli, Muzaffarnagar, Chhutmalpur, Baghpat, Baraut, Khatauli and Muzaffarnagar.
It is impossible to meet Chandrashekhar in prison, especially under the current circumstances. The jail authorities refuse to give permission, except for occasional visits by his mother and brothers. His mother has met him 15 times in the past one year. No home food is allowed. Only once had Chandrashekhar asked for homemade vegetables and chapattis — but that too was not allowed.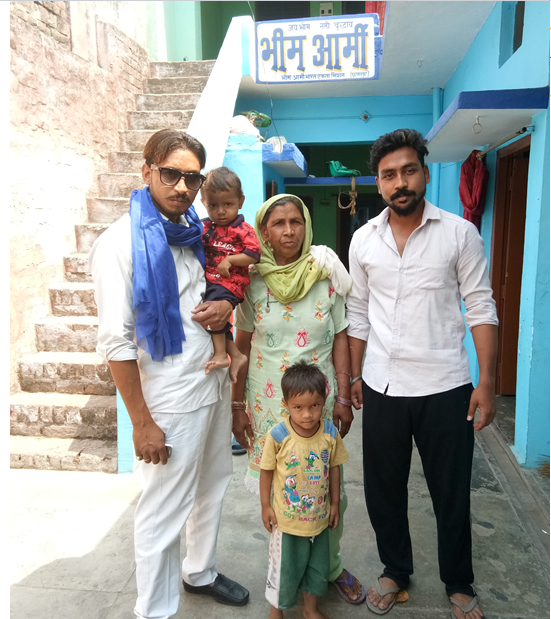 Caption: Chandrashekhar's mother Kamlesh Devi (middle), with her sons Bhagat Singh (left) and Kamal Kishore (right), at Chhutmalpur. Picture: Srija Naskar
On Ambedkar's birth anniversary on 14 April this year, his mother cooked 'kheer' (a sweet dish) for her son, but the jail authorities did not allow it inside the prison. She made the dish because Chandrashekhar was breaking his fast in prison, and had thus not drank water for eight days and not eaten food for ten. He was protesting against the Supreme Court judgment diluting the SC/ST Act, which led to violent protests all over India. Chandrashekhar was forced to break his fast under pressure from the authorities, who made him drink water through a tube; he was told that if his community joins him on a mass fast, it could lead to mass violence.
He has told his mother and brothers categorically that he is prepared to die in jail — he will not compromise. "Agar main baahar nikla to inki sitti pitti gum ho jayegi, main inko nako chane chabwa doonga" (They [the BJP government] is afraid of me coming out of jail, because I will destroy them), he said. That is why the NSA has been extended against him until the next Lok Sabha elections in 2019, Chandrashekhar believes.
His mother says he told her, "Why worry about me when the entire Bahujan Samaj is crushed and suffering. When Babasaheb and his family could suffer so much, when he could lose so many of his children, why are you afraid of losing one of your sons? If you come here to jail, be brave. Don't cry. I am not afraid. I will fight for justice till the end."
Chandrashekhar is a lawyer. He studied law at the DAV PG College in Dehradun, and practised at the courts there. He started the Bhim Army after he found that Dalit students were being discriminated against and brutalised at the local Inter College in Chhutmalpur. He told the children to unite and fight back — and to instil fear among the upper castes. That is when the dominant castes understood the power of the 'chamars'. The concept of the 'Great Chamar' — which is the assertive slogan of the Bhim Army, inscribed on walls, milestones and blue caps — started from there on 27 May, 2014.
He began a campaign to educate Dalit children. There are more than 350 free schools in western UP, with children of Dalits, Muslims and other oppressed communities, run by the Bhim Army. To break the taboo of untouchability, he started blood donation camps. To become financially independent, he started a campaign of collecting Rs 10 from every family, which would be put in the donation box of every Ravi Das temple. (Ravi Das is one of the 'gurus' of Dalits in India.) This money would be used for social causes, including marriages of poor Dalit women.
With their form of ground tactics, the Bhim Army does not believe in electoral politics. They are strongly assertive but non-violent, working on education, taking out bike rallies, and mobilising young people and grassroots communities — giving them the moral and social power to fight against daily atrocities and caste battles. Apparently, several political leaders, such as Rahul Gandhi, Raj Babbar, Harish Rawat and Jignesh Mewani, wanted to meet him — but Chandrasekhar refused to meet them.
In the current oppressive environment under a vindictive Yogi Adityanath-led BJP regime in UP, which is openly backing the upper-caste goons, the young Bhim Army cadres seem a little lost, with their leader in jail. "We will stay as a strong collective until the 2019 elections, and continue to mobilise people, even outside UP," said Rajan.
"We have a network in 26 states," said Kamal Kishore. "UP and Maharashtra are our strongest, with Bihar now setting up a unit too. In Maharashtra, 500 new Bhim Army schools have now been set up. We also work through social media, as we did during the recent Bharat Bandh against the dilution of the SC/ST Act. Our leader from Muzzafarnagar, Upkar Babra, is in prison along with others. We organised candlelight marches against the Kathua and Unnao rapes all over western UP, with a huge Muslim participation."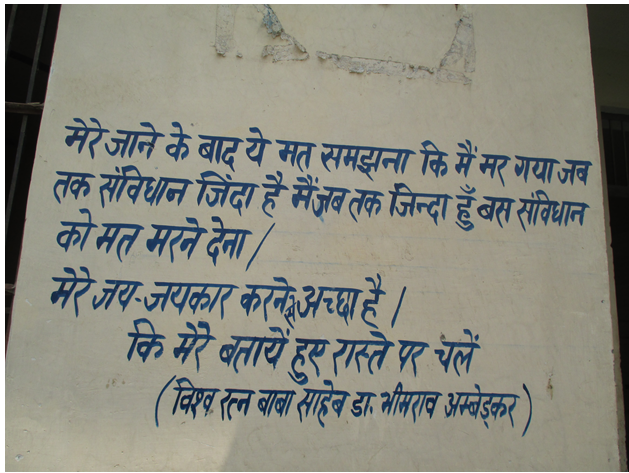 Caption: A quote by Ambedkar written on the wall in Ramnagar. Picture: Amit Sengupta Political observers believe that Chandrashekhar is a household name amid Dalits all over India. The longer he is kept in jail, the more he will become a legendary figure.
"The BJP government in UP and Delhi have crossed all limits of atrocities," said Rajan. "Not only Dalits, look at what they are doing in JNU, HCU and AMU, and to the minorities. We will never forget the suicide of Rohith Vemula. Our only aim now is to defeat the BJP in 2019."
So whom will they vote for in 2019? Bhim Army leaders are unanimous that they will follow the "line" of their jailed leader Chandrashekhar, which is: "Vote according to your own belief and conscience. You are a free citizen. Vote with full freedom."
Courtesy: Newsclick.in