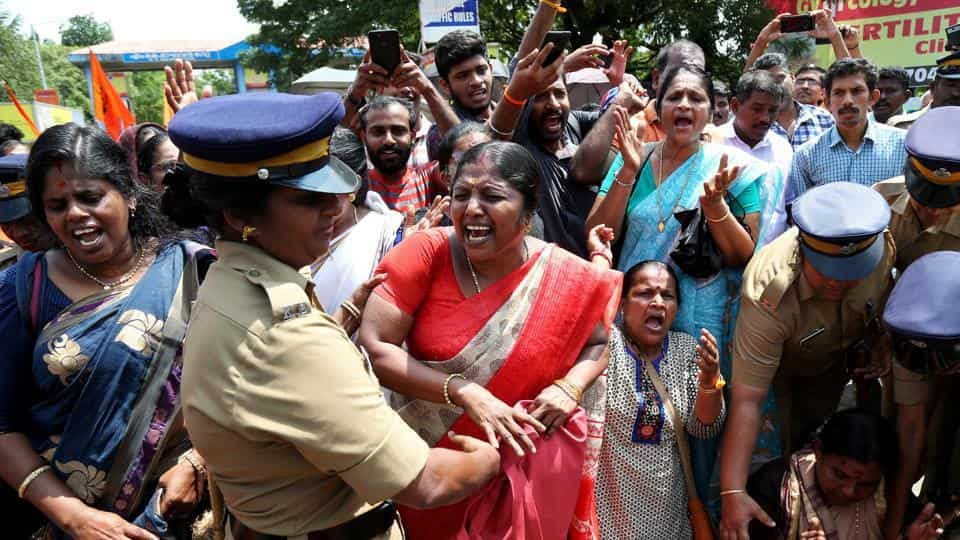 Photo Courtesy: Kerala Government
Tension mounted in Kerala on Wednesday, October 17, before the Sabarimala temple open its doors to women of all ages for the first time since the Supreme Court, on September 28, ruled that these women should be permitted to enter the temple. Police deployment was upped in the area, with police saying that 500 officers, including 100 women, were posted, Reuters reported. However, in spite of the Supreme Court's verdict, LiveMint reported that several thousand protestors descended upon Nilakkal and Pamba, the temple's two base camps within the 24 hours leading up to temple opening its doors.
Inspector General of Police Manoj Abraham told Reuters, "Nobody will be allowed to prevent anybody. We will do everything possible to implement the law of the land," adding, "None will be allowed to take law into their hands." However, there were reports of women being barred entry. Madhavi, 40, of Andhra Pradesh, came with her family and was accompanied by the police until they reached near the shrine, NDTV reported, saying that the family claimed that the police then stopped, and asked them to go ahead on their own. The family had to eventually turn back, after being chased by protestors raising slogans. In another incident, The News Minute reported on Libi CS, a journalist and editor for a news website named Newsgil, was surrounded a crowd at the Pathanamthitta bus stand. Police surrounded her to protect her from the protestors, and The News Minute reported that the "confrontation appeared to be on the brink of violence, as several of the angry protesters pushed against the protective ring and attempted to take swipes at her or push her. But the police effectively kept them away from Libi, and the protective ring of officers escorted her to a police van, which drove away from the bus stand, presumably to Pamba."
Women journalists attempting to cover the event were also targeted. The News Minute reported that its own reporter, Saritha S. Balan, "was on the bus to cover the Sabarimala protests, when it was 'inspected' by Karma Samithi. Saritha was intimidated by the mob and violently physically attacked and verbally abused." Saritha said, "I have no intention of entering the temple, I am only here to cover the protests. This should have been clear from my attire — I'm wearing jeans and a kurta. Then how can they claim I was trying to enter the temple in the guise of a devotee?" adding, "If they did not want reporters to cover the protest, why did the BJP invite the media for coverage?" ANI reported that India Today journalist Mausumi Singh and her crew were attacked at Nilakkal. India Today subsequently reported that the National Commission on Women (NCW) had taken cognisance of the attack on Singh. Pooja Prasanna of Republic TV was also targeted; Republic TV tweeted, "Mob of 100 smash car, attack Republic TV's South India bureau chief Pooja Prasanna". "The mob of anti-women Sabarimala protesters had snatched batons from the police and attacked the television crew," NDTV reported, saying that its own reporter Sneha Mary Koshy and cameraperson SP Babu were heckled and told to leave, and that their camera was snatched. NDTV said that CNN-News18 and Aaj Tak personnel were also targeted. The situation escalated, with protesters turning violent, prompting lathi-charge by the police, News18 reported. India Today reported on Wednesday evening that Section 144 of the CrPC was imposed in certain areas around Sabarimala, with the temple remaining open until 10.30pm.
Scroll reported that on Tuesday, in spite of Kerala Chief Minister Pinarayi Vijayan saying that the government would not permit vehicles being checked for women heading to Sabarimala, "vehicle checking continued unabated." Scroll reported that police officials on duty on Tuesday did nothing to bar groups of people from "flagging down cars and buses to check if they had any women passengers." Nilakkal resident Satyabhama who was among those who checked a bus travelling to Pamba told Scroll correspondent TA Ameerudheen "that she would sacrifice her life to protect the sanctity of Sabarimala. 'Lord Ayyappa would become angry if menstruating women entered the Sannidhanam [temple],' she said. 'As the natives of Nilakkal we will stop anyone who tries to break the custom and traditions.'" On Tuesday, Ratnamma, 60, an Adivasi woman working at the Nilakkal Estate of the Travancore Devaswom Board attempted suicide, The New Indian Express reported, saying that a police officer's intervention saved her life.
On September 28, the five-judge Constitution Bench of India's top court, headed by now former Chief Justice Dipak Misra, ruled that women of all ages could enter the Sabarimala temple. Misra said, "Patriarchal rules have to change. Patriarchy in religion cannot be allowed to trump right to pray and practise religion". Justice Indu Malhotra wrote a dissenting opinion in the case, saying, "Issues of deep religious sentiments should not be ordinarily be interfered by the court. The Sabarimala shrine and the deity is protected by Article 25 of the Constitution of India and the religious practices cannot be solely tested on the basis of Article 14."
The All India Democratic Women's Association (AIDWA) has issued a statement saying that it "strongly condemns the efforts of BJP-RSS backed right wing groups to create a communal frenzy against the implementation of the orders of the Honourable Supreme Court in the Sabarimala Case," noting that "Some RSS-BJP leaders have even threatened to molest and "cut into two" the women who will enter the Sabarimala temple to worship the deity." The organisation said it "stands strongly against the political parties like the BJP and the Congress and reactionary forces like the RSS that are trying to subvert the progressive Sabarimala judgment," and called for the arrest "of all BJP-RSS leaders and supporters who are issuing open threats to women and women activists and trying to disturb the atmosphere of peace and harmony that has been fostered by the Left movement."