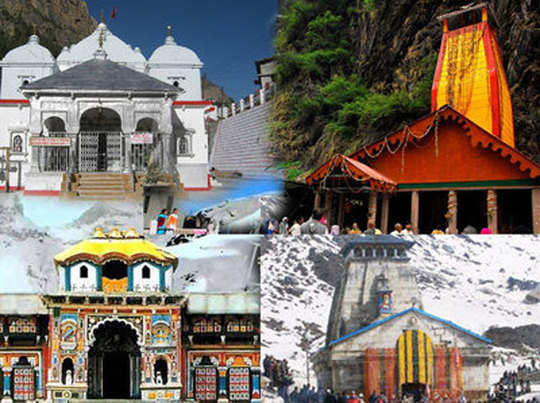 The Uttarakhand government has suspended the 'Char Dham Yatra' saying that "conducting the yatra amid the raging pandemic is not possible." Chief Minister, Tirath Singh Rawat said that only the priests of the four temples at Badrinath, Kedarnath, Yamunotri and Gangotri will perform the rituals and puja and even locals will not be allowed inside the four holy shrines.
This decision changed within a day, as on April 28, the state government seemed completely ready to hold the Yatra set to begin on May 14, saying that it was a matter of faith. The government had come up with SOPs like mandatory negative RT-PCR test reports of pilgrims, no entry into the sanctum sanctorum of the temples, etc.
Even the Uttarakhand High Court had cautioned that the Yatra could become another hotspot. The court had directed the state to issue SOPs indicating procedure for registration of the pilgrims, the number of pilgrims allowed to travel to the respective Dham, the accommodation which would be available for the pilgrims, the number of pilgrims allowed to enter each temple at the Dham.
Ravinath Raman, the chief executive officer of Char Dham Devasthanam Management Board, told Hindustan Times that a meeting was held on Thursday, where the decision to postpone the pilgrimage due to the Covid-19 situation was taken. "If later in the year, the situation improves, the yatra can be allowed with conditions and Covid curbs."
Kedarnath, Badrinath, Yamunotri, and Gangotri are collectively called Char Dham; the Yatra or pilgrimage begins from Yamunotri in the west, proceeds to Gangotri and ends at Kedarnath and Badrinath in the east.
The Kumbh Mela culminated in the state on April 27 with over 25,000 devotees, 1,000 seers participating in the final shahi snan (royal dip) alone. The Kumbh Mela itself had drawn flak from not just Indian but international media as well which kept pointing towards this massive congregations that was allowed to take place when the rest of the country was still grappling with Covid pandemic. Four senior seers had died of Covid after participating in Kumbh Mela which was attended by millions of devotees. On April 1 when the Kumbh Mela started, the state had 2,236 active cases which rose to 45,383 active cases as of April 28. In fact, the state recorded 108 deaths and 6,054 fresh cases on April 28, the highest single day spike for the state throughout the pandemic.
Naturally, the decision to hold Kumbh Mela was questionable and the government's initial decision to continue with Char Dham Yatra inviting more pilgrims, also came under a lot of criticism. However, one can say some sense has prevailed and the Yatra which would have definitely become a hotspot for spread of Covid, has been suspended for now.
Related:
Kumbh Mela: Over 25,000 devotees and 1,000 seers participate in Shahi Snan
After Kumbh, Char Dham Yatra next: What is the Uttarakhand CM thinking?
Can't let Char Dham yatra become hotspot, Uttarakhand HC takes stock of Covid preparedness