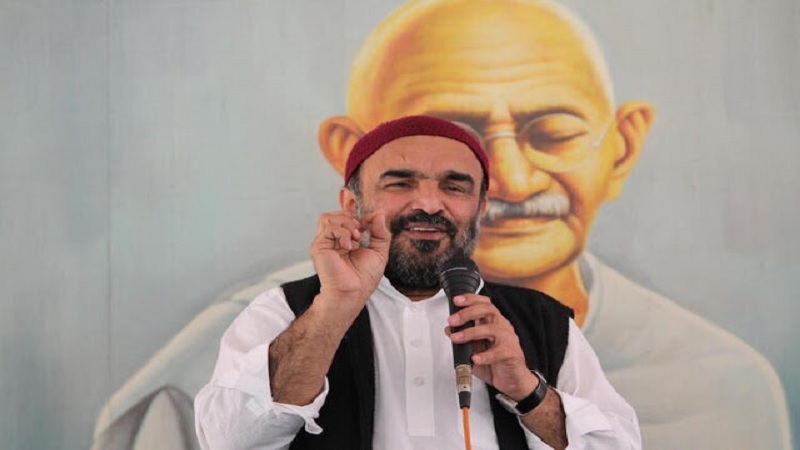 Image Courtesy:hindusforhumanrights.org
As he continues to be in judicial custody, Hindu voices are also rising to seek justice for inter-faith peace activist Faisal Khan. A group of concerned citizens, named Hindu Voices for Peace, has written to express their "dismay and sadness" at the arrest of Faisal Khan, and three other members of Khudai Khidmatgar. Khan was arrested on October 29, 2020, following a complaint filed after he took permission and offered namaz in a temple compound after an interfaith peace and solidarity pilgrimage. Khan, the convener Khudai Khidmatgar was sent to 14-day judicial custody by a Mathura court. As he had tested positive for Covid-19 and he was sent to institutional quarantine. Khudai Khidmatgar, the NGO that works for communal amity in society, was revived by Faizal Khan to promote interfaith dialogue.
Khan had returned to Delhi the same night, the Uttar Pradesh police arrested him on November 2, and charged him under section 153A (promoting enmity between different groups on grounds of religion), 295 (defiling place of worship with intent to insult the religion of any class) and 505 (public mischief) of the Indian Penal Code.
The FIR, which was registered on November 1 with the Barsana police station in Mathura, names Faisal Khan, Chand Mohammad, Aalok Ratan and Nilesh Gupta. The FIR stated, "Faizal Khan and Chand Mohammad offered namaz within the temple premises without the permission of the priests and hurt the sentiments of the Hindus. Their associates clicked their photos and made them viral on social media. They might be receiving foreign funding and it might be an attempt to create communal tension in the region." His arrest came as a shock to the secular society.
Members of the Hindu Voices for Peace stated, " Khan has been working tirelessly over years for the cause of inter-religion peace and harmony… they humbly prayed to Sri Krishna, who taught that God is the same to all beings – Srimad Bhagavadgita (9:29) "samoham sarvabhuteshu". They added that "We cannot emphasize enough that Faisal Khan performed namaz in the temple only after the Nand Baba temple priest invited him to do so. We therefore believe that the charges of promoting enmity and defiling a place of worship against Faisal Khan, are wholly misplaced."
The group has stated that they while they seek the release of Khan and his associates, they are also "earnestly requesting the government to release from custody, the Hindu men who were arrested for reciting Hindu scriptures at a mosque," as they believe that "such an action will contribute immensely to shared values of peace and compassion which are at the heart of all religious traditions, and thereby promote communal harmony in the interest of our nation."
The letter has been signed by eminent citizens including monks such as Brahmachaari Aatmabodhanand of the Matri Sadan Ashram, Haridwar, historian J Devika,
Hindus for Human Rights co-founder, Deepak Gupta, Prof. Ritu Priya from the Center of Social Medicine and Community Health, JNU, Swami Sandeepanandagiri, Gita Ashram, Thiruvananthapuram, Swami Shivananda Saraswati, Founder President, Matri Sadan Ashram, Haridwar, Goswami Sushil Maharaj – National Convenor of Bhartiya Sarva Dharma Sansad (Parliament of all Religion), Thakur Dwara Mandir, Noida, Mahant Yugal Kishore Shastri, Mahanth, Ram Janaki Temple, Ayodhya and many others from India and abroad.
The statement may be read here:
Related:
Khudai Khidmatgar convener Faisal Khan sent to 14-day judicial custody
Two different prayers, two different responses from UP Police!
Faisal Khan's commitment to communal harmony and peace is exemplary
We stand with Faisal Khan and his work for love and harmony: ANHAD
Faisal Khan was asked to offer namaz in the temple: Khudai Khidmatgar
Statements by Muslim religio-political leaders condemned