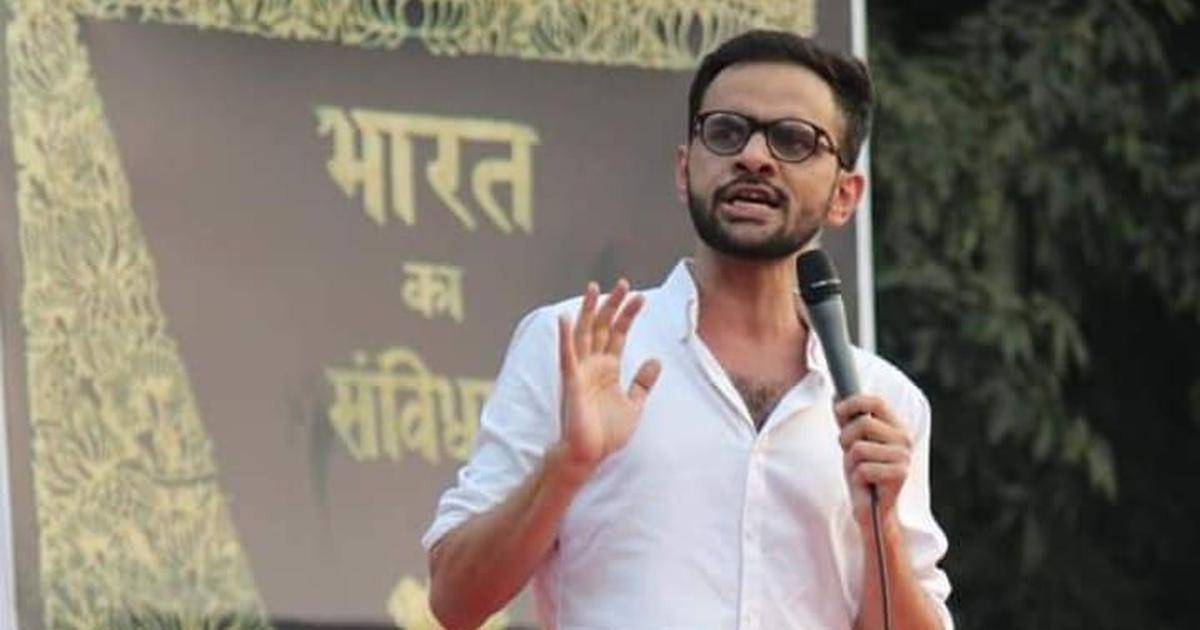 Senior Advocate Trideep Pais, appearing for Dr. Umar Khalid, continued to argue the latter's bail application today, on September 3, before Additional Sessions Judge Amitabh Rawat. He reiterated his previous arguments made in August which are two-fold:
– Firstly, that there were 750 FIRs registered before February 28, 2020 and the FIR 59/2020 (UAPA conspiracy case), that implicates Umar was registered on March 6, 2020. He argued that there was no occasion or event to register FIR 59/2020 and nobody should have been arrested under it. "The chargesheet filed before conclusively shows that there was no crime disclosed when the complaint was made", he said.
– Secondly, Adv Pais pointed out that the police relied on the speech from a YouTube clip used by news agencies (News 18 and Republic TV), and not the entire speech delivered by Khalid in Amravati, Maharashtra. He added that when the news channels were asked by the police to provide the source of the speech, they said that they relied on a tweet made by Amit Malviya. More details of the previous hearings may be read in this SabrangIndia report.
"I have produced the speech. Not the prosecution. There is nothing in that speech leading to action, incitement to violence, hatred, sedition or any illegality of any sort," said Pais.
False witness statements
Adv Trideep Pais submitted that the statements provided by the protected witness are inconsistent and cannot be the basis on which Dr. Umar Khalid is incarcerated indefinitely. He said that one of the biggest theories of FIR 59/2020 is that there was a conspiracy on January 8, 2020 where Dr. Khalid, and his co-accused Khalid Saifi and Tahir Hussain met and planned the Delhi violence. Pais submitted that the protected witness was either speaking under pressure or with a "forked tongue".
He submitted that the witness made two different statements in two different FIRs, which are inconsistent, and must not be taken seriously. He then read out his statement recorded on May 21 under section 161 of the CrPC where the witness mentioned nothing about the January 8 incident.
But on July 29, the witness mentioned the January 8 meeting, and said that he went inside the Popular front of India(PFI) office where the accused were all sitting and discussing the "plan". Then, in August 2020, the witness submitted before the Magistrate that he did not go inside the office. But again, in September, he said that he was waiting outside the office. Pais asked, "How much malice should I show to prove my point? I'm trying to say that there is no way these statements are consistent with each other in order to meet the test of UAPA. Can we rely on this witness to keep someone in jail? How can we believe in this witness?"
Police misquoted Khalid's speech
Senior counsel then referred to the chargesheet against Dr. Umar Khalid and pointed out some disturbing factors. He said that there was a public event (Khalid's speech in Amravati) which was wrongly interpreted by the Police.
He said, "The first event was a speech in Amravati. The FIR says that I (Umar Khalid) gave "bhadkau bhashan" (provocative speech). A false description has been given about the public event; the prosecution is trying to portray it as sedition." Pais then referred to the supplementary chargesheet where the Police has used the words "Umar Khalid, a veteran of sedition", to argue that this is not a way chargesheets are filed.
He added, "Describing speeches when there isn't more than one, they call it 'bhadkau bhashan'. There are a bunch of people, sitting and listening to a speech who is speaking against CAA. None of them meet the test of evidence as a prima facie case under UAPA. This is giving a false impression to a public event which the prosecution is trying to show as terror under UAPA."
He argued that the basis of the protest against the Citizenship Amendment Act, 2019 is to "belong to the country". Meanwhile, the police claimed that Dr. Khalid was "a veteran of sedition" who also said that, "Bharat tere tukde honge" (India will be divided). This was in the backdrop of the 2016 incident in Jawaharlal Nehru University (JNU), where some students including Khalid were arrested and booked under sedition for allegedly raising anti-national and pro-Afzal Guru slogans.
Pais vehemently argued that no chargesheet in the past has mentioned that Khalid has raised slogans about dividing India. He asked, "When you didn't have this in the first chargesheet in 2016, how did you produce this in the Delhi riots chargesheet and say that Umar Khalid said Bharat tere tukde honge? When you produced 17,000 pages against him, you should have added the 2016 chargesheet also. Is this how chargesheets are written? It seems like a script of some news channel. Where did they get this from?"
Chargesheet against Khalid is fertile imagination of the Police
Pias further submitted before the court that the Police indulged in rhetorical assertions in the chargesheet which were the result of the fertile imagination of the police officer and had no truth to it. He argued that the chargesheet stated that Sharjeel Imam is Dr. Khalid's disciple, but this has not been proven anywhere. "Where did they (Delhi Police) get this from? No witness whatsoever said this. Sharjeel Imam himself didn't say this. They must have some basis to say. Unless they have a license to say whatever they want," said Pais.
The chargesheet against Dr. Khalid further stated, "After a roller coaster four years as a celebrity of the left-wing ideology, what we see of Umar Khalid in 2020 is an unapologetic proponent of political Islamic extremism who was expressing his designs through chosen comrades while maintaining symbiotic linkages with left and ultra-left strains of political thought".
Referring to this, Senior Counsel Trideep Pais contended, "This reads like a 9 PM news script like those shouting news channels. Those news channels say anything they want. They want to give a slant, they'll give it. Absolutely no responsibility. This type of statement shapes public opinion by being picked up by irresponsible media. No matter what Your Honour says today, public opinion is being shaped."
The chargesheet further reads, "The experience of the key conspirators from half-baked successes and failures of the past two weeks made them realise that in order to achieve their objective there was a need for secular cover, gender cover and media cover….the precursor riots spread between 13th and 20th December 2019, could not generate nationwide traction primarily because the public faces of the protests were identified with a community and police had little difficulty in controlling the situation. Therefore, in pursuance and furtherance of common conspiracy and with a clear mind to mask these protests with the secular façade, providing mass base and more acceptable civil society participation and also to exploit women and children as a shield while facing the police, the key conspirators worked towards the creation of a group which eventually came to be known as DPSG."
In this backdrop, Adv Pais argued that people have the right to protest the CAA if they think it is unconstitutional. He said, "If CAA is wrong, don't people have the right to share their opinions? People from other communities cannot protest? Women cannot protest? Does a movement of that sort have to be driven by men? Protest against the CAA is not communal."
He further argued, "Of course there was a nation-wide protest against CAA. Which statement establishes that everything was identifiable from a particular community? No! It was a secular protest. It's almost as if having a secular opposition to CAA is wrong."
The chargesheet also stated that Umar Khalid wanted the protest to escalate to Delhi violence last year. The Police have alleged that there was an intent to create traffic chaos, and to ensure "communal skirmish". Pais said, "No witness said that there was some strategic picking of traffic points. There is a constant colour of making it communal. You should have some evidence."
Character assassination
The chargesheet further mentions that, "Throughout the conspiracy, the character of Umar Khalid has been found treading the fine balance between two separate but mutually reinforcing lines of thought – the first one where accused Umar Khalid was following the template passed on to him in legacy by his father SQR Ilyas and the second being the ultra-left ideological space where he was trying to match up and at times over shadows the likes of Yogendra Yadav, etc." The chargesheet also stated that Dr. Khalid capitalised on his JNU credentials to forge alliances with ultra-left sympathisers like Yadav, Harsh Mander, Dr. Apoorvanand, etc with the "same goal".
"How do you come to this conclusion? Absolutely no material. This is not a script of Family man! (a series on OTT platform Amazon Prime) It's a chargesheet. The author of the chargesheet is giving this a communal colour", Pais vehemently argued.
He further submitted, "This is a creation of public opinion in order to substitute the lack of evidence to carry out the objective of carrying out malicious prosecution of people. There is no evidence for FIR 59. The movement against CAA was secular, the movement was what it was and it is being given a communal colour, it wasn't a secular façade."
The chargesheet of the Special Cell also said that Umar Khalid was the convergence point of the twin lines of Pan-Islamic and Ultra left anarchism, "which had incubated, nurtured and propagated the conspiracy, all squarely aimed at violent subjugation of the government established by law."
To this, Pais said, "They are trying to show that I am a leader of some movement which is not true." He added, "… it's their effort to show me as a leader of an imaginative movement which contributed to violence in Delhi. Therefore, you have these narratives. No basis whatsoever to say this that I straggled to ideologies and made some coalition. There are a total of 700 witnesses and none of them have said anything like this."
At this point, ASJ Amitabh Rawat intervened and requested the hearing to continue on Monday, September 6. Dr. Khalid is currently lodged in Tihar Jail, Delhi and September 13 will mark one year of his incarceration.
Related:
UAPA case is to selectively target people who oppose CAA: Dr. Umar Khalid
Sketchy material against Umar Khalid, Delhi court grants bail