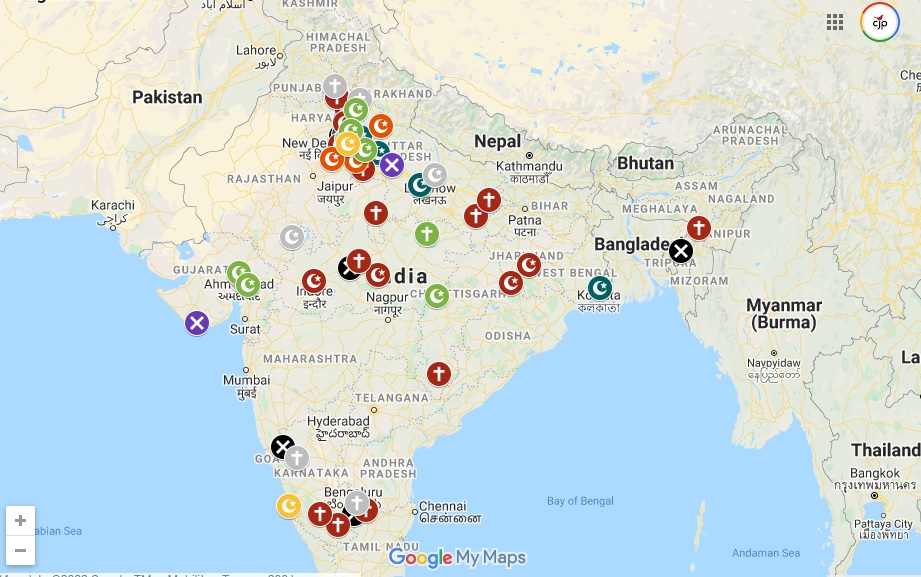 We had recently published a list of all incidents of communally motivated hate crimes. Now, we present an interactive infographic to record all the atrocities committed in the name of misplaced beliefs. It is noteworthy though, that the following information has been compiled using reportage by SabrangIndia, a sister organization of CJP, and is not an exhaustive list of all communal crimes in India in 2021.
Within the map, cities where such hate crimes took place are marked with an "X". The darker the colour of the "X" the more the number of crimes. Therefore, cities with black icons mean these are the places with hate crimes are the most widespread. Meanwhile, the religious symbols (of Islam and Christianity) showcase against which community the crime took place, with crimes also colour-coded as per category.
As per recorded information, five Indian cities alone recorded as many as 17 hate crimes against minority communities. Capital cities like Delhi and Bengaluru recorded the highest numbers of crimes – four incidents in each city. This means that the two cities accounted for 47 percent of the crimes in this category in 2021. Delhi reported two instances of hate crimes against Muslim men and two instances – one each of mob violence and institutional violence against churches. Bengaluru recorded three crimes against Muslims. The third city in this category is Belagavi with three crimes of which one incident was against the Christian community.
Other categories reflected in the map are: police brutality, mob attacks, cow vigilantism, targeting places of worship, threats, individual attacks and clashes. All categories together account for 60 incidents. With 20 instances recorded, mob attacks account for a third of the crimes, more than half of which (11 crimes) are against the Christian community.
Uttar Pradesh recorded the maximum number of places where mob-attacks took place (6), followed by Karnataka. It is noteworthy that one of the crimes listed occurred pan-state. This means there were at least 20 incidents of mob attacks in 2021 as per reported data.
When it comes to police brutality, again UP ranked first with as many as four incidents of crime, two of which occurred in Unnao. All of these crimes were against the Muslim minority. Similarly, extreme violent attacks arising from cow vigilantism were all against Muslim individuals. Two of these crimes occurred in UP while one crime took place in Alwar, Rajasthan. Individual attacks (2) were also focused against the Muslim community.
Interestingly, 87.5 percent of threats against minorities (7 out of 8 crimes) were against the Muslim community with only Satna, Madhya Pradesh recording one crime against Christians. UP recorded half of these crimes, followed by two incidents in Gujarat.
With respect to instances of "targeting places of worship", four crimes were recorded against Muslims and Christians each. Two of these crimes, one against both minority groups, were recorded in Haryana. Lastly, miscellaneous incidents of crime were recorded in cities of UP and Gujarat.
The entire map may be viewed here.
Related:
2021: A year of unprecedented communal hate crimes
Had a happy Christmas weekend? Have a look at how communal mobs celebrated theirs
Targeting Christian community not a new phenomenon in Karnataka: PUCL report