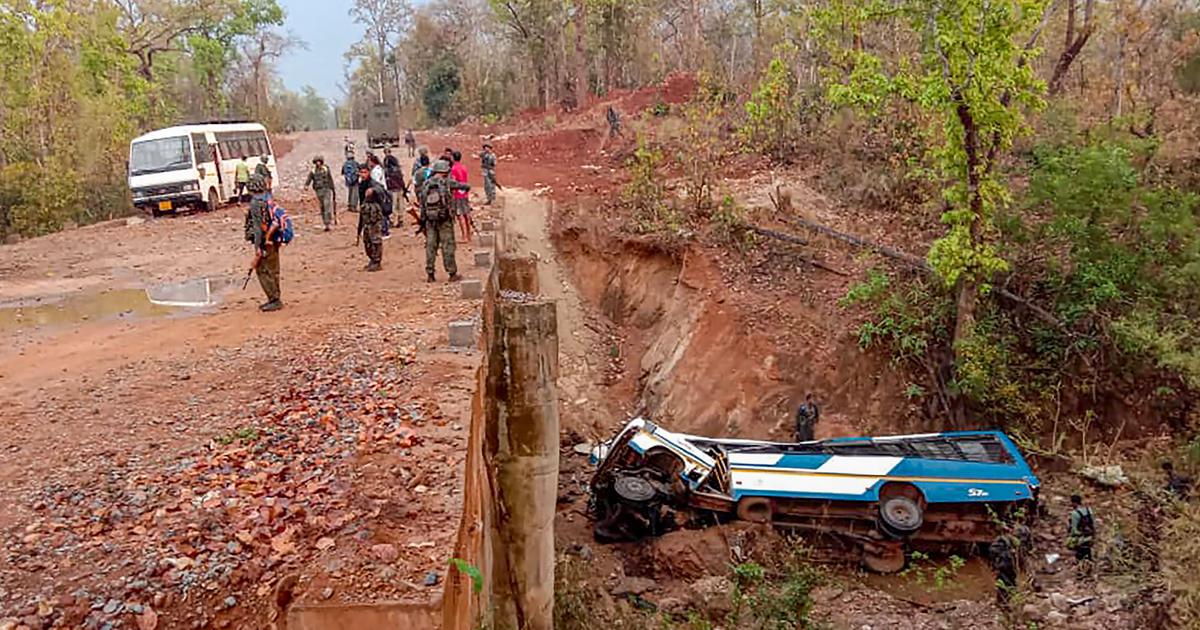 Chhattisgarh was once again shaken by a massive attack on security personnel, allegedly by Maoists on March 23. According to NDTV, five police personnel were killed on the spot and 14 injured after suspected Maoists targeted a bus carrying 27 DRG (District Reserve Guard) troops in Chhattisgarh's Naryanpur district. According to reports the bus, which was travelling between Kadenar and Kanhargaon, was hit by an Improvised Explosive Device (IED).
Reports quoted Chhattisgarh DGP DM Awasthi saying the troops were returning after an anti-Maoist operation. The area was cordoned off, and a search operation launched. The 45th Battalion of the Indo-Tibetan Border Police (ITBP) helped evacuate the injured.
Special DG (Naxal) Ashok Juneja was quoted by Indian Express saying, "How the IEDs were planted despite regular checking needs to be investigated. We are focusing on getting our men safely out… In the morning, we will visit the spot and begin the investigation."
Bastar IG P Sundarraj told the media, "At least 14 men have suffered injuries including three who have been critically injured. Seven have been airlifted and are being taken to Raipur for treatment."
The deceased have been identified as: head constables Pawan Mandavi and Jaylal Uike; constable Sevak Salam; constable Karan Dehari who was driving the bus; and assistant constable Vijay Patel.
Chhattisgarh Chief Minister Bhupesh Baghel said he had directed that the injured get the best care.
रायपुर के रामकृष्ण केयर अस्पताल के डॉक्टरों और प्रबंधन के अधिकारियों से दूरभाष पर चर्चा कर नारायणपुर जिले में हुए बम ब्लास्ट की घटना में घायल जवानों का हाल चाल जाना और उन्हें बेहतर से बेहतर उपचार की सुविधाएं उपलब्ध कराने को कहा है।

जवानों के जल्द स्वास्थ्य लाभ की कामना करता हूँ।

— Bhupesh Baghel (@bhupeshbaghel) March 23, 2021
According to the Indian Express, the bus was crossing a bridge, barely 3 km from the Kadenar police camp when it was hit by three IEDs that officials say were planted by Maoists under a culvert. The blast's impact threw the bus into the dry riverbed under the bridge. According to officials quoted by the media, the security personnel on board were travelling as part of an anti-Naxal operation in the dense Abujhmad forests. The blast occurred on Tuesday at around 4:15 P.M on the Kanhargaon-Kadenar road. The IE quoted officials saying, "DRG teams from Dantewada and Narayanpur had gone on a two-day operation. The DRG force from Narayanpur of around 90 men returned to the Kademeta camp on March 23. After that, the DRG team based at the district headquarters was on its way to Narayanpur town (300 km from Raipur) in the bus, which was targeted."
According to media reports, this is the first major attack by the Maoists in the state in this year, although IEDs have been planted in several areas of Bastar. On March 21, 2020, as many as 17 DRG personnel were killed in an encounter in Sukma, while they were returning from an anti-Naxal operation.
Related
NIA court denies bail to Father Stan Swamy
Free HRD Hidme Markam from arbitrary UAPA charges: Front Line defenders
Teltumbde assisted Maoist leader to expand movement: NIA to Court
SC issues notice to NIA on Gautam Navlakha's plea
Bombay HC order on medical bail for Varavara Rao sets an imp precedent