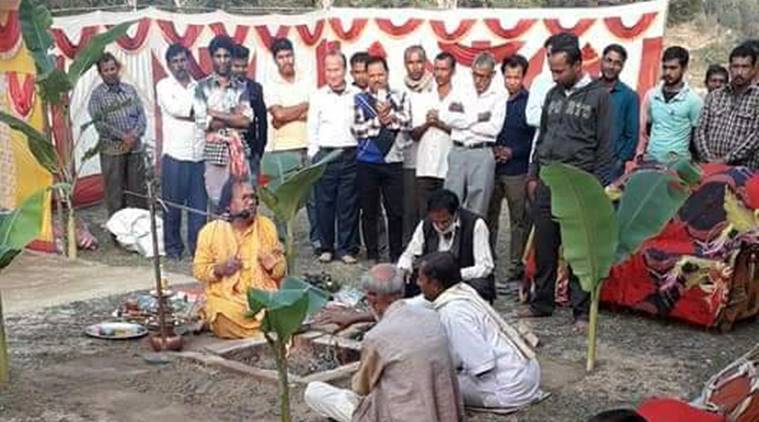 Representation Image
One of the most bizarre cases of communal discrimination, been reported from Chattisgarh, but has gone under the prime time news radar so far. According to a report in
Nai Dunia News Network, the dead body of a tribal Christian woman was "re converted' before her family was allowed to conduct her last rites. Reconversion, or as the right wing calls it 'Sangh wapri' or 'homecoming' as they believe everyone is a Hindu and must 'return' to Hindu faith if they follow any other, has been rampant, but this is perhaps the first reported instance in recent times of a corpse being converted to hinduism,
According to the news report, the woman Ginay Bai a Christian, passed away on October 15 in the Remawand village of Narayanpur district. Her family wished to bury her according to Christian rites, the next day, but were allegedly stopped by the villagers. They called a community meeting that reportedly proclaimed that the woman would have to undergo 'ghar wapsi' and be recognised as a tribal Hindu before the last rites were allowed. The woman, 26-year-old Kumari Sobay had died of a prolonged illness and her family wanted to perform the last rites according to their Christian faith. However the villagers allegedly protested against this and refused to give space in the village for the last rites following Christian tradition.
As the villagers continued to protest, the upset family tried on October 16, the next day, an attempt was made to perform the last rites, but the villagers stopped it. On this a meeting was called in the village. After the village meeting's declaration, it was reported that the woman's brother Ghasiyaram declared in an affidavit that she had been converted to tribal Hinduism. Once satisfied that their will had prevailed, the villager elders reportedly performed the last rites with the family.
The bereaved family was also given a talk on "staying connected with the society and its customs. Upholding culture and traditions" etc stated the news report. The village elders reportedly added that Christian "converted families who accept the tribal customs and culture will be welcomed". All they have to do to 'return to the fold' is to 'offer coconut and incense sticks before the goddess' and give it in writing that they have stopped being Christian. That is what Ghasiyaram, the brother of the deceased woman, told the media, that he "has returned home" and "will follow the tribal customs only."
Related
Jal, Jungle, Zameen: Chhattisgarh Adivasis march 300kms to oppose coal mining
Chhattisgarh: Curfew in Kawardha town following communal clashes