Underage marriages, especially of girls, are rising in urban India and declining in rural India, according to a new analysis of census data, but while the immediate reasons are not clear, patriarcy and the continuing hold of tradition are implicated.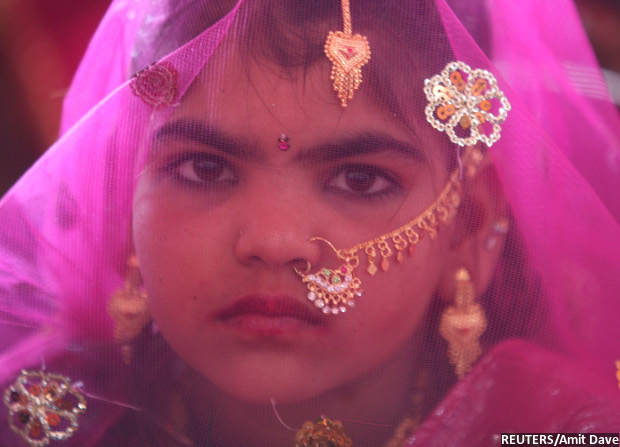 Representational image
In Maharashtra, India's third-richest state (by per capita income), 16 districts figure in a national ranking of top 20 districts reporting a rise in underage marriages over a decade to 2011, according to the study by the National Commission for Protection of Child Rights (NCPCR), India's highest child rights body, and Young Lives India, the local chapter of a UK government-funded agency..

In Rajasthan, India's ninth-poorest state (by per capita income), more girls aged 10-17 and boys aged 10-20 were married before the legal ages of 18 and 21, respectively, than any other state, but there was a decline in child marriage in all but one of its 13 districts figuring in the ranking, the study said.

The legal age for marriage in India is 18 for women and 21 for men.

"The most concerning news was the rising incidence of marriage before the legal age among girls in urban areas between Census 2001 and 2011," said Young Lives India director Renu Singh.

No new marriages below the age of 10 were reported in census 2011. On average, fewer children were married nationally over the decade to 2011, while the proportion of boys married before 21 fell to 2.54% from 9.64%, among girls it it was down marginally to 2.44% from 2.51%, for girls married before 18.

Girls & Boys Married Below Legal Age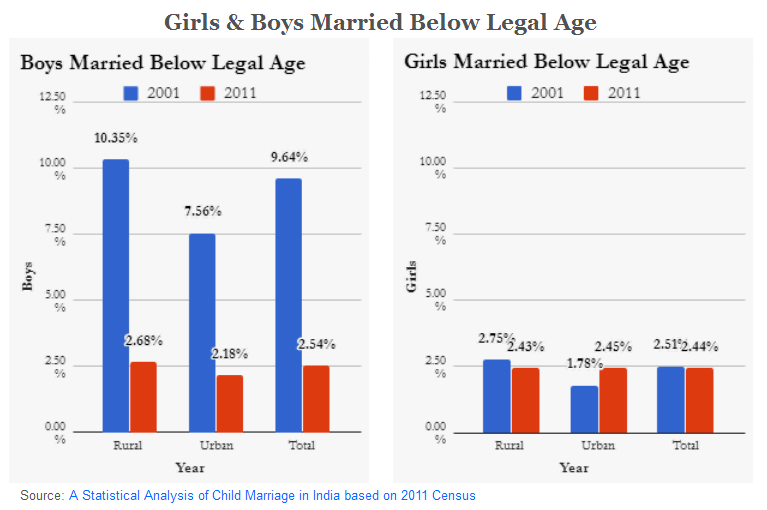 Underage marriages among girls increased more than five times in Maharashtra's northeastern Bhandara district, as did the marriage of underage boys in all 16 districts. In Bhandara, the marriage of underage boys rose 21 times over the decade to 2011.

In Rajasthan, among all Indian states, more girls (8.3% of those aged 10 to 17) and boys (8.6% of those aged 10 to 20) married before legal age.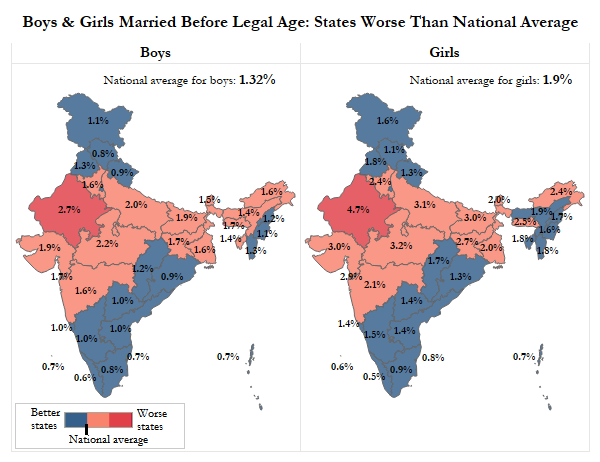 Source: A Statistical Analysis of Child Marriage in India based on 2011 Census

70 districts in 13 states with "high incidence" of underage marriage

India has 70 districts that report a "high incidence" of underage marriages spread across 13 states, which account for 21% of the country's child marriages, said the study.

While 21.1% of child marriage among girls nationwide could be attributed to these 70 districts, 22.5% of child marriage among boys was reported from these districts in 2011. These districts were spread across Andhra Pradesh, Arunachal Pradesh, Assam, Bengal, Bihar, Gujarat, Haryana, Jharkhand, Karnataka, Madhya Pradesh, Maharashtra, Rajasthan and Uttar Pradesh.

'Appalling situation' in Rajasthan: Study

From among seven Rajasthan districts among the top 20 nationally by incidence of girls married between 10 and 17 years in Census 2011, the southern district of Bhilwara tops overall, with 37% of its girls aged 10 to 17 married, as well as among rural districts, with 40% of girls aged 10-17 years married.

Among boys married underage, Rajasthan fared the worst, with nine of its districts among the top 20. Bhilwara again reported the highest incidence of underage marriage among boys aged 10 to 20, with 20.2% married in 2011.

However, over the decade to 2011, the rate of child marriage declined across all but one–the southern district of Banswara–of Rajasthan's 13 districts figuring in the ranking.

NOTE: Based on proportion of married girls (10-17), Census 2011
Source: A Statistical Analysis of Child Marriage in India based on 2011 Census

Urban districts in top 70 account for a quarter of child marriages, causes unclear

The urban districts included in the top 70 reported 25.8% of child marriages in 2011.

One of every five girls between ages 10 and 17 in urban areas was married in 2011, according to the study.

While Gujarat had the highest number of districts (7) among boys aged 10 to 20 married in the top 20 urban districts, Bengal had the most (6) among girls in 2011.

The study pointed out that there are "immense variations" in trends among girls and boys getting married before their legal ages across the country, and its secondary analysis of census data was not enough to reveal the causes behind these trends.

"In order to understand these trends, we need to gather evidence from the ground to see what is happening in a particular district/locality," the study said.

The study listed a multiplicity of factors, also pointed out by previous research (click here, here, here, here and here), which include the perception that girls are ready for marriage after menarche (the first menstrual period), poverty, lack of education, caste, birth order and family size (if there are older brothers and a sister, the girl is less likely to be married young), patriarchy, and cultural gender discrimination against girls in matters of education, employment, sexuality and sexual behaviour.

The legal age of marriage goes against the cultural worldview of many communities, which consider biological maturity enough for boys and girls to be married, said the study.

(Vivek is an analyst with IndiaSpend.)
Courtesy: India Spend