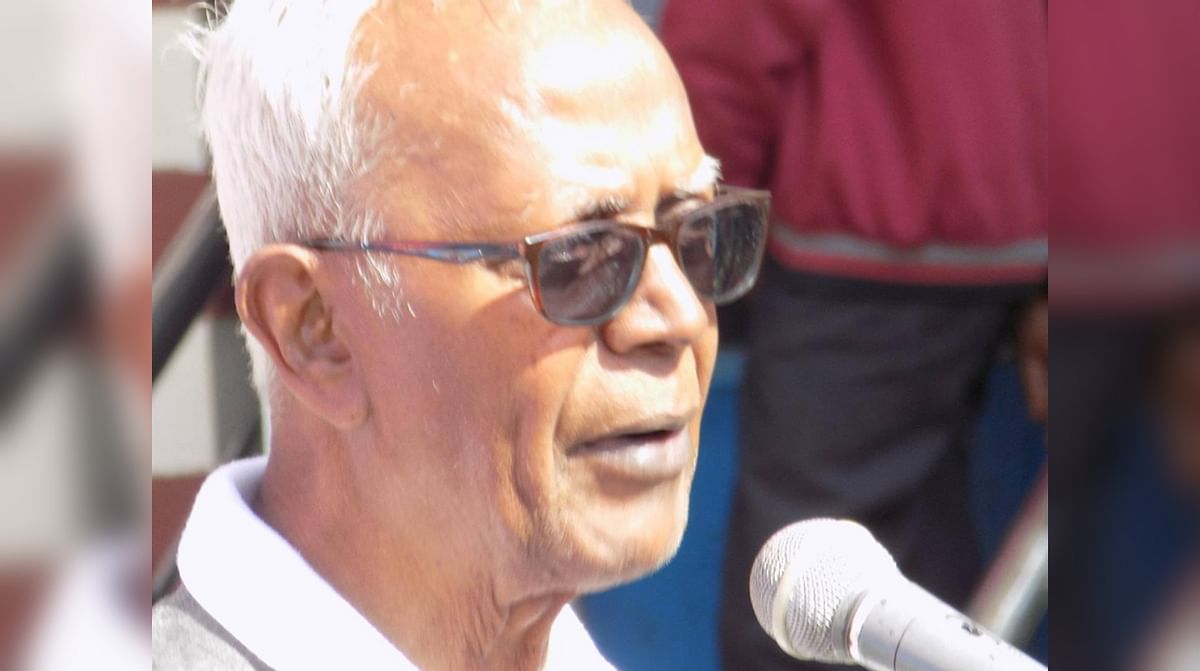 Shocked at the regime's apathy towards an octogenarian, more words of support and solidarity are pouring in for Fr. Stan Swamy, a Jesuit Priest who has been working to empower Adivasis for decades.
The Society of Jesus (Jesuits) themselves have issued a statement condemning the arrest and jailing of Fr. Stan Swamy saying that they were "deeply pained" that the "National Investigation Agency (NIA) arrested Fr. Stan Swamy SJ, an 83 year old Jesuit, belonging to Jamshedpur Jesuit Province, from his residence in Ranchi, Jharkhand – India," and that "The NIA accuses him of personal links with the banned extremist groups of Maoists and Naxalites."
Putting to rest all doubts about Fr. Stan's work and affiliations the statement says, "Fr. Stan, a human rights defender has been in Bagaicha, a Jesuit-run Social Action Centre, for the past 15 years, primarily working with the Adivasis (Indigenous community), for the defense, propagation and protection of their rights as enshrined in the Constitution of India."
It adds, "Stan professed his commitment to the Constitution of India and peaceful means of expressing dissent while questioning any form injustice done to the vulnerable adivasis by state and police. He always dared to speak truth to power and expose the large-scale abuse of power using anti-terror and sedition laws and land grabbing without due process of consultation as required. He also meticulously documented and published the untold sufferings of hundreds of Adivasi youth, who were falsely implicated and imprisoned for exercising their right to defend their resources."
The Society of Jesus concludes its statements saying, "We, as Jesuits involved in works of education, caring and defending the rights of the poor and the vulnerable all over the world, stand in solidarity with Stan and other human rights defenders in India and strongly condemn the arrest of Fr. Stan Swamy, demand immediate release and refrain from arbitrary arrests of innocent law abiding citizens." The entire statement may be read here.
Meanwhile, two Christian Members of Parliament from Meghalaya have also written to Prime Minister Narendra Modi demanding the release of Fr. Stan Swamy highlighting his age, health concerns and work to empower oppressed sections of society. In their letter, Dr. Wanweiroy Kharlukhi (Rajya Sabha MP from Meghalaya) and Vincent H. Pala (Lok Sabha MP from Shillong) have said, "Fr. Stan is suffering from various age-related illnesses including Parkinson's disease and needs regular medical attention. Given his age and health condition, his reputation as a prominent Christian leader of a reputed Jesuit Order and yeoman services he has rendered to marginalized sections of society in the country, may we please take the liberty of requesting your office to consider releasing him from detention."
The letter goes on to remind the Prime Minister that Frs. Stan had cooperated fully with investigation authorities. The MPs also say, "Many Christians amongst our community are being framed in cases where they are actually not involved, and the best example is Fr. Stan who would continue to cooperate with investigation agencies as he has so far by providing detailed statements in July and August 2020."
The entre letter may be read here: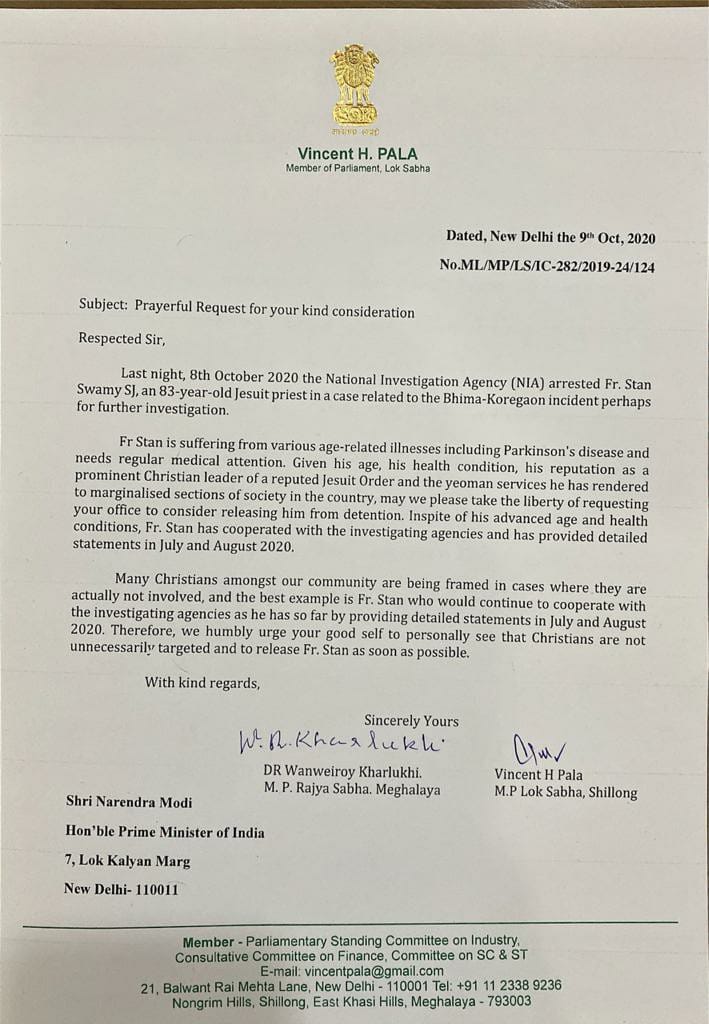 Meanwhile, several activists, individuals and organisations have given a nationwide call for demanding his release on October 12.
Related:
CJP, other groups, activists and citizens condemn Fr. Stan Swamy's arrest
83-year-old human rights defender Father Stan Swamy sent to Taloja Jail!