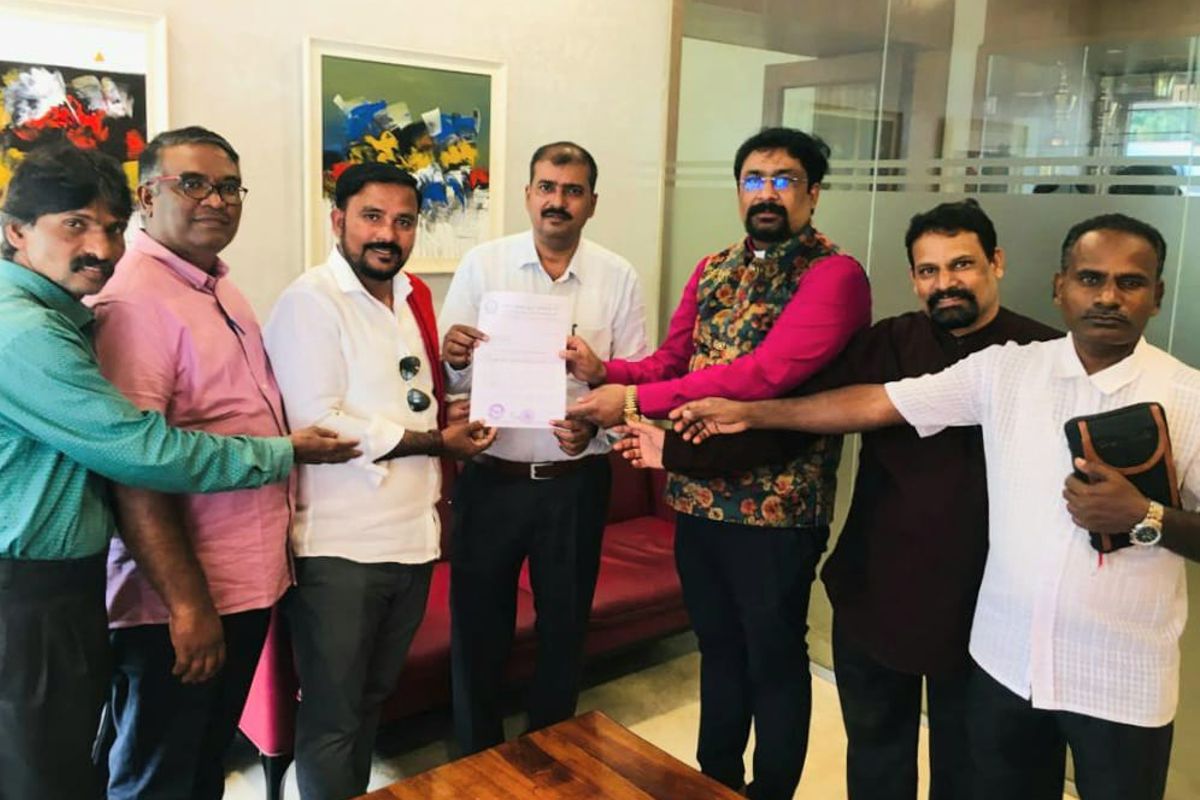 Image: The News Minute
On November 30, members of the Akhila Bharath Cristha Mahasabha approached the Director General and Inspector General of Police to request police protection for participating in peaceful Christmas celebrations. The state police chief was urged by a delegation led by Prajwal Swamy S, the founding president of the Mahasabha, to ensure protection for the neighborhood and defend churches across the state from threats during the holiday season.
According to Nayomi Gracy, the head of the Akhila Bharath Cristha Mahasabha's women's wing, since the anti-conversion law was established, the Christian community have become a target of violence. "We will celebrate Christmas by singing carols while visiting homes starting on December 1 and continuing through the New Year. Christians are hesitant of participating in carol singing and paying late-night visits to church members' houses given the current situation for fear of being attacked", said Prajwal Swamy, as reported by the News Minute.
He further cited two recent incidents that occurred in Channapatna and Maddur where Hindutva organisations protested against the members for organising prayers and later filed a complaint with the police.
"This is the first time such a memorandum has been submitted by us seeking protection for celebrate our festival," Pastor Ramesh J Keng, of Bangalore Bethel Ministry Church said. Singing carol and conducting prayers is not about conversion, it's about spreading the message of peace, he said, adding that since a few months, things have drastically changed and the community members are under threat. "This is a sad development. Seeking police protection to celebrate a festival is not a welcome sign," he said.
The delegation could not meet the DG and IGP and submitted the memorandum to the Public Relations Officer.
Pattern of violence against Christians:
The People's Union for Civil Liberties (PUCL) released a report titled "Criminalizing the Practice of Faith" on Hate Crimes against Christians in Karnataka by Hindutva groups in December, 2021. The report says that the myth of "conversion" is a bogey "used to target the constitutional right to practice, profess and propagate religion as recognized under Article 25," and puts on record how, in Karnataka, it is being used to curtail Christians' constitutional right to practice and profess their religion. The report comes at a time when the state government has openly stated an "Anti-conversion Law" may soon be passed in Karnataka.
The PUCL report documents 39 incidents of hate crimes against Christian in Karnataka from January till November 2021, even as the community especially those in rural areas continue to face right-wing threats of violence and discrimination. While the report documents 39 incidents in 2021, it does put on record that there "are several other cases that are neither reported in local media, nor could access resources or networks for legal and financial assistance."
Related:
Karnataka's Right-Wing groups most active against Christians ahead of State Assembly meet
Hate watch: Alleged Bajrang Dal members create ruckus at Christian prayer hall in Belur, Karnataka
Communal hate crimes are acts of violence against society at large: Karnataka report
Has Karnataka government put on hold survey of churches, till Pope-Modi meeting?
Over 300 attacks on Christians reported this year, over 2000 women, Adivasis and Dalits injured
Survey of Churches, anti conversion laws only empower radical mobs: Archbishop Peter Machado