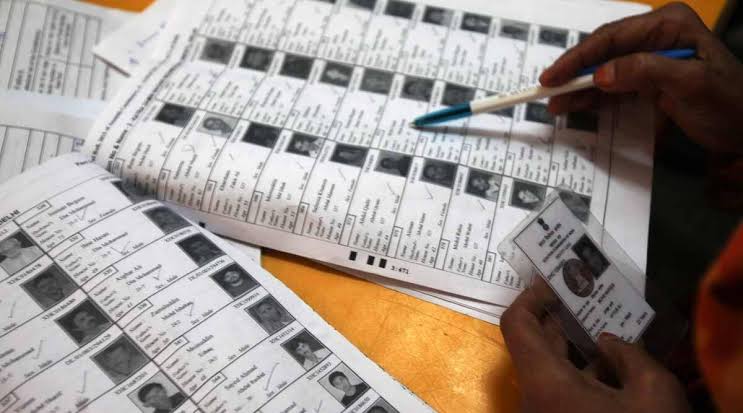 Several thousands of voters belonging to religious minorities Christians and Muslims have been allegedly removed from electoral rolls in Karnataka, say Catholic leaders. To register their strong protest, a delegation on behalf of Archdiocese of Bangalore on Tuesday, submitted a memorandum to the chief electoral officer (CEO), alleging that of the total number of 9,195 names in Shivajinagar constituency in Bengaluru, about 8,000 missing names include voters from the SC (Scheduled Caste), backward classes and the Muslim communities. Rizwan Arshad of the Indian National Congress (INC) is elected from this constituency. Arshad filed a writ petition in the Karnataka High Court on February 9, 2023 alleging a political conspiracy to identify Christian and Muslim voters and deprive them of their voting rights.
"It is unfathomable and unbelievable that out of 193 booths, 91 of them have been selectively picked up and the names that were under the voters' lists those booths are deleted, where a large number of minorities reside in these pockets. The damage caused is improbable to be believed!" read the memorandum.
"We fear that many constituencies across the city would have been tampered and meddled with impunity. If such mischiefs are allowed to carry on unchecked, the confidence of the people in the electoral process will be destroyed and devastated beyond measure," it said.
JA Kanthraj, PRO and Spokesperson, Archdiocese of Bangalore said that Rizwan Arshad, Congress MILA of the Shivajinagar Constituency, has written to them "informing the unethical and corrupt activities that are taking place after the Final Electoral Rolls for 2023 was released by the State Election Commission on the 15th of January, 2023." Kanthraj said that his name is also missing from the electoral roll in Koramangala.
Ucanews had first reported this gross democratic rights violation about five days ago. Repeated attempts by UCA News to reach the CEO did not elicit any response but Kanthraj said the top election officer suggested they hold camps across constituencies in Bengaluru so that people can find out if their names were deleted from the electoral rolls.
The archdiocese has undertaken such a campaign across parishes, Kanthraj said. Father Vivian Monis, the parish priest at the city's St Joseph Church, told Ucanews that they have "been actively campaigning to check if names of Catholics from our parish are missing from the voters' list." Opposition Congress party legislator Rizwan Arshad who represents Shivajinagar said he was shocked to see that several thousand names of Christian and Muslim voters were missing from the revised electoral rolls of his constituency.
"This is a blatant attempt by the ruling BJP party to rob minorities of their fundamental right to vote," he said.
Sabrangindia, Ucanews and TheNewsMinute have been regularly spot-lighting this issue as have national newspapers like Telegraph, Deccan Herald and Hindustan Times.
Muslim voters have been consistently excluded in several constituency and the most recent and stark example was the patent prevention of voters from voting in Uttar Pradesh's Rampur constituency last December. On December 7, an advocate moved the plea caiming that partsan behaviour of the police [prevented citizens from exercising their franchise. A practicing advocate has moved the Supreme Court Wednesday claiming that during the bye-elections in the Rampur Assembly Constituency in Uttar Pradesh, police authorities used every means to "prevent" voters in Muslim dominated areas from exercising their franchise (Sulaiman Mohd. Khan v Election Commission of India).
Amid allegations by Samajwadi Party of gross anomalies during polling in the three by-elections held in the state on Monday, Rampur Sadar Assembly seat recorded a sharp decline in voter turnout as compared to the Assembly elections held in March this year. By 5 pm, an hour before the scheduled end of voting, Rampur Sadar recorded only 31.94 per cent polling as compared to the 56.61 per cent polling in March. In Khatauli, 56.46 per cent voter turnout was recorded till 5 pm. The turnout was 69.79 per cent in March.
Four days before Decembet 7, Sabrangindia had reported how a spate of allegations of voters being prevented and even sustaining injuries.
Related:
Anti-BJP, 'inconvenient' voters in Bengaluru could be dis-enfranchised: Karnataka polls
3 crore Muslims and 4 crore Dalits missing from electoral rolls, study by software wiz finds