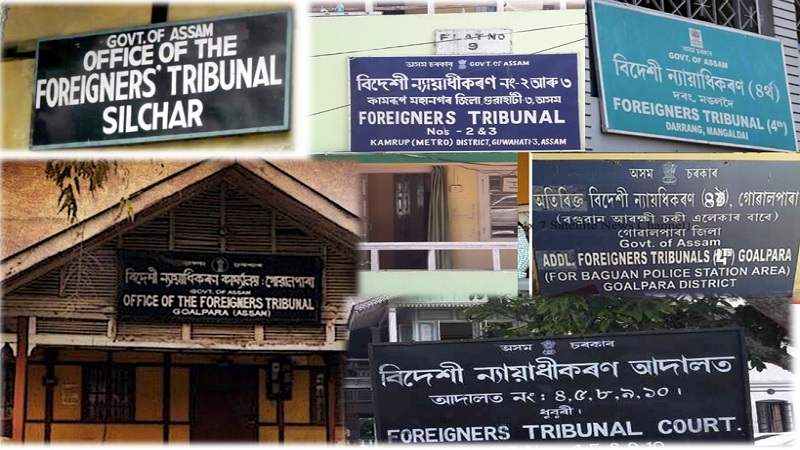 On September 8, 2020, the Political (B) Department of the Government of Assam issued a notification of an order by the Governor pertaining to the appointment and termination of services of Assistant Government Pleaders (AGP) at Foreigners' Tribunals in Dhubri district.
As per this notification, services of the following AGPs were terminated across FTs in Dhubri: Aminul Islam (FT 1), Kamal Hussain Ahmed (FT 2), Nasir Ali Mondal (FT 4), Rabial Hoque Mondal (FT 5), Aftab Uddin Ahmed (FT 8), Sahabul Ahmed (FT 9) and Motior Rahman Pramanik (FT 10).
They were replaced with: Rituparna Guha (FT 1), Gokul Chandra Karmakar (FT 2), Adhir Chandra Roy (FT 4), Arinda Paul (FT 5), Shankar Prasad Chakraborty (FT 8), Ananda Kumar Rai (FT 9) and Sangita Koeri (FT 10). Additionally, Sujit Kumar Saha was appointed to ft 6 to fill an existing vacancy.
Now, SabrangIndia cannot claim to know with which religion the above-mentioned people actually identify. Moreover, the religion of a candidate should never play a role in deciding whether to hire or fire them. However, a cursory glance at their names appears to suggest that all the people whose services were terminated had Muslim sounding names, while none of the newly appointed people had Muslim sounding names.
It is therefore understandable if this latest notification appears to suggest that perhaps the Assam state government is trying to reduce the number of Muslim AGPs in a District with a large Muslim population. It is also noteworthy that Dhubri shares a border with Bangladesh.
It is also noteworthy that now that the nation is gradually emerging from the lockdown that was instituted in wake of the Covid-19 pandemic, all activities related to the National Register of Citizens (NRC) could resume over the next few months.
These activities had been suspended as the state government redeployed staff to prioritise Covid relief work. Thus, the issuance of Reason for Exclusion from the NRC had been put on hold. But now the process of electronic verification of Speaking Orders upon which the Reasons for Exclusion are based has resumed. It is only a matter of time before people who have been excluded from the NRC receive their Reason for Exclusion and are then required to approach their designated FT in order to defend their citizenship.
At this point, it is also important to recall how in April this year, FT members from Baksa district had written to Assam Health Minister Himanta Biswa Sarma offering funds for Covid relief with the rider that the funds not be spent on 'Jehadis' and 'Jahils'. How can one expect FTs to remain neutral to matters of religion, when members harbour such strong sentiments against members of the minority community?
Now, with AGPs of one particular community being seemingly replaced in a Muslim-majority district like Dhubri, it appears that a communal colour is deliberately being added to a crisis that was originally ethnic in nature.
Assam has always been proud of its secular roots and syncretic culture where Hindus, Muslims, Tea Tribes, various indigenous tribes and communities and people of Nepali descent have co-existed peacefully. It is important to remember that the Assam Movement was launched to prevent the demography of Assam from being changed due to an alleged influx of people from Bangladesh. It was never a matter of Hindus vs Muslims, but one where local Assamese people feared that illegal immigrants from Bangladesh were making their way into the state. To add a communal hue to this issue is therefore an insidious move, a step perhaps taken deliberately by a regime that benefits most from a communal conflagration.
The notification may be viewed here: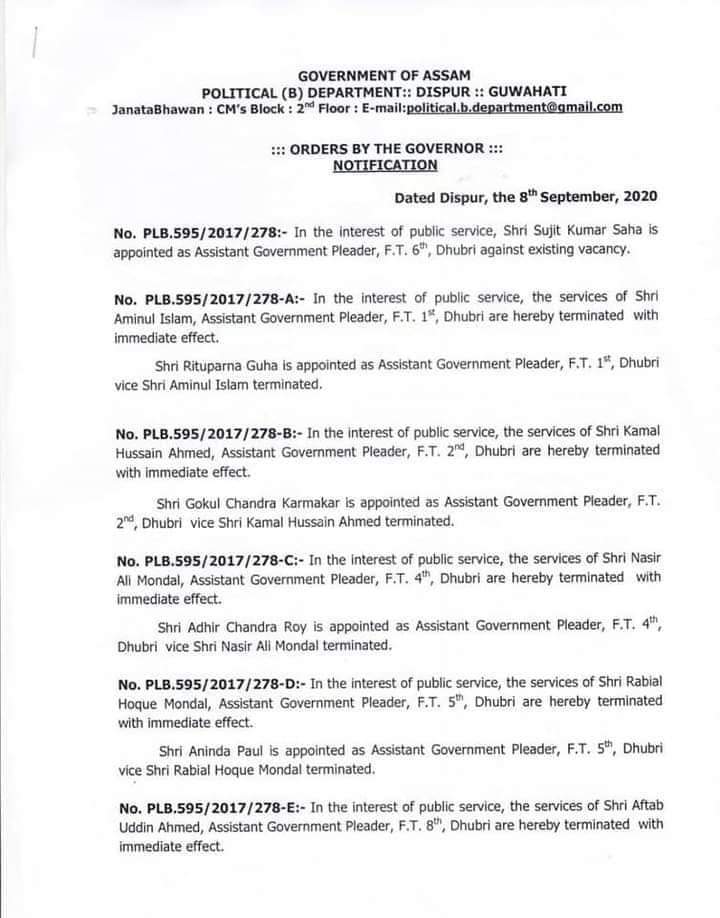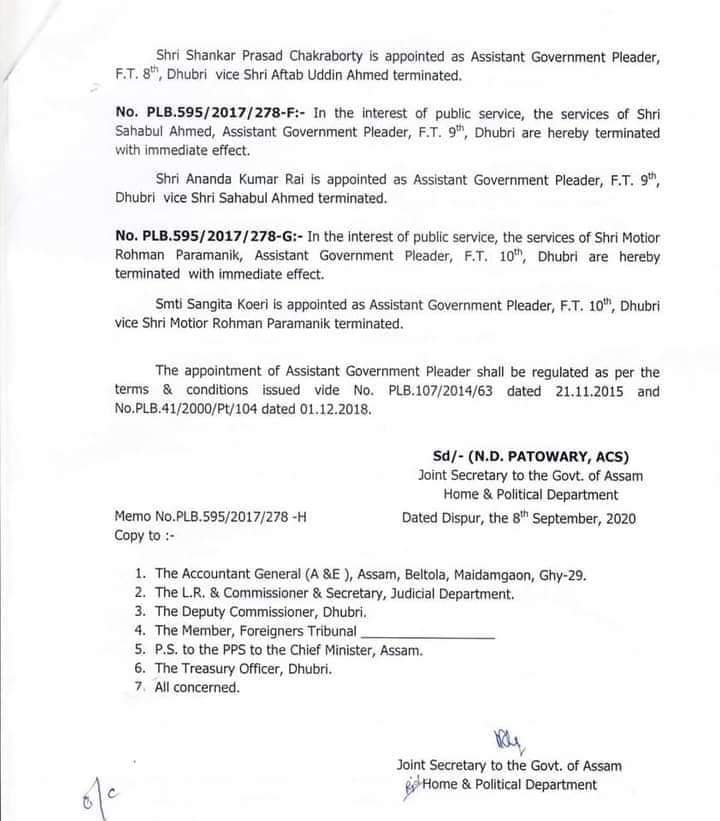 Related:
EXCLUSIVE! NRC Rejection Slips to be issued only after Covid-19 is brought under control
Flood-victims sent notice to defend citizenship in Assam!
Covid-19: Assam FT members donate to relief efforts, but stipulate funds not be used for 'jehadis'