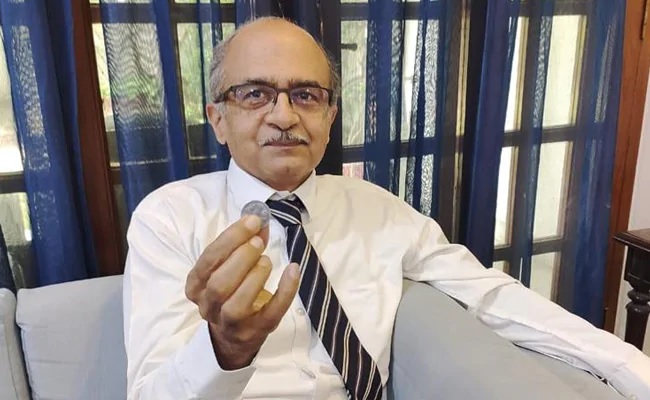 On Monday, activist and senior advocate Prashant Bhushan deposited Re 1 fine that was imposed on him by the Supreme Court when it found him guilty of contempt on August 31. The court fined him one rupee that he must deposit with the Registry by September 15, failing which he would be required to serve a three-month sentence and be debarred from practicing law for three years.
"Just because I am depositing the fine doesn't mean I accept the judgment. I have filed a review petition," said Adv. Bhushan when he reached the SC to deposit his fee via a draft for the amount of Re 1. Members of Mazdoor Kisan Shakti Sangathan accompanied him and they brought along several Re 1 coins, their contribution to a Truth Fund.
"This money will be used to fight cases of people being targeted for exercising their right to free speech. The regime is trying hard to curb freedom of expression and dissent. Umar Khalid has been arrested. They have named many others like Jayati Ghosh and Professor Apoorvanand," said Adv. Bhushan.
Meanwhile, Campaign for Judicial Accountability and Reforms (CJAR) and Swaraj Abhiyan organised a webinar where several legal luminaries, journalists and activists expressed solidarity with Adv. Bhushan, and raised concerns about the manner in which dissen.
Justice Madan Lokur raised concerns about the widespread misuse of the sedition law saying, "State is using an iron hand to curb free speech. Sedition is a very serious offence. Lokmanya Tilak and Gandhi were charged under sedition. Today the common man is facing this charge." Standing by Bhushan he said, "It was not his intention to denigrate the SC. His tweets were misread and contempt proceedings were initiated."
"Right now, the Supreme Court is under a spotlight," said senior journalist N Ram. "Instead of curbing free expression, this case has had a stimulating effect, with more robust criticism of the court now taking place in articles and debates."
Activist Anjali Damania said, "When we should be focusing on the plight of migrant workers and the failing economy, it is unfortunate that people like Prashant Bhushan are being targeted."
The verdict in Prashnat Bhushan's contempt of court case was pronounced by a bench comprising Justices Arun Mishra, B R Gavai and Krishna Murari. It is noteworthy that Adv. Bhushan repeatedly refused to either apologise for his tweets or retract them. In a statement released at that time, Bhushan had said, "Today in these troubling times, the hopes of the people of India vest in this Court to ensure the rule of law and the Constitution and not an untrammeled rule of the executive. This casts a duty, especially for an officer of this court like myself, to speak up, when I believe there is a deviation from its sterling record." He added, "My tweets represented this bonafide belief that I continue to hold. Public expression of these beliefs was I believe, in line with my higher obligations as a citizen and a loyal officer of this court. Therefore, an apology for expression of these beliefs, conditional or unconditional, would be insincere." Bhushan went on to say, "An apology cannot be a mere incantation and any apology has to, as the court has itself put it, be sincerely made." He concluded saying, "If I retract a statement before this court that I otherwise believe to be true or offer an insincere apology, that in my eyes would amount to the contempt of my conscience and of an institution that I hold in highest esteem."
Related:
Prashant Bhushan contempt case: The judgment behind the Re. 1 penalty
Bhushan's conviction for contempt has chilling effect on freedom of expression: ICJ