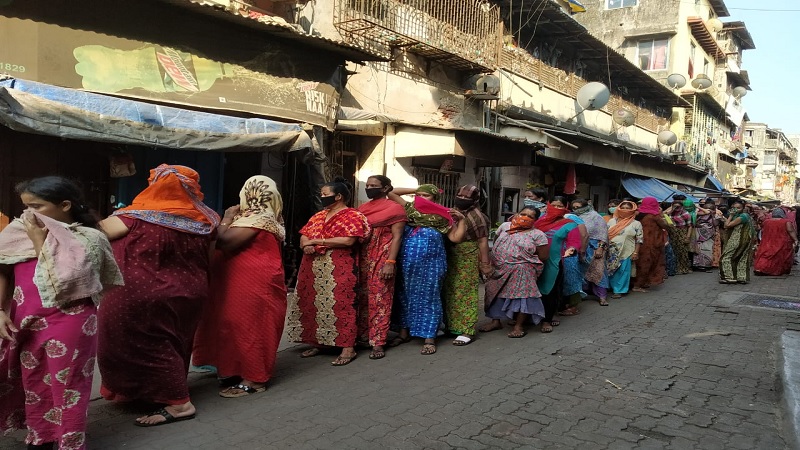 In its continue efforts to help the most marginalized sections of society, Citizens for Justice and Peace (CJP) has stepped up once again, this time in response to the lockdown brought about by the Covid-19 pandemic that has left many impoverished and deprived communities struggling for basic necessities.
Just like CJP's role in providing relief during the 2005 deluge in Mumbai, it has swung into action once again, armed with its expertise and support from similar partner organizations.
The 21-day lockdown imposed in India to curb the spread of the coronavirus outbreak, put the marginalized like the domestic workers, migrant labourers, daily wagers, scrap purchasers, auto and truck drivers, vegetable and fruit vendors, sex workers, waiters, delivery boys and Mathadi workers among scores of others at risk of perishing from hunger.
Though the government announced relief for the impoverished communities, the threat of looming hunger, came first and was much more frightening than the threat of contracting the coronavirus.
CJP immediately stepped on ground with partner organizations like Prayas – Ek Koshish, the Jimme Foundation, Haq Hai and Habitat and Livelihood Welfare Association (HALWA) among others, with a mission to provide aid to around 3,000 families in the Mumbai Metropolitan Region (MMR).
CJP's volunteers, as those of other partner organizations came together, risking their lives even in this pandemic, to take stock of the situation and be the firm link in the now ruptured supply chain. Procuring raw materials and ensuring transport facilities reaching the last of the urban marginalized in need, the volunteers portrayed seamless efficiency in completing the task while ensuring social distancing and following all safety guidelines.
Unrelenting and toiling away in the thick of the pandemic, CJP and its partners have brought relief to over 700 families. Keeping in mind daily necessities, the organizations designed a relief package consisting everything needed for nutrition and hygiene.
Each package costing about Rs. 1,000 provides a family of five with 3kgs of rice, 2 kgs of atta, 1 liter oil, 2kgs dal, 2kgs potato, 2 kgs onion, 2kgs sugar, 250 gms tea, 2 bars each of bathing and washing soap, and one packet each of salt and masala.
Till date, CJP has provided 290 kgs of rice, 200 kgs of wheat flour, 105 liters of cooking oil, 60 kgs of kabuli chana (chickpeas), 60 kgs of pulses, 400 kgs of potatoes and 400 kgs of onions.
It has served areas like Andheri West, Goregaon, Jogeshwari, Malwani and Kamathipura up until now and with more donations from good samaritans of the society coming in, it hopes to reach many more such families till government aid actually starts to trickle in.
Not only is CJP running on-ground efforts, it is also connecting aspiring volunteers with organizations that provide aid, in case they wish to take up individual efforts in helping the marginalized. For this, CJP has prepared an extensive Google sheet, consisting of the names of the organizations in the MMR who are already out there doing relief work for those in need.
To ensure that volunteers who wish to pitch in and help in the current situation, CJP has also published volunteer guidelines to ensure that those going out in the community take extra precautions so as to not kickstart local or community transmission of the virus.
CJP is using its robust social media presence to not only engage people in relief efforts and spread information about the situation, but it is also constantly keeping people informed of the use of the monetary aid that has come in generously, as part of being accountable for its undertakings.
The battle to fighting and tiding over the Covid-19 seems to be a long one. However, while the government does its bit, CJP says it is organizations like them who can reach into the nooks and crannies of the community to ensure no one is left behind in this battle for survival.
CJP vows to not give up and appeals to corporates, organizations and individuals to come forward and pitch in, so that the deprived can feel a sense of home when they need it the most.