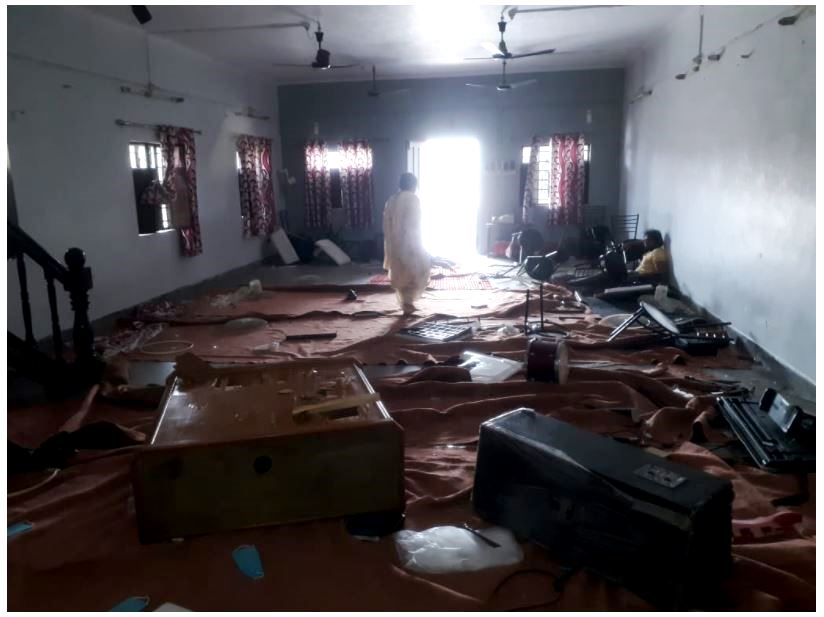 Citizens for Justice and Peace, has written to the National Commission for Minorities to take cognisance of the various church attacks by alleged right-wing outfits in various States over the past one week.
Multiple attacks have taken place in Uttarakhand, Madhya Pradesh, Chhattisgarh and Uttar Pradesh. In the city of Roorkee, Uttarakhand, a right-wing mob allegedly vandalised the church where worshipers were attending Sunday's congregational prayers and many of them were seriously injured.
CJP's complaint reads, "The Church is located in Solanipuram Colony, Roorkee and those attending the prayers told media-persons that at around 10 A.M, a right-wing mob consisting of women also came to the prayer hall and shouted slogans against the church and its people. The mob accused those in the church of "carrying out religious conversion of some Hindus under the garb of charity work in the area" and then suddenly began to vandalise the Church premises. The worshipers have also alleged that they were "physically manhandled" by the mob. Reportedly, five Christians were injured and one of them, Rajat Kumar, is in critical condition."
On Sunday, October 3, when the prayers were about to start, the attacking mob shouted slogans like 'Vande mataram' and 'Bharat mata ki jai', entered the church and started beating everyone in the prayer hall.
CJP's complaint also cites other examples like in Maharajganj, Uttar Pradesh, Pastor Durgesh Bharti was leading a prayer meeting in the home of other Christians in the village of Nasirabad where some fanatics arrived and allegedly started to mistreat and threaten them. After a while they called the police. The police arrived and took Pastor Durgesh into custody at the Police Station in Paniyara.
In the state of Chhattisgarh, in the village of Kusumi, some Christians were attacked twice by the villagers: once in the morning and another in the afternoon, according to information from the Chhattisgarh Christian Forum. The villagers entered the small room used as a chapel, destroyed it and beat a 12-year-old boy.
In Karnal, Haryana, a Christian woman and about 25-30 other faithful were attacked by members of an extremist group during a Sunday liturgy. They were threatened, beaten, put to flight and the house where the Christians were praying was ransacked, mentions the complaint.
In Asola Fatehpur Beri, in New Delhi, 12 men reportedly went to the home of Pastor Santosh Dan and threatened him for announcing the Gospel, accusing him of trying to convert people through deception or illicit means. They told him not to let any Hindus into his house for any reason. In Hoshangabad, Madhya Pradesh, Evangelist pastor Prerit and his Church were attacked allegedly by a right wing, which came to disrupt their Sunday worship.
The complaint further refers to the Persecution Relief report to highlight the increasing levels of hate crime against the minority community in India. "Hate Crimes against Christians in India have risen by an alarming 40.87 percent, even at times when the nation was under Covid-19 lockdown. Persecution Relief's half yearly report of 2020 has on record 293 cases of hate crimes against Christians, including five rapes and six murders. In the same months of 2019, Persecution Relief had recorded 208 such incidents. From January 2016-June 2020, Persecution Relief states that they have recorded more than 2067 cases where Christians have been attacked in India", states the complaint.
Our complaint also highlights India's long-standing history of printing books with extremist content that militate against the constitutional vision in some privately run schools, clearly used for the dissemination of blatantly partisan and prejudicial ideas. CJP's sister publication Sabrang communications (now SabrangIndia) has documented many such issues in Communalism Combat, its monthly magazine, which has been stated in the complaint. In 1999, the Vidya Bharati schools used textbooks with statements about the followers of Christianity read, "It is because of the conspiratorial policies of the followers of this religion that India was partitioned. Even today Christian missionaries are engaged in fostering anti–national tendencies in Nagaland, Meghalaya, Arunachal, Bihar, Kerala, and other regions of our country because of which there is a grave danger to the integrity of present-day India".
Keeping such historical injustices and systematic alienation in mind, CJP has urged the commission to take cognisance of such attacks and conduct a full-fledged investigation under the National Commission for Minorities Act, 1992. We have also urged the commission to issue a statement condemning these attacks nationwide and issue guidelines/advisory to all State Police Departments to deal with communally motivated and partisan attacks in a stringent manner.
The complaints may be read here:
Related:
NCM seeks report from DIG Meerut on CJP's complaint against Yati Narsinghanand's disciple
CJP complains to NCM against hate monger Vikas Sehrawat
CJP approaches NCM against Yati Narsinghanand's hate speech