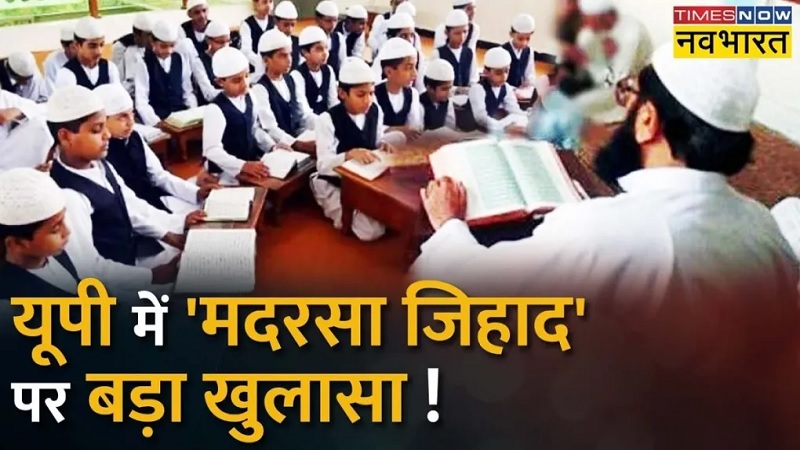 Image Courtesy: youtube.com
Citizens for Justice and Peace has in a complaint to Times Now, raised concerns over the contents of the debate show titled "Madrasa Jihad' पर बड़ा खुल़ास़ा, मजहबी त़ालीम क़ा '491 तंत्र'". This show aired on November 11 on Times Now Navbharat and was based on a survey carried out by the UP government on Madrassas in certain districts of the State. Reportedly, the survey found that Bahraich city, which is close to the Nepal border, has 792 madrassas out of which 491 were found to be running "without license". Over this news, the channel held a debate and declared that something called "madrassa Jihad" was taking place in Bahraich.
The segment starts with a large display in the background which reads "Bahraich me Madrassa Jihad" (Madrassa Jihad in Bahraich). The following text is repeatedly displayed throughout the debate which suggests that the intention of the channel was to spread stigma, even hatred against the Muslim community.
UP me Madarsa Jihad par bada khulasa (00:05)

Jaha Owaisi gaye waha awaidh madarse ugg aaye? (00:53)

Bahraich ka M Factor (04:32)

Bharat-Nepal Sarhad … Kisne banaya 'gadh' (00:30)

Bahraich me 34% Muslim aabadi (04:27)

Akramankari Mahmood ghaznavi ka bhanja tha Masood (05:30)

Bahraich me Salar Masood Ghazi ki dargah (28:50)
The host, Nanina Yadav questioned how these madrassas are being funded, the speaker, a Muslim scholar, said that Muslims all over the country themselves fund the madrassas to which she questioned "akhir aisa kya hota hai madarso me ki itna bada dil dikhate hai" (How is it that they display such 'generosity' only when it comes to Madrassas?")
The complaint states that this persistent stigmatization and attack on the minority community to drive home the point that Muslims are always up to sinister activities by terming everything they into "jihad" is harmful to the social fabric of this country. It further states that using terms like "Madrassa jihad" is both denigrating and demeaning towards the Muslim community, besides perpetuating stereotypes that can create attitudes and actions therefore which can cause harm and mischief.
The complaint may be read here:
Related:
CJP MOVES NBDSA AGAINST NEWS INDIA 18'S SHOW "DESHNAHINJHUKNEDENGE AMAN CHOPRA केसाथ" FOR SPREADING COMMUNAL PROPAGANDA
CJP MOVES NBDSA AGAINST AAJ TAK'S 'BLACK AND WHITE SHOW' FOR SPREADING COMMUNAL PROPAGANDA
CJP MOVES NBDSA AGAINST TIMES NOW'S VIRTUAL MEDIA TRIAL OF TEESTA SETALVAD