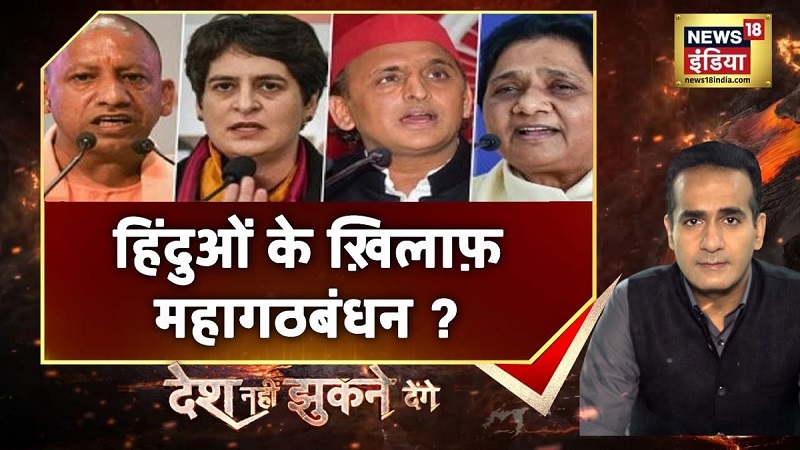 Image Courtesy:youtube.com
CJP has written to News18 India against the communal contents of its debate show 'Desh nahi jhukne denge – हिंदुओं के ख़िलाफ़ महागठबंधन?' (Will not let the country bow – Grand Alliance against Hindus?) anchored by Aman Chopra that aired on News18 India on January 18, 2022.
The complaint begins by mentioning that the show was communally divisive throughout its narrative and did not try to mask this in any manner. The show was flagged off by the host with a communally polarising question: Hinduon ke khilaf Uttar Pradesh me Mahagathbandhan tayyar ho raha hai, aur jab 80 vs. 20 ki baat ki thi Yogi Adityanath ne toh wo sahi thi? (A grand alliance is being formed in Uttar Pradesh against Hindus, and was Yogi Adityanath right when he said it is now 80 vs. 20?)
Some extracts from the show are mainly comments made by Chopra, the host of the show, which clearly make his political affiliations visible. His comments like "Ye 80 k khilaf hai mahagathbandhan" (This grand alliance is against the 80) or "Yogi ji ke rehte danga nahi kar paa rahe ye dard hai aapka?" (You could not commit riots during Yogi's term, are you feeling hurt because of that?) have become a matter of contention.
The show kept displaying inflammatory text throughout its duration such as:
"15% Muslim 85% Hindu par bhari" (15% Muslims overshadow 85% Hindus)
"Jab Yogi Modi chale jayenge, tumhe kaun bachayega?" (When Yogi-Modi leave, who will save you?)
"Hinduon ke khilaf sab mil gaye hai?" (Everyone has colluded against the Hindus?)
The complaint states, the host Aman Chopra, was keen on leading the debate with the question of whether the Congress party and its alliance was meant to be against the Hindus of the state of UP. He repeatedly used the term "80 vs. 20" throughout the show pitting Hindus voters against Muslim voters of the state. As the anchor of show on a news channel, that is supposed to have a neutral and unbiased theme, the host did not even attempt to have any non-communal theme on the show.
The complaint highlights that the show violates the many guidelines issued by the News Broadcasting Digital and Standards Authority (NBDSA) as also its Code of Ethics.
The complaint may be read here:
Related:
Hate Hatao: CJP doubled its efforts to check hate crimes in 2021
CJP writes to Zee News over their Population Politics show
CJP moves NBSA over Zee's 'Vaccine Jihad' show
CJP approaches NBSA against Zee's Population Control show