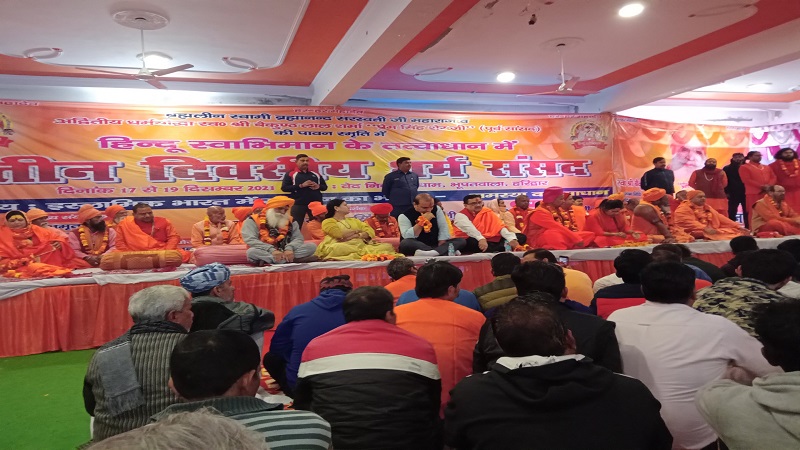 Image Courtesy:twitter
The videos of Uttarakhand's 'Dharam Sansad" or "Religious Parliament" came as a rude shock to the majority of people. The event that was held in Haridwar between December 17-19 saw so-called religious leaders, espousing a hard, right-wing, exclusionist ideology and activists of the same ilk, along with hardline fundamentalist speakers and delivering incendiary speeches that have the potential to incite hate and violence.
In order to ensure that a serious inquiry takes place in this matter, CJP thought it pertinent that the National Commission of Minorities (NCM) get involved and initiate its own inquiry and monitor the police investigation as well. An FIR has been filed by Haridwar Police, albeit under only one section of IPC i.e. 153A (promoting enmity between different groups on grounds of religion etc). The same was initially filed only against Jitendra Narayan Tyagi (formerly known as Wasim Rizvi) and now Dharamdas Maharaj and Sadhvi Annapurna have also been added as accused.
CJP, in its complaint to the NCM, has detailed the hate speeches and calls for genocide made by the following people:
Swami Prabodhanand Giri, president of Uttarakhand Hindu Raksha Sena

Yati Narsinghanand, Head Priest Dasna Devi temple

Sadhvi Annapurna aka Pooja Shakun Pandey, general secretary Hindu Mahasabha

Swami Anandswaroop

Swami Sagar Sindhu Maharaj from Roorkee

Dharam Das Maharaj from Patna
The complaint gives excerpts of these speeches and has also shared with the NCM the videos that were widely circulated on social media which become a proof of these speeches that were delivered. The complaint also details the various sections of IPC that can be invoked in this case as opposed to the one paltry section that has been invoked by the Haridwar Police.
The complaint also gives a brief profile of each of these speakers and their hate diatribe of the past to emphasise that the time to act against these perpetrators of hate is now. CJP has approached the NCM against Yati Narsinghanand in the past as well as given a detailed explanation of how he has built an ''ecosystem of hate' and how his so—called 'followers' who have been allegedly brainwashed by him have been in the spotlight for making similar hateful statements as Yati. CJP has filed complaints against such followers of Yati as well.
The complaint underscores how these statements "have now gone beyond being just hate speech and have become brazen calls for genocide and encouragement to pick up arms against the minority community."The complaint further says, "Hate speech has not been dealt with an iron hand in the past few years and these makers of hate speech have not faced any serious legal action till date which has resultantly given them a free hand and has pushed them to make worse statements than they may have made before. The impunity with which they have been dealt with until now has made the social media a breeding ground for such public figures who have a wide audience who comment on their hate speeches, gets inspired by them and commit more illegal acts."
The complaint also presents its concept of 'Pyramid of Hate' which details the various stages of hatred that is perpetrated by such offenders, seeps into the society and how India has already reached level 4 of this pyramid, falling short of only Genocide.
The complaint urges NCM to take appropriate action saying, "Matters have reached a stage where a statutory commission like yours needs to utilize and apply its mandate to the maximum in order to act as a deterrent to such extreme incidents of hate speech where calls for genocide are openly and brazenly being made. It is also apparent that the threat and risk of spurious violent acts is looming high and the threat of a full blown genocidal attack is also not far reaching seeing the brazenness of these acts."
The complaint may be read here:
Related:
Hate Hatao: CJP doubled its efforts to check hate crimes in 2021
Tripura violence: NCM takes swift action, seeks expedited report from gov't
Hate offender Wasim Rizvi fans communal flames again