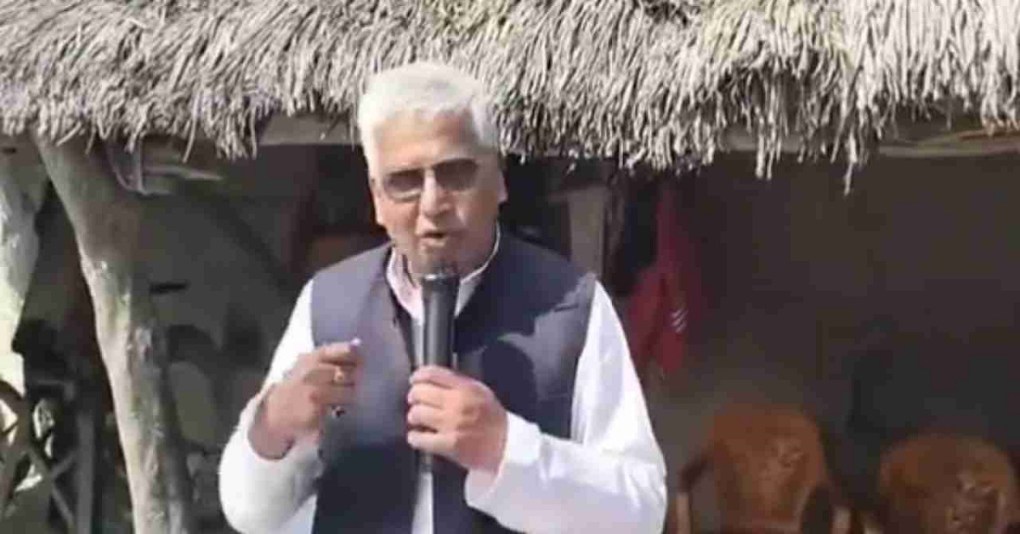 Following close monitoring and documentation, CJP has now moved the State Election Commission (SEC), Uttar Pradesh against BJP MLA Mayankeshwar Singh, Amethi, Uttar Pradesh, for his outrightly criminal and partisan campaign. In a video circulating on the social media platforms where he can be seen delivering distinctly hateful and communal remarks during the election campaigns, thus creating a fear of spreading of communal disharmony and also creating hatred against Muslims and Islam. The elected official (MLA) is also heard encouraging and influencing voters to commit acts that are disrespectful towards Islam and Muslims.
The Complaint was filed to SEC by CJP on February 19, 2002. In the detailed representation, the complaint lays down the content of the speech and analyses how it violates the Model Code of Conduct, sections of the Indian Penal Code and the Representation of People's Act, 1951.
BJP MLA Mayankeshwar Singh can be seen addressing a crowd of voters during one of his campaigns and can be heard saying, "If the Hindus are awakened, we will pull out the beards and make a chotia (a ponytail sported by Brahmin Hindus). If you want to stay in Hindustan you will have to say "Radhe Radhe" (a Hindu chant) else, just like at the time of partition people had gone to Pakistan, you should also go"
The Model Code of Conduct issued by the Election Commission of India, among other things, states that "No party or candidate shall include in any activity which may aggravate existing differences or create mutual hatred or cause tension between different castes and communities, religious or linguistic" and also states that, "There shall be no appeal to caste or communal feelings for securing votes."
The speech by the BJP MLA is also actionable underIPC sections 153A (Promoting enmity between different groups on ground of religion, race, place of birth, residence, language, etc., and doing acts prejudicial to maintenance of harmony.), section 153B (Imputations, assertions prejudicial to national integration), section 295A (Deliberate and malicious acts, intended to outrage religious feelings of any class by insulting its religion or religious belief), section 298 (Uttering words, etc., with deliberate intent to wound religious feelings), section 505 (Statements conducing to public mischief), section 505(2) (Statements creating or promoting enmity, hatred or ill-will between classes). Finally, his actions are also in violation of the Representation of People's Act, 1951 under section 123 ( corrupt practices), section 125 (Promoting enmity between classes in connection with election).
On February 15, CJP had before also made a similar complaint against BJP MLA Raghvendra Pratap Singh for making hate speeches in his election campaign at Domariyaganj of Siddharthnagar district, Uttar Pradesh.
Significantly Election Commission of India (ECI) in Letter No. 437/6/INST/2013/CC&BE, dated November 28, .2013 addressed to the President/General Secretary of all recognised National and State Political Parties, had made note of plummeting levels of political discourse witnessed during the ongoing election campaign for the 5 State Assembly elections, namely Chhattisgarh, Madhya Pradesh, Mizoram, Rajasthan and Delhi and mentioned that it had received a tide of complaints indicative of spreading communal hatred for purpose of creating disturbance in peace and communal disharmony, attacking people on their religion to gain votes, which the Model Code of Conduct dissuades from being resorted to.
The Complaint to the SEC lodged by CJP has also pointed out that while vigilant civil rights organisations monitor and complain of such deleterious material which are published and circulated on social media platforms, the fact that there might be several other (or more) brazen proliferation of such speech and discourse is also something that constitutional authorities need to take into consideration. The CJP complaint has also urged the SEC to seek urgent and stringent actions against any and all of such prominent campaigners and members of political parties who indulge in such corrupt and communal practices, vitiating the social atmosphere and intimidating voters.
Since there have been more than three to four prominent members of the same party who appear to be consistently indulging in such unlawful corrupt practices, CJP has also requested that the Election Commission seriously consider — apart from issuing a notice to this individual candidate — to also issue a notice to the state and national party chiefs of the BJP.
Given that elections in the Indian context are held under the mandate of the Indian Constitution that, in the Preamble and Fundamental Rights, is a guarantor of equality, fraternity, dignity and non-discrimination, any registered political party participating in such elections is bound by that mandate. If, as in the instant case, there is more than one violation of this, by more than one person, all belonging to the same outfit or party, the party is also answerable and responsible.
The clipping of the video available on social media can be seen here:
The Complaint may be read here
Related:
CJP moves SEC against BJP MLA's communal speech during election campaign in UP
Hate Hatao: CJP doubled its efforts to check hate crimes in 2021
CJP moves NBSA over Zee's 'Vaccine Jihad' show
CJP urges FIR against Sadhvi Giri for remarks inciting sexual violence against minorities