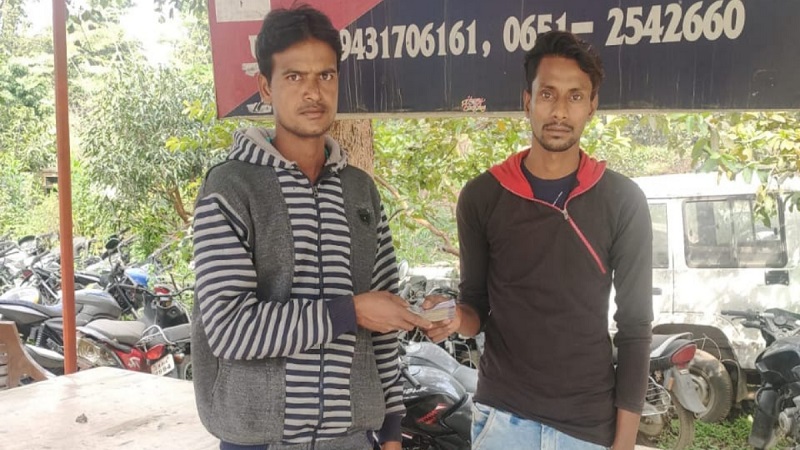 Migrant workers in India face severe exploitation at the hands of contractors, a sad reality that became worse during the Covid-19 pandemic. One such migrant worker, Mirchand Sheikh, a mason, did not receive his meagre wages for as long as three months. To help him assert his right to dues, CJP Fellow Mohd. Ripon Sheikh helped him get in touch with local authorities including the Additional Deputy Inspector General (DIG) and eventually the young mason got his dues on November 22, 2021.
For around three months, Mirchand was working in Ranchi, Jharkhand, without wages. His contractor kept putting off the monthly payment of Rs. 5,000 citing money transfer issues. According to the youth, travel expenses included he was due Rs. 20,000 in all.
"After the first month of work, I was told the contractor will pay me later, I have to work till then. After three months, he paid a little money but was yet to pay Rs. 19,000," said Mirchand Sheikh. His mother is sick and relies on the sole breadwinner's wages for her medical expenses. Well aware of this, Sheikh did not ask to go back home to Birbhum, West Bengal but repeatedly asked the contractor for the money. "One day, even my father talked to him on call and tried to reason with him. However, the man verbally abused my father as well. He told me he would not pay and that I could do whatever I want," said Sheikh.
The mason's local friends advised him to talk to Mohd. Ripon Sheikh, saying, "He will solve the problem in two days!"
"That's when I talked to Ripon sir," he says.
On learning about what was clearly "mental torture," CJP Grassroots Fellow Mohd. Ripon Sheikh, who is also a Bangla Sanskruti Manch activist, reached out to local leaders and government officials including the SP, DSP and Additional DIG.
"The officer-in-charge assured me he will solve the matter. Accordingly, he detained the contractor and on Monday, Mirchand got his money," explained Ripon.
While Mirchand Sheikh is yet to receive Rs. 5,000 still from the employer, the police officer assured him he would get his payment. Sheikh has worked as a migrant worker for nearly five years, said he has never faced such difficulty in getting his dues. However, the youth is not the only one facing such issues. According to Ripon, many migrant workers in the region face similar problems in payment.
"My request to the central and state governments is to open specific offices and helplines for migrant workers. The names have to be officially registered so that they can be easily rescued in case of danger," said Ripon.
Related:
Carving flowers on wood, and praying for a better future
Prayers for stability during the festive season
Grassroot Fellowship ft. Ripon Sheikh, Migrant Labourer