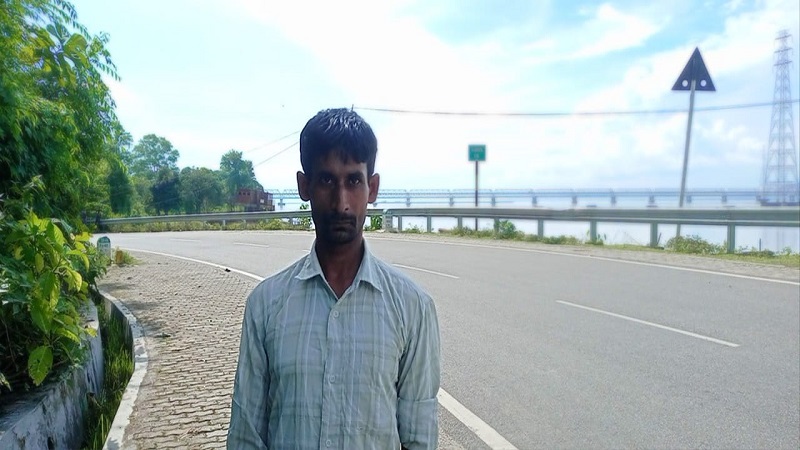 In some heart-warming news, the West Bengal government has confirmed the Indian citizenship of Gangadhar Pramanik, a man who had left Bankura a decade ago to look for a job in Assam, but instead found himself behind bars at the Goalpara Detention Centre. CJP had helped secure his release on conditional bail and our team had accompanied him all the way home.
The Telegraph reports that a team of Bengal government officials, led by Anup Kumar Dutta, sub-divisional officer (Bishnupur, Bankura) visited Pramanik's home in Radhanagar village on Friday, September 17, and confirmed his Indian citizenship.
"I appreciate the way CJP took on the challenging task to bring me back to home, and how they persevered and even complete all the complicated formalities with all relevant authorities. I'm grateful to CJP. I am also grateful to local authorities and Bengal government for their help. I'm happy now," says Gangadhar.
"Gangadhar Pramanik has suffered an irreparable loss, of not just almost four years of his life spent behind bars, but also the death of his father. At CJP, we hope that this prompt, humane and Constitutional act of the Gov't of West Bengal offers some form of compensation and relief to a family that has suffered so much," said CJP secretary Teesta Setalvad.
"Hundreds of thousands of genuine Indian citizens hailing from different states, castes and communities are wilting under this burden of a civil death – manipulative denial of citizenship despite all proof – thrust upon them by an apathetic State. We hope that this action becomes a catalyst for this serial harassment to stop," she adds.
Bankura District Magistrate K Radhika Aiyar told The Telegraph, "We have checked the land documents and details of his parents and their voter identity cards. Our officials also found his name in the register of the local primary school, where he studied till Class IV. This information makes it clear that he belongs to Bankura. We will now start the process to generate required documents and give him a job under the 100-day programme."
Brief background of the case
33-year-old Gangadhar, had left his home in search of work all those years ago. Gangadhar's father Mantu used to work in local shops while Gangadhar who had received an education till 5th standard, supplemented the family's income by working in a saloon.
The young man, who had until then been a resident of Radhanagar village, that falls under the jurisdiction of the Bishnupur police station of Bankura district in West Bengal, boarded a train from Bishnupur to Howrah and then another train and eventually found himself in Guwahati!
Lost and penniless, he started working at a restaurant and later in a chocolate factory. But he had to quit after a drunk coworker assaulted him and left him with a head injury! Gangadhar quit and went back to his old job, where his former employer agreed to pay him his full wages when he went home. But it was not to be. "One day the police came and took me away. At the police station, they asked me my name and address," he recalled his fresh bout of misfortune. "They kept me there overnight and then took me to another jail. I found out that they thought I was Bangladeshi," a perplexed Gangadhar told us.
After Gangadhar went incommunicado on account of being arrested by the Border Police and being incarcerated in the detention centre, his father Mantu passed away, and his mother suffered from a bout of paralysis. Her mental health also deteriorated from the anxiety, and she moved in with Champa.
CJP overcomes unprecedented challenges
We had previously told you how CJP had found out about Pramanik from Dipak Deb and Fazar Ali, two other detainees we had helped get released on conditional bail. The men had been so demoralised, that they had contemplated everything from prison-break to suicide!
But we faced an unprecedented challenge in helping him get bail as he did not have an address or family in Assam. "When we found his address in West Bengal, we discovered that nobody lived there anymore. Moreover, there was no way to contact them as they had left behind no forwarding address or phone numbers," says CJP Assam state team in-charge Nanda Ghosh. But we did not give up, and based on information provided by their former neighbours, we traced his mother Bharati to his sister Champa's house. That was also when we learnt that Gangadhar's father Mantu had passed away. But what was perhaps most heartbreaking was that Gangadhar found out about his father's passing from the CJP team, as he had not been able to establish contact with anyone from his family until then.
After some difficulty we found a bailor, and even negotiated a complex set of conditions for his bail. "When we contacted the Border Police to start release formalities, we were told one of the conditions was that the released detainee should remain in Assam. But this is not possible for Pramanik," explains Ghosh. Since Pramanik did not have an address in Assam, Ghosh and Advocate Abhijeet Chaudhury from CJP's legal team had to give written undertakings that they would take him home to West Bengal and take responsibility for him. They were also made to submit copies of their own documents such as voter IDs and passports. Additionally, the CJP team helped establish contact between police officials from both states via telephone, so that the entire process could be completed smoothly.
We were coordinating between the office of the Deputy Commissioner of Police (Border), the Additional Superintendent of Police (Bankura), and police officials from the Bishnupur police station under whose jurisdiction Pramanik's village falls. "Now Pramanik will have to go and sign his attendance at the Radhanagar outpost of the Bishnupur Police Station every week. The officials from West Bengal Police will then send a copy of this via email to the Assam Border Police," says Ghosh explaining the complex arrangement.
On September 14, Nanda Ghosh and Abhijeet Chaudhury boarded the Saraighat Express to Bardhaman with Gangadhar Pramanik. We reached Radhanagar on September 15, and there his entire village came out to greet the son they thought they had lost. Gangadhar's mother, his cousin, and even the owner of the saloon where he once worked and many people in the area came. And then, a victory celebration broke out. The people brought sweets, puri etc.
Friends and family gathered around him, and his mother Bharati remained in shock for a while, her eyes wide in wonder at the sight of her son. "This is my son… My Ganga is back," she kept saying as she hugged and held him. "I didn't know what had happened to you," she said, asking, "Couldn't you have called me? Did they not let you call me?" She finally got to feed her son a home-cooked meal. She turned to the CJP team and said, "Baba (term of endearment), stay well. God bless you!" Then she looked at her son and said, "This is my son, this is my son, this is my Ganga."
Other examples of Indians declared "foreigner" in India
Over the last few months, we have brought to you instances of people from other Indian states being declared foreigners in Assam and sent to detention camps. These include Lalit Thakur – a barber from Bihar, Dipak Deb – who hails from Tripura, and Mrinal Mandal – who originally hails from West Bengal, but moved to Assam after marrying an Assamese woman. CJP remains committed to helping all our fellow Indians live with dignity.
Related:
"This is my son… My Ganga is back!"
CJP helps yet another man from West Bengal declared "foreigner" in Assam
CJP helps secure release of Bihari man dubbed Bangladeshi in Assam!
CJP helps Tripura man reunite with ailing mother
CJP comes to the rescue of West Bengal man dubbed "foreigner" in Assam!