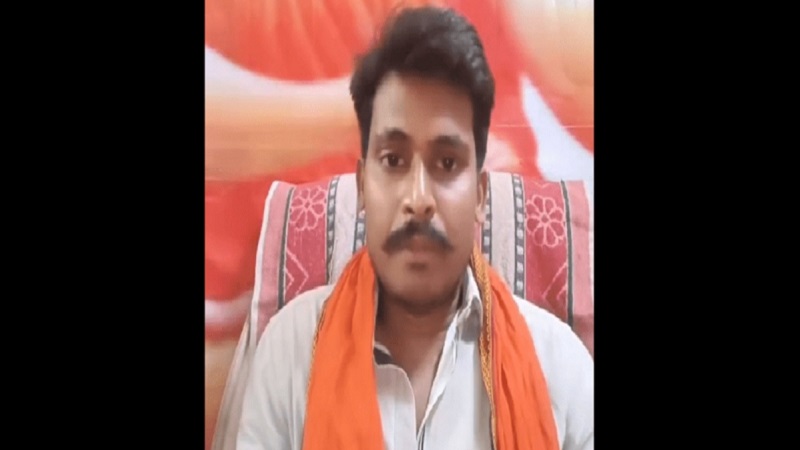 Image Courtesy: siasat.com
In wake of a blatant death threat issued to Muslim worshippers at Varanasi's Gyanvapi mosque by one Pandit Ravi Sonkar, Citizens for Justice and Peace (CJP) has urged Uttar Pradesh's Director General of Police to take strict action against the hate offender.
In out complaint dated May 30, 2022, we have written to UP DGP Dr. Devendra Singh Chauhan apprising him of how Sonkar, who is reportedly a Bajrang Dal member from Kanpur, has openly threatened to kill Muslims who have performed Wazu (traditional ablutions) before offering prayers at Gyanvapi Mosque. In a video that has gone viral, Sonkar accused them of deliberately insulting the "Shivling" that was found in the ablution tank, by washing hands, mouths and feet in it.
It is noteworthy that the mosque authorities say that the stone structure being called a "Shivling" by lawyers of the petitioners in the ongoing case that is being heard before a district court, is just a part of an old defunct fountain. Moreover, no competent authority has authenticated the structure as a "Shivling", in fact two Mahants of the Kashi temple have debunked the "Shivling" theory. But this has had no effect on right-wing extremists.
"We will behead them," Sonkar is seen and heard saying in the video clip, for washing "dirty, hands and feet" in the tank. The hardliner also claimed that the Muslim devotees "washed mouths" above the "Shivling". He is referring to the structure found in the Wazu Khana (pre prayer ablution tank). Trying to sound more dramatic, he then says, "We will chop off those hands, feet, and necks."
Ravi Sonkar removed the video from his Facebook wall, perhaps fearing police action, after it was exposed on Twitter and then locked his profile which was previously open to public. However, CJP came across a screen recording of his profile along with the video on Twitter and relied upon the same for reporting him.
Hello @kanpurnagarpol @igrangekanpur @Uppolice @KanpurOuterpol @kanpurdehatpol
The guy from Bajrang Dal is threatning to K!|| Muslims who've offered prayed in Kashi #GyanvapiMosque pic.twitter.com/yuaTWUmAht

— Mohammed Zubair (@zoo_bear) May 17, 2022
Considering the sensitive atmosphere today when everyday verbal and physical aggression is being unleashed on certain sections of our population, to the point where minority communities in various parts of India already feel insecure and threatened, the complaint urged the authority to take stringent action in order to set a precedent for like-minded people to prevent them from making such inflammatory statements online with impunity.
According to CJP, this kind of derogatory and inflammatory speech, which is illegal and unconstitutional, violates the provisions of Indian Penal Code, 1860 and Information Technology Act, 2000.
Urging the authority to consider the seriousness of the offence, the complaint relied upon the following judicial precedents prohibiting hate speech:
Jitendra Narayan Tyagi alias Waseem Rizvi vs. State of Uttarakhand [First Bail Application No.161 of 2022] – The Hon'ble Uttarakhand High Court rejecting the bail application of serial hate offender, Jitendra Tyagi, held that Hate Speech didn't fall under the purview of the fundamental Right to Freedom of Speech and Expression granted under Article 19(1(a) of the Indian Constitution. The Court insisted moreover that "a balance has to be struck between the right to individual liberty and the interest of society," the Uttarakhand High Court overturned an earlier order by a Sessions Court. Examining closely the balancing rights available under the Indian Constitution, the Court further held, "No right can be absolute, and reasonable restrictions can be placed on them."
Amish Devgan vs Union Of India 2021 1 SCC 1– The Supreme Court quoted Benjamin Franklin, "It remains difficult in law to draw the outmost bounds of freedom of speech and expression, the limit beyond which the right would fall foul and can be subordinated to other democratic values and public law considerations, so as to constitute a criminal offence. The difficulty arises in ascertaining the legitimate countervailing public duty, and in proportionality and reasonableness of the restriction which criminalises written or spoken words. Further, criminalisation of speech is often demarcated and delineated by the past and recent significant events affecting the nation including explanation of their causes. Therefore, constitutional and statutory treatment of 'hate speech' depends on the values sought to be promoted, perceived harm involved and the importance of these harms. Consequently, a universal definition of 'hate speech' remains difficult, except for one commonality that 'incitement to violence' is punishable." In that judgement, the Hon'ble Supreme Court elaborated on the concept of Hate Speech by identifying three elements: Content-based, Intent-based, Harm-based/Impact- based. In the same case, the Apex court also cited Andre Sellars from his essay 'Defining Hate Speech' where he examined the concept of hate speech in different democratic jurisdictions and formulated common traits in defining 'hate speech'.
State of Karnataka and anr vs. Dr Pravinbhai Togadia (2004) 4 SCC 684– The Supreme Court held, "Communal harmony should not be made to suffer and be made dependent upon the will of an individual or a group of individuals whatever be their religion bit of a minority or that of the majority… the valuable and cherished right of freedom of expression and speech may at times have to be subjected to reasonable subordination to social interests needs and necessities to preserve the very core of democratic life preservation of public order and rule of law. At some such grave situation at least the decision as to the need and necessity to take private reactions must be left to the discretion of those entrusted with the duty of maintaining law and order and interposition of courts…"
Firoz Iqbal Khan vs Union of India [W.P (Civ.) No. 956 of 2020]– The Supreme Court had held, "… the edifice of a democratic society committed to the rule of law under a regime of constitutional rights, values and duties is founded on the co-existence of communities. India is a melting pot of civilizations, cultures, religions and languages. Any attempt to vilify a religious community must be viewed with grave disfavour by this Court as the custodian of constitutional values."
Pravasi Bhalai Sangathan v. Union of India, (Ref: AIR 2014 SC 1591, at para. 7.)– The Supreme Court has unambiguously stated that hate speech is an effort to marginalise individuals based on their membership to a group, that can have a social impact. Moreover, the Court stated that hate speech lays the groundwork for broad attacks on the vulnerable that can range from discrimination, to ostracism, deportation, violence, and even to genocide. Therefore, the aforementioned news items are tantamount to the perpetration of genocide, and must be considered to be in violation of Article 21 of the Constitution.
The entire complaint may be read here:
Related:
CJP Impact: YouTube responds to CJP's complaint, takes down hate filled content!
CJP's next step in countering Online Hate: YouTube urged to take action against hateful content
CJP Impact: Twitter suspends 21 accounts threatening Muslim women with sexual violence
CJP approaches Twitter over sexually violent content against Muslim women
Facebook refuses to act on CJP's complaints against Ragini Tiwari
CJP Impact: NCM acts on CJP's complaint against Hate Offender Pravin Togadia
CJP moves NCM over Pravin Togadia's communal oath at Trishul Diksha even
CJP moves NCM against Adesh Gupta for calling Bangladeshi and Rohingya immigrants 'Terrorists'
CJP moves NCM over Haribhushan Thakur Bachaul's anti-Muslim genocidal speech
Apply more stringent sections in FIR against Bajrang Muni Das: CJP to UP DGP