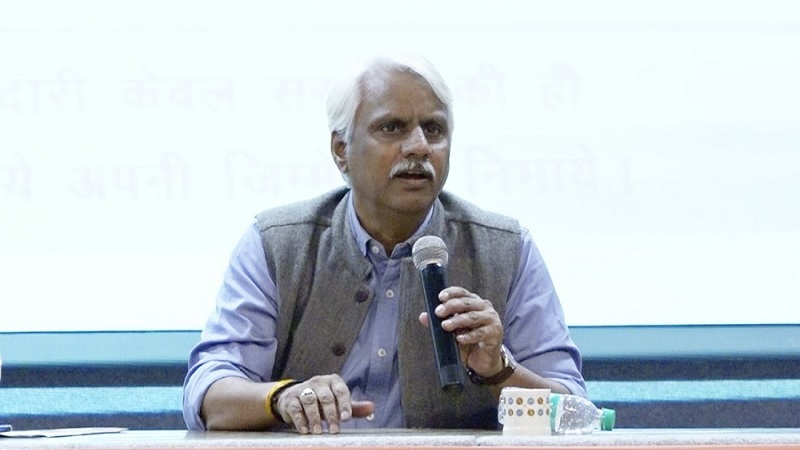 Image Courtesy:clarionindia.net
Citizens for Justice and Peace (CJP) has approached the Ministry of Information and Broadcasting (MIB) with a complaint against Pushpendra Kulshreshtha, an ex-journalist and former Secretary General of Press Club of India who is spewing communal hate through his YouTube channel "Public 24*7".
The CJP complaint dated November 18, 2020 brings to the MIB's notice that Pushpendra Kulshreshtha has been using social media to make inflammatory speeches related to Islamic terror, rise of anti-nationalism, Kashmir, Popular Front of India, Student Islamic Movement of India, etc. The complaint also cites examples of some of the comments below his videos that suggest waging a civil war against Muslims and calling out Islamic Jihadis/Muslims as Hinduism's biggest enemy.
The complaint also states his entrenched hate towards Muslims, and that he is firmly against the idea of brotherhood in the country. He believes that there is only one religion in the country, that is Hinduism (Sanathan Dharam) and that Islam is not a religion but an ideology to capture power. The complaint also puts out the number of likes and shares he receives on his video, indicating that his reach to the general public is massive and capable of doing enough damage.
The complaint to MIB further says that Pushpendra Kulshreshtha justifies the hate and resentment against Muslims and that Hindus and Muslims cannot co-exist in India. It also adds how he blames the educated sections of the Muslim community who go astray and join the 'other side', despite the Indian Governments endeavours in protecting them.
The complaint cites evidence of inflammatory speeches made by Pushpendra Kulshreshtha before large audiences in different parts of the country, that have been accessed by thousands of viewers online as well. The complaint by CJP appeals to MIB to acknowledge how his activity online can damage peace and public harmony. The complaint lists down the violation of several sections of the Information Technology Act and Indian Penal Code by allowing such content on social media platforms.
It highlights the various offences of promoting enmity, causing disharmony, outraging religious feelings, spreading unverified claims which have been mentioned in detail in the complaint. CJP has prayed that the Ministry take cognisance of the gross misuse of digital platforms in spreading such hate propaganda against Muslims that may lead to social unrest and discrimination.
The entire complaint may be read here:
Related:
How ex-journalist Pushpendra Kulshreshtha sells hate
CJP moves MEITY against Kapil Mishra's anti-minority activity online
CJP complains to NBSA against Zee News report on "Zameen Jihad"