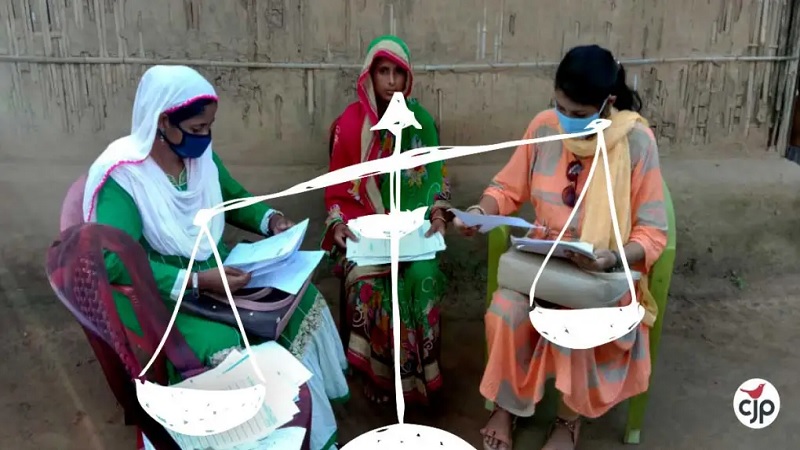 On March 24, 2022, the Gauhati HC granted four weeks' time to the State and the Union of India (UOI) as a last opportunity to file their respective affidavits in connection with the public interest litigation filed by CJP raising concerns over the quality of legal aid to be provided to those in Assam whose names do not figure in the National Register of Citizens (NRC).
Advocate Mrinmoy Dutta appeared for CJP. The case has now been listed on April 27, 2022 for which Senior Counsel Mihir Desai is likely to appear.
In its order dated November 23, 2022,the Gauhati High Court had asked the Centre as well as the Assam State Government to indicate their stand on provision of funds.
Previously, the Assam State Legal Services Authority (ASLSA) filed an affidavit in this petition, on February 1, 2022, stating that it has made endeavours to train its staff in citizenship matters however is lagging in financial resources for providing aid to the large population that has been left out of NRC. In the said affidavit, the Authority also admits that on account of lack of financial resources, the state government needs to revisit the budget allocation to enable it to provide the requisite legal aid. This is a significant admission on record of the ASLSA's inability to provide adequate legal aid to all those who might need it, and it is high time that the Assam state governmentproves its commitment to the NRC processby allocating sufficient funds to the legal aid authorities in the state.
CJP's petition
In its petition, CJP had sought directions to the state to formulate effective and robust modalities for legal aid in terms of having trained lawyers and adequate front offices in light of the several pending appeals to be filed before Foreigners Tribunals (FT) by people from marginalised sections to prove their citizenship. The plea emphasised that those excluded cannot be deemed non-citizens till the remedies available before them are exhausted, and unless the marginalised among them are not provided adequate legal aid, they would suffer irreparable loss and injury.
The organisation raised concerns before the court that since NRC-excluded people are required to file an appeal within 120 days, there would not be sufficient funds for such persons to engage legal counsel and get legal aid in such a short span of time. Hence, the plea also contended that legal aid be provided by the ASLSA as well as the National Legal Services Authority (NLSA) to the aggrieved people.
CJP's survey of DLSAs
CJP had gone one step further and conducted an independent survey (November-December 2019) in 10 districts of Assam to assess the preparedness of District Legal Services Authorities (DSLA) which revealed that the front offices were either not present or the ones that had front offices were inadequate in terms of space or in terms of staff.
We also found that personnel were not trained in Citizenship laws, NRC related procedures, Immigration law or the Foreigners Act, in any of these 10 DSLAs, even though in-depth knowledge of all these laws, procedures and Acts are vital for offering quality legal assistance toNRC-excluded people who will now have to defend their Indian citizenship before Foreigners' Tribunals.
Our survey also found that only 10 cases have been handled by the counsel of these DSLAs so far; all by Dhubri DLSA: 7 in 2019, and 3 in 2020.
SC judge's observations on quality of legal aid
On March 26, 2022 while addressing the Judges, Lawyers and Legal services provider at the Maharashtra State Level Conference on the topic Early access to Justice at Pre-arrest, Arrest and Remand stage, Justice UU Lalit, the second most senior judge of the Supreme Court and the Executive Chairman of the National Legal Services Authority (NLSA), spoke about the importance of providing quality free legal aid services.He said, "Free legal aid does not mean poor legal aid, free legal aid must mean quality service." As reported by LiveLaw, he expressed his concern about the extremely low percentage of cases which landed up with the Legal Services Authority and stressed upon the need to induct talented and committed persons.
More details about the petition filed by CJP may be read here.
The order may be read here:
Related:
CJP's Assam Legal Aid Petition: ASLSA indicates shortage of funds for providing legal aid to those excluded from NRC
CJP's Assam Legal Aid Petition: Gauhati HC asks Centre and State to indicate stand on funding
CJP's Guwahati legal aid petition: State fails to file an affidavit
Assam DSLAs woefully understaffed, staff under-trained to handle FT cases
Assam Paralegal Training Workshop