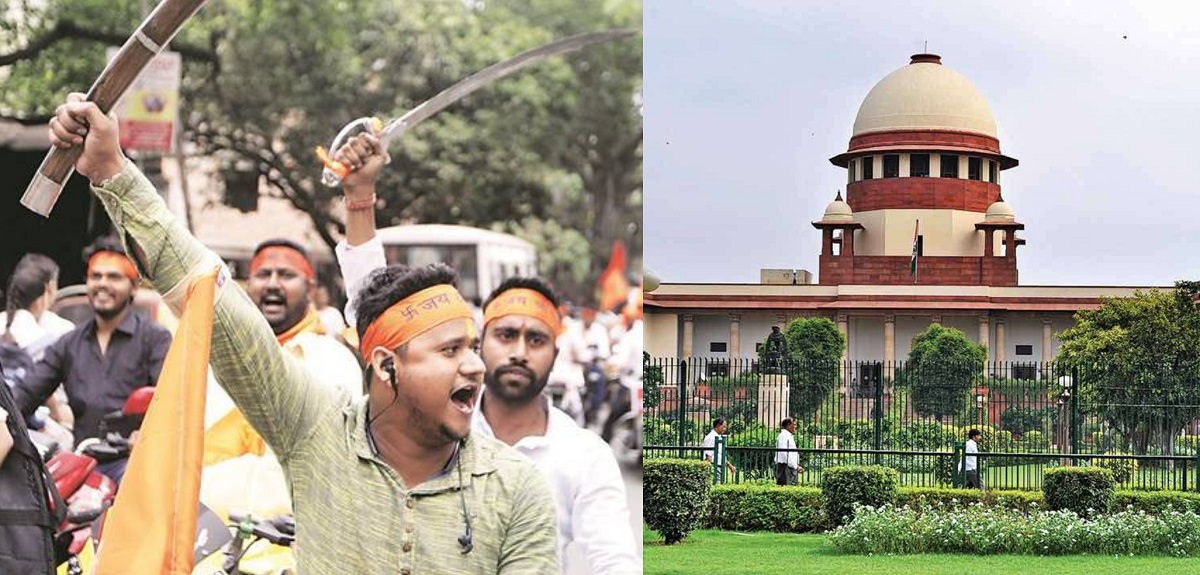 Representation Image

On Friday, December 9, the Supreme Court (Justices Chandrachud and Narasimham) dismissed CJP's PIL on this issue. The dismissal has received wide media coverage. As an organiaation committed to espousing all issues that seek to deepen India's accountability mechanisms especially when related to protection of life and property, CJP offers its readers details of the petition that — in the light of violence reported across states during Ram Navami 2022, relied on statutory provisions of law, judicial commission reports & countless judgements of the courts.
The PIL filed by CJP in May 2022, soon after the countrywide Shobha Yatra violence in several cities, had relied upon an MHA 2019 advisory, a 2019 Punjab Police Detailed Directive, Statutory provisions of Indian criminal law and the State Police Acts, detailed recommendations of Commissions headed by former judges of Supreme Court and High Courts, and a slew of judgements of the Supreme Courts; and had sought their urgent and consistent implementation. The SC, at the first hearing of this PIL on December 9, clearly held that, state being a law and order subject, there was no need for the SC to intervene in the matter. Besides, the court enjoined the petitioners to look at how a majority of religious processions, like the Ganpati processions in Maharashtra which involve hundreds of thousands of processionists, pass off peacefully each year. The PIL in fact emphasized those processions that were allowed to take place violating established norms like routes and worse, allowed those in the procession to brandish arms.
The PIL: Fact Sheet
In the background of the several instances of violence witnessed in various parts of the country during Ram Navami in April this year, innocents were targeted, life and property destroyed. Worse, communal harmony was seriously disturbed. To curb and control such outbreaks, concrete and strict adherence to well-laid down laws and procedures must be followed by the state law enforcement machinery.
To maintain law and order and to abide by principles of secularism laid down in the Indian Constitution, where all Indians are equal before the law and entitled to protection against violence, Citizens for Justice and Peace (CJP) has approached the Supreme Court to issue detailed guidelines and lay down a Standard Operating Procedure (SOP) on the route to be allowed/followed by procession-ists and the fact that Indian law requires them not to be armed.
In essence, this petition seeks appropriate directions to the Union and all States for observing statutory provisions of law and following recommendations of Commissions of Inquiry that have dealt with regulation of mass processions in the past. The petition especially highlights the report of the 'Justice DP Madon Commission of Inquiry' which had in much detail provided such guidelines about how to deal with a potentially dangerous procession in order to prevent a law and order situation. It also seeks an SOP from the Centre for regulation of religious processions to ensure that all faiths are treated equally and no disturbances are caused to the public at large.
MHA and Punjab Police Guidelines
In January 2019 and 2018 respectively, the Ministry of Home Affairs (MHA) issued a detailed advisory on "curbing the illegal use of arms and firearms" as being violative of the Indian Arms Act (1959 as amended in 2016). This advisory clearly states that,
"It is once again requested to ensure that strict legal actions are taken, as per the provisions contained in the Arms Act, 1959, the Arms Rules, 2016 and other relevant provisions of IPC and Cr.PC, against the person(s) indulged in the illegal practices of celebratory firing in marriages, public gatherings, religious places / processions, parties, political rallies etc. so as to curb such incidences. Further, licenses of such perpetrators or any licenses who violates the provisions of Arms Act, 1959, the Arms Rules, 2016, to be cancelled in accordance with the law"
Punjab Police Guidelines of 2018
In 2018, the Punjab Police issued Guidelines/advisory "for regulating organisation and conduct of
processions / assemblies / protests / demonstrations / dharnas / marches etc." These too lay down 19 clear instructions on what jurisdictional police officers need to do to deal with processions of all hues and prevent them turning unruly and violent. Apart from a legal prohibition against carrying of arms and lathis, the Guidelines also re-emphasise that the entire processions need to be video graphed and organisers need to give undertakings to ensure lawful behavior and conduct. Significantly, the organsiers are required to ensure that "no inflammatory speech or any unlawful activity is done at the venue of procession or assembly, which may cause tension in the area or create mutual hatred or create differences amongst different communities, castes, groups, religions etc."
As is clear from the narrative of several such incidents that broke out in April 2022, all these pre-conditions were followed in the breach. Incidents took place in Delhi, UP, Madhya Pradesh, Bihar, Rajasthan, Gujarat, Karnataka, Jharkand, West Bengal and Maharashtra.
Violence during Ram Navami
Narrating the series of incidents in April 2022, the petition highlights that religious processions carried out during Chaitya Navratri, Ram Navami and Hanuman Jayanti in April were marred with clashes, stone pelting as well as trishul (trident) distribution which led to violent confrontations in Gujarat, Delhi, Madhya Pradesh, Jharkhand and West Bengal.
In Rajasthan's Karauli, stones were allegedly pelted at Ram Navami processions while it was passing by a mosque which led to altercation whereby 15-20 persons were injured, and shops and vehicles were burnt.
In Jaipur, a Ram Navami processions passed through the old city despite section 144 of CrPC being imposed. In Khargone, Madhya Pradesh, the Rama Navami procession clashed with the namaz time (evening prayers). It is highlighted that Hafiz Mohsin, the secretary of the Jama Masjid in Talab Chowk area were alerted about it being a sensitive zone and yet permissions were granted for the procession. The procession that caused violence was carrying posters of controversial film "Kashmir Files" with slogans of "Jaago Hindu Jaago" (wake up Hindus). Within 2 days of the incident, over 32 shops and 16 homes belonging to Muslims were demolished, suggest news reports.
Moreover, such instances of violence were also reported in Gujarat, Jharkhand, Delhi, West Bengal, Karnataka as well as Bihar.
The petition highlights that secularism is a positive concept that envisages that the State should have equal respect for all religions and refrain from discriminating between religions. It further states that principles of equality and equality before law (Article 14), non-discrimination (Articles 15,16,17), freedom of expression, faith, belief and worship (Articles 19, 25-30) are non-negotiable and need to be upheld when it comes to matters of public expressions of faith and culture.
It is these principles of governance that have resulted in the body of constitutional governance, criminal laws, police acts, jurisprudence and proceedings of judicial commission reports. The petition's main point of contention is that crucial findings and recommendations of several Commissions of Inquiry about permissions of such religious processions and monitoring of their conduct etc have been ignored.
The Law as it stands
The Preventive actions that need to be undertaken by the Police are detailed in Chapter XI of the Code of Criminal Procedure (CRPC) wherein Section 144 empowers a district magistrate, a sub-divisional magistrate, or any other executive magistrate empowered by the state government, to issue orders to prevent and address urgent cases of apprehended danger or nuisance. Sections 149 onwards are related to preventive action that a police officer is required to take to prevent the commission of cognisable offences. The petition enumerates only some of the legislative measures available to the law enforcement.
The Indian Penal Code (IPC) even contains definitions of offences under sections 295A and 296 relating to deliberate acts aimed at disturbing religious assembly. The Indian Arms Act (1959, amended in 2016) has strict guidelines precluding sale and transfer of arms (read in context of Trishul deeksha—distribution of tridents). Further, the Police Act, 1861 has provisions under section 30 for "regulation of public assemblies and processions and lice sing of the same". The Police Acts of the respective states have similar outlined measures (including Gujarat and Delhi) and these have been modified and amended in the 1950s to date.
Jurisprudence
In Praveen Togadia v. State of Karnataka (2004) 4 SCC 684, the Supreme Court had upheld administrative order to prevent a potentially harmful gathering that could have turned violent. Telangana High Court while dealing with grant of permission for Ram Navami processions this year, stressed that conditions imposed by the Police should be strictly followed and restrained independent processions.
Commissions of Inquiry reports and guidelines
After Maharashtra saw communal violence in 1970, Justice DP Madon Commission was established which, among others, gave the following recommendations:
106.7 Processions likely to provoke trouble stand on a special footing. Before granting permission to the organizers to take out such a procession and before prescribing a route for it under section 36 of the Bombay police Act, the officer concerned should undertake a thorough reconnaissance of the proposed route, note the bottle–necks, the likely points at which there may be danger to the procession by reason of an attack from rival groups and the places where there may be danger from the procession itself by reason of the procession-ists attacking the inhabitants, shops or houses of that locality, and should ascertain the places where escape routes are available and where the procession can be stopped and dispersed when it becomes unruly.
The recommendations also state that each procession must be divided in sectors and a police officer should be put in charge of each section. Further it states that mammoth processions should never be permitted to march through the streets even if peaceful and that police parties should be at the "head and tail" pf each processions of controversial nature.
Apart from direct law and order issues, Justice Madon had emphasised the communal mindset derived from the [perversions of religion and the distortions of history.
When the Bombay riots of 1992-93 occurred, Justice BN Srikrishna Commission report (February 1998) referred to institutional failure behind the state government's implementation of the Madon Commission's recommendations. The Madon Commission Report and at least two dozen others are the ones that the petitioners rely on to make their arguments. These judicial commission reports have pinned responsibility on the failure to regulate certain outfits as being responsible for outbreak of violence.
Government guidelines
The petition also points towards the Ministry of Home Affairs (MHA) guidelines of 1997 titled "Guidelines to promote communal harmony" which specify the responsibility of the state machinery while dealing with potentially inflammatory statements in the context of communal tension.
Questions that need to be asked
The petition states that the court needs to examine the incidents of violence and pose and consider the following questions:
1. Who granted permission for their possessions?
2. Was permission granted at all?
3. Who allowed/granted permission for arms to be carried in this procession?
4. Was or has penal action been initiated following the outbreaks?
5. Who has permitted trishul diksha when intimidatory remarks threatening to exterminate an entire community of Indians have been made?
6. Has there been any lawful prosecution and prevention of such blatant arms distribution assemblies?
7. Has there been any action against police officers or members of the administration for failure to perform their lawful and statutory duties?
The petition avers that had the recommendation of Commissions like the Madon Commission and the BN Srikrishna Commission been followed, these incidents could have been avoided.
The petition states,
"The rule of law was and is the greatest casualty following functioning Indian democracy from within. This is despite the fact that judicial commissions have identified this as one of the major causes behind the generation of communal atmosphere within which the outbreak of violence happens. This ambivalence on action against speeches that are motivated with a desire to spread animosity and violence against the particular community is often linked to the widespread acceptance of majoritarian communalism in the first instance by not just the police but even the public prosecutor and other sections of the law and order machinery"
While referring to the United Kingdom's Hate Crimes Manual, the petitioners urge that "similar institutional measures for internal self-correction within institutions of law and order machinery and governance could ensure that the constitutional mandate of equality and non-discrimination manifests itself within their functioning."
The petition highlights that in order to deal with communal disturbance, "a candid acknowledgement and acceptance of the phenomenon of communalism the role of history and its manipulation and the overarching tendency of all political structures" is required.
Pleadings
The petitioner had urged the Supreme Court to give the following directions:
1. That, all processions should be regulated as per law and settled jurisprudence on the routes to be followed precautions taken and more specifically not be allowed to pass through areas of other religious denominations at sensitive times that conflict with diverse religious observances of different faith
2. That, all religious possessions should be conducted in accordance with the permissions granted
3. That, the executive must perform their statutory duties and regulate monitor and control the routes of such processions ensuring that these are unarmed
4. That, while granting permission to such processions the competent authority must place public safety, public order, cleanliness and protection of environment, adequacy of arrangements for handling emergency superior to the conduct of the procession.
5. That, the government must develop an SOP for granting permission for taking out a religious procession and this needs to be overseen by the Supreme Court.
Related:
CJP FILES A PETITION FOR LEGAL AID TO NRC EXCLUDED PERSONS IN ASSAM
CJP'S LOVE JIHAD PETITION: SC ISSUES NOTICE TO UP AND UTTARAKHAND
CJP PETITIONS NHRC OVER COMMUNAL CLASHES IN MADHYA PRADESH