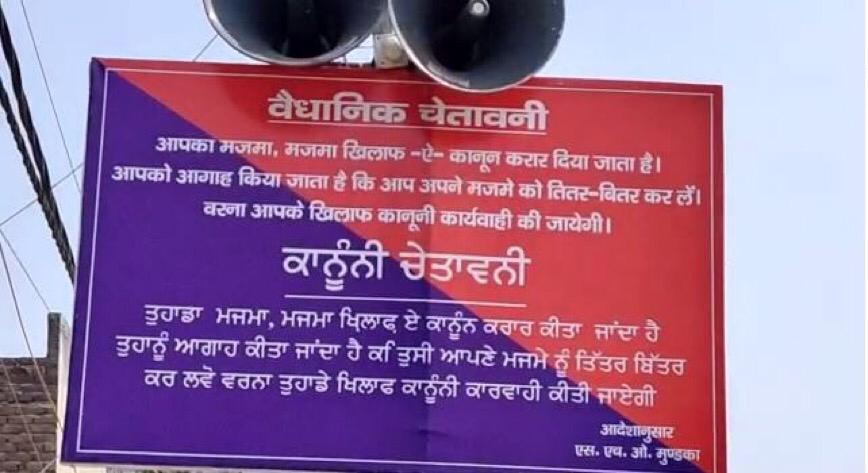 Farmers organisation Samyukt Kisan Morcha (SKM) alleged that instead of preventing Uttar Pradesh BJP leaders and activists from discrediting the farmers' struggle and attacking farmers, the state police instead arrested protesters on February 22, 2021.
"We strongly oppose the government's anti-farmer conspiracies. Everyday efforts are being made by the BJP to discredit the farmers' movement. We will not let them succeed and this struggle of the farmers will surely succeed," said SKM leader Darshan Pal after Union Minister Sanjeev Balyan's visit to Shoram village in Muzaffarnagar district on Tuesday.
The visit resulted in clashes between villagers and Bharatiya Janata Party (BJP) supporters. Samajwadi Party leader Professor Sudhir Panwar from Bhainswal, Shamli district said that farmers of western UP were upset due to BJP members' attempts to divide the agitation on the basis of caste.
"What we were fearing has started happening," he told The Tribune.
Panwar said that BJP's two-pronged strategy to reduce and brand farmers' agitation as Jat agitation to isolate other rural castes and divide Jats along party lines will fail because agitations are not limited to a single caste.
On February 5, as many as 32 village Bhainswal headquarters witnessed participation of Jats, non-Jats, Dalits and Muslims for a mahapanchayat opposing the three farm laws. This boded well for the region especially after the 2013 Muzaffarnagar riots that resulted in polarisation among Hindu Jats, non-Jats with Dalits supporting the BJP.
Accordingly, Bhainswal residents also prevented the entry of Balyan, UP Cabinet minister Bhupendra Chaudhary and Shamli MLA Tejinder Nirwal. Bharatiya Kisan Union member Dharmendra Malik further claimed that Jawla khap Head Sachin Chaudhary also refused to meet Balyan, "who had been sent by Home Minister Amit Shah", and asked all BJP members to speak to SKM leaders.
While such attempts to weaken the farmers' struggle in other states fail, Delhi police put up posters at the Tikri border that warn farmers to vacate the protest site.
"Such posters are irrelevant where farmers are demonstrating peacefully by exercising their fundamental rights. We oppose this move of the police and appeal to the farmers to continue the peaceful protest. Such threats and warnings will be strongly opposed," said the SKM.
In response, local police told The Telegraph that the posters were put up as part of a "routine" process. A senior official said that protesters are sitting in the jurisdiction of Haryana and are not allowed to enter the national capital unlawfully.
Related:
Falsely implicated, as I was successful in generating support for farmers: Nodeep Kaur
Family of Bhagat Singh participates in Pagdi Sambhal Diwas
Gurmukh Singh: Beaten but not broken
Farmers celebrate a wave of support from distant countries to local villages
Mahapanchayats to branch out to other states by the end of February: SKM
87 US groups declare support for farmers' struggle in India