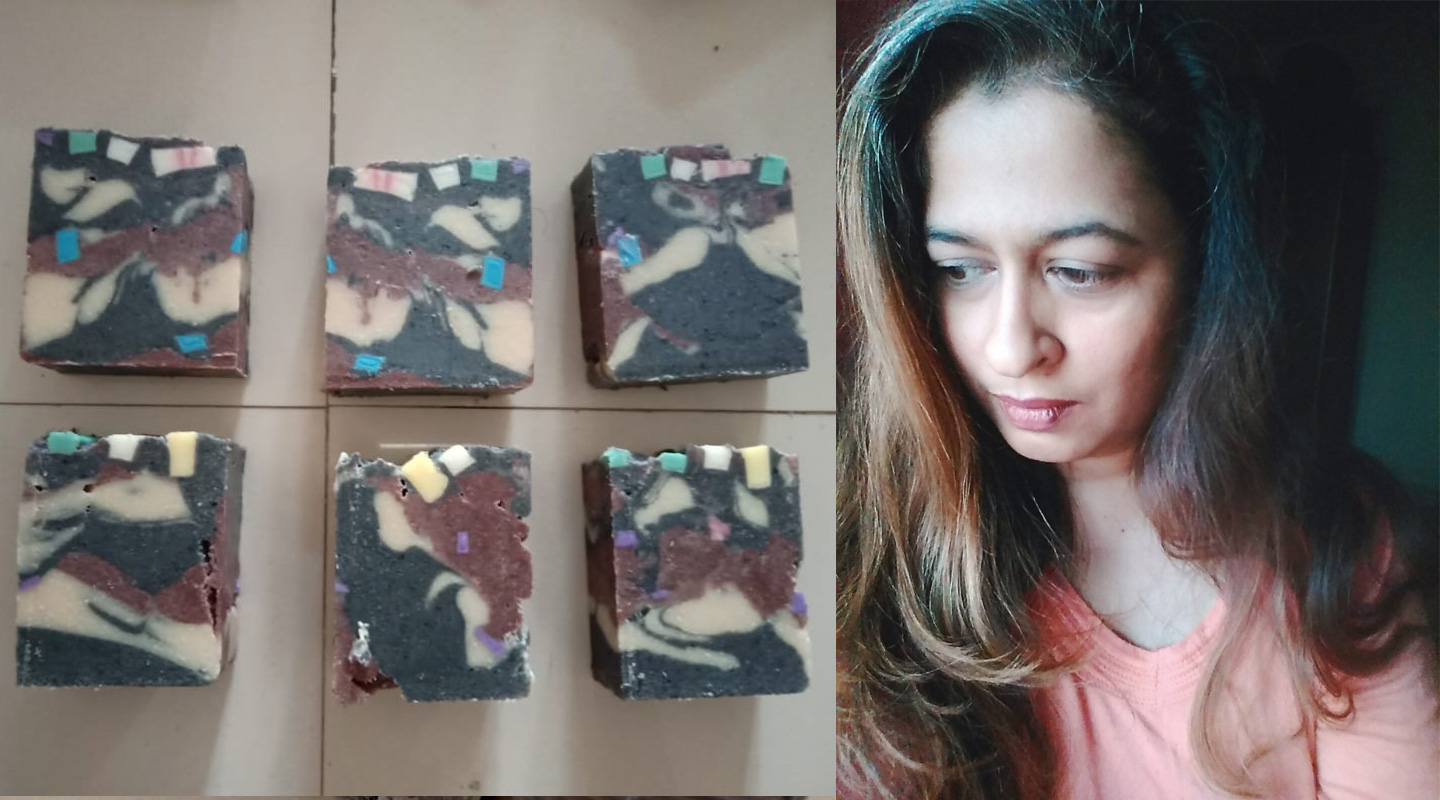 Any metaphors suggested by the design are probably the artist's intention.
This disclaimer can be read in the description section of the Kamal ka Fool artisan soap made by political commentator Vidyut Gore. The soap is moulded in the shape of a (generally) saffron lotus on a blood-red base.
"I think the metaphor is clear there," says Gore laughing.
Kamal ka fool -Artisan soap.

A sacred lotus in red stained waters. – https://t.co/W0zht9wOSw pic.twitter.com/rPGUHzCh4B

— You may call me V (@Vidyut) October 9, 2020
Gore's creations bring her novel feedback often from the most amusing source. She mentioned how many of her 'kamal ka fool' soaps were ordered by Bharatiya Janata Party (BJP) who completely missed the message behind the design!
The artist and part-time blogger had never planned to express her political opinion through artisan soaps. Before turning to toiletry amenities, Vidyut had relied on her blog to talk about social issues, earning her a Wikipedia page that dubbed her new media journalist, campaigner and activist among other things.
Originally, she made the soaps for herself. Her peers often used to joke, "Can you make a soap for cleaning out this Hindu VS Muslim mentality?"
At first, she went along with the jokes, thinking that political opinion was for forums like Twitter. Later, she realised that an artisan soap, like any hand-made art, also makes a statement.
"If you look at my soaps as art then it is not really a new thing," she says.
When asked why she chose soap-making specifically, Gore says she wants to create something that engages people.
She gives the example of her Kashmir soap that uses intricate floral designs and multiple layers just like the multiple facets of the Kashmir issue. She remembers one of her friends who bought the soap kept it in his car and so it became a great conversation starter on the topic.
Kashmir – An Artisan soap as complicated and layered as #Kashmir. – https://t.co/UeroRYpwvK pic.twitter.com/Xyt6eRNZgU
The design of this soap will keep changing as you use it and new layers are revealed – do see the photos of the making in the link.

— You may call me V (@Vidyut) October 9, 2020
When asked what comes to her mind on hearing Kashmir, Gore says, "Stone pelters. That is really the summary of the story. The pressure cooker of fed-up people with no real weapons to use."
At the same time, she says that the army people too are victims. After all, the Army may capture or defend terrain but it cannot defend soldiers and people from trauma.
"Kashmir is a political failure that is costing both soldiers and Kashmiris. A failure that cannot be admitted because of our gigantic ego. A freedom struggle goes on in our country that was born of a freedom struggle. This is a matter of shame. We have moved very far away from our Independence days," she says.
Vidyut has also made Black Day soaps to remember the day the Citizenship Amendment Act was passed.
BLACK Day – A soap made on the day the Citizenship Amendment Bill was passed – https://t.co/wJxJwC7Sa2 pic.twitter.com/3sr1OnDWdU

— You may call me V (@Vidyut) October 7, 2020
Commenting on the anti-CAA protests, Vidyut said the Central government got lucky with the pandemic because the protesters had no intention of backing off otherwise. She believed that the protests would regain momentum after the pandemic. However, making no pretence of a rosy future she warned that things would "get much worse before they get better."
Her well-intentioned art has often received accusations of trying to 'cash in' on social issues. However, Gore argues that the same people would have favoured her if she had made a cartoon or a comic.
When asked about the role of art in political discourse, Gore says, "Art really cuts through the scripts being hammered into us. It encourages us to find our own interpretation."
She firmly believes that artists are capable of provoking contemplation. "Anything that provokes thought beyond the binary is needed right now," she says.
Vidyut worries about the binary narrative peddled in contemporary times. She views perpetrators of communal violence as victims of manipulation as well. She explains that their violent attacks also erode their personality to a point where dislike takes the form of unprovoked violence or bullying. Moreover, such people become a bigger risk to the people living with them – children, women, aged.
"People are manipulated into feeling powerful by harming others, without any actual enrichment of their own lives," she says.
According to her, this focus on unimportant issues ultimately served as a political tactic that did little good and actively harmed many people. Instead of indulging in such topics, Vidyut wishes people would look at social issues in their neighbourhood and understand the problem at the ground-level.
About the growing intolerance and violence Gore says, "This will result in greater domestic violence. Rape trends but domestic abuse is ghar ki baat [the family's personal matter.]"
Similarly, when asked about other pressing issues in the country, Gore says,"The biggest issue right now is the economy. Undermining democracy cannot even be an issue if people can't eat. The country is headed for chaos."
She says that GST strangled innovative small-businesses and forced them to register with no exemption for minimum income. She argues that GST favours mass production for tax revenue at the cost of livelihoods.
Gore also talks about how the influence of social media "has reached epidemic proportions." She also blames social media to an extent for the general apathy developed by the masses.
"We are encouraged to talk to someone when we feel disturbed because it vents the emotional pressure overwhelming us. However, news items don't overwhelm us. Instant reactions on social media defuse the urgency and importance we feel about things that disturb us," she said.
According to Gore, social media keeps people from delving too long on issues that ideally should garner objections. It blunts reflection, determined action, because people assume that their comments on social media are actions.
"In reality it [expressing opinions on social media] is little more than a few angry words, that are too short to make any point in any depth, that will be forgotten in a matter of minutes or hours," she says, concerned that the virtual world has turned people into narcissists, who talk only to receive praise.
For similar reasons, Gore prefers to call herself a vocal citizen rather than an activist who does more than simply express opinion. They used their freedom of speech to talk about pressing issues although she agrees that few people paid attention.
"People are more consumers of democracy than participants. They want it delivered to them and they see social media as some kind of customer service where they can complain. But democracy is not a consumer product," says Gore.
She points out that no government likes free speech. However, as citizens, people are duty-bound to use their voice as long as they enjoy this right. In the same vein, Gore says the mainstream media has failed in these efforts.
"Journalism is more like record-keeping these days. It reports the word of the government without fact checks, without contextualising the implications for the masses," she says.
There was a thoughtful pause when she considered possible questions to ask the ruling regime. "Is anyone listening? I don't think they're taking feedback right now," wonders Goreas she signs off.
Related:
Contemporary artists raise key questions about freedom of speech and expression
Art and activism are complementary endeavours: Bhawana and Smish
The preservation of a pandemic: Art under quarantine