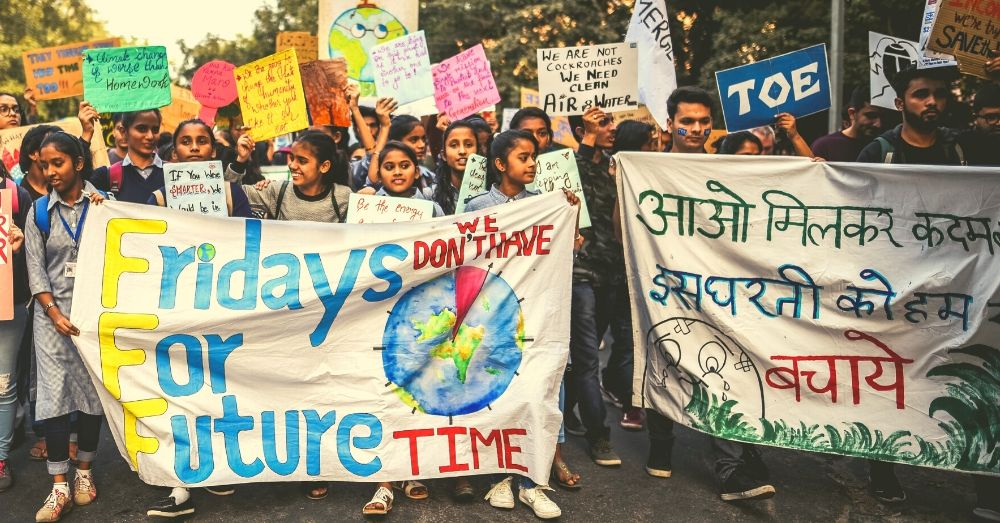 Environmental advocacy website Fridays for Future (FFF) India has been restored and has been made operational. This, after it had been blocked by the National Internet Exchange of India (NIXI) and served notices by the Cyber Crime unit of the Delhi Police for allegedly sending a multitude of emails to the environment minister Prakash Javadekar's email address to revoke the controversial draft EIA 2020.
JUST IN:https://t.co/xLBS8nzx81 has been restored! We still don't have any official communications or updates from the authorities, but our website has been unblocked and is fully operational as of around 11:15AM IST today @internetfreedom

— Fridays For Future India ??? (@FFFIndia) July 24, 2020
The Government of India had come under fire for blocking the website and the Cyber Crime Unit of the Delhi Police too faced the ire of the citizens for a notice that spoke about booking the website's domain company under the Unlawful Activities (Prevention) Act (UAPA), an anti-terror law!
First notice – punishment for conspiracy under UAPA
Allegedly prompted by a complaint by Javadekar, the first notice sent by the Delhi Cyber Crime Unit on July 8, 2020, to Endurance Domains Technology LLP which handled the website, stated, "The website depicts objectionable content and unlawful activities or terrorist act, which are dangerous for the peace, tranquility and sovereignty of India. The publication and transmission of such objectionable content is a cognizable and punishable criminal offence under Section 18 of the Unlawful Activities (Prevention) Act".
The notice directed Endurance Domains Technology LLP to block the website within a stipulated period.
Fridays for Future have been booked under UAPA for criticizing the Environment Impact Assessment Notification. Environmental activism too is now a threat to 'nation' if fingers are pointed towards government. pic.twitter.com/ziYHvKPcGG

— Damni Kain (@DamniKain) July 23, 2020
Modified notice – Section 66, IT Act
However, once this notice came into public view and went viral on social media, it was met by outrage by the public. Soon, Deputy Commissioner Anyesh Roy, clarified to HuffPost India that the "notice in question was sent over email inadvertently with unrelated sections of the law".
The Cyber Crime division withdrew its first notice on July 12 after it realized that there had been a 'typographical error'. DCP Roy told HuffPost India that an error had been made in the application of the section of the law. He explained, "Immediately upon getting the knowledge that the inappropriate section has been applied during its electronic transmission, the notice was withdrawn on July 12, 2020, because the relevant sections of law needed modification. Accordingly, modified notice under the appropriate section of law (Section 66, IT Act) was sent to the concerned entities."
The modified notice under Section 66, IT Act too was withdrawn on July 16 after the website apparently rectified the issue of the emails, The Hindu reported. However, Internet Freedom Foundation, the legal representative of FFF, denied getting copies of the notices served.
To clarify none of these claims of withdrawals can be confirmed by us based on instructions from @FFFIndia since they have not been provided copies. Further the website does remain blocked. We hope for a positive outcome given these young, climate change campaigners!

— Internet Freedom Foundation (IFF) (@internetfreedom) July 23, 2020
FFF India had clarified on July 23 that their website had "only provided content for draft email and publicly available email addresses of MOEF&CC, the minister in-charge and the address for the EIA consultation process." It added, "FFF India campaign did not level threats and raised no outrageous demands, but objectively raised concerns."
The environment ministry and Prakash Javadekar faced a lot of wrath once the first notice became public. Jairam Ramesh, former Environment Minister who had earlier too called out Javadekar for his alleged intolerance, once more accused Javadekar of illiberalism saying –
C'mon @PrakashJavdekar I too received multiple emails when I was Minister and took them in my stride. I thought you had a slim streak of liberalism, but quite clearly I was wrong. You are EXACTLY like those TWO! https://t.co/SHqZtMz16a

— Jairam Ramesh (@Jairam_Ramesh) July 23, 2020
Two other websites, There is no Earth B and Let India Breathe (LIB) that had been blocked by NIXI along with FFF India, have yet to become fully operational. They too had been extensively campaigning against the contentious draft EIA 2020 which speaks about giving post facto clearance and doing away with important processes like public consultations for environmental clearances for infrastructure and other development projects.
The hand-in-glove attitude of the ministers was revealed in an investigation by The Quint which had revealed that Environment Minister Prakash Javadekar had cut short the time for public commentary on the draft EIA 2020 by overruling his own ministry's senior officials. While the officials had suggested August 10, 2020 to be the last date for feedback, Javadekar had allegedly curtailed the feedback time by 40 days, and fixed June 30 as the last date for receiving feedback. Even this was an extension from the first cut-off date, May 22, which was set by Javadekar; seen by many as an attempt to curb any criticism against the draft law.

Related:
Draft environmental impact notification (EIA) doom for natural resources, forests, withdraw it: NAPM
Crushing dissent: Did GOI block websites of three environmental groups?