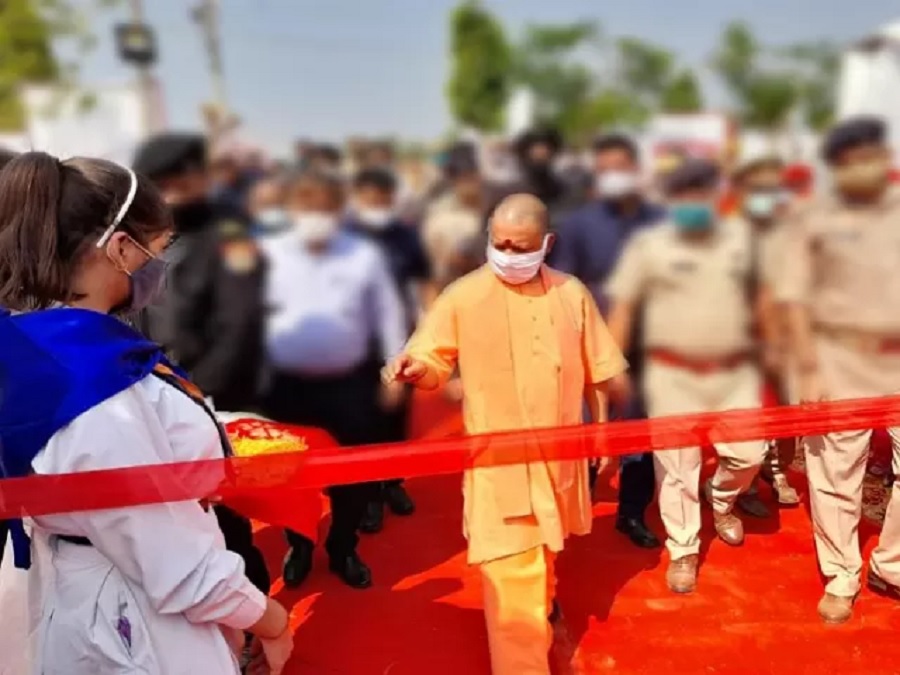 Image Courtesy: Jagran

On Saturday, the first day of Navratri, the nine-day Hindu festival celebrating the nine forms of the mother goddess Shakti or Durga, Uttar Pradesh Chief Minister Adityanath launched the 'Mission Shakti' campaign. This campaign was launched in Balrampur, where a 22-year-old woman had died, days after she was allegedly gang-raped by two men on September 29.
CM Adityanath, had said the incident was "very unfortunate" and that was why he decided to launch this mission from Balrampur, "to pay homage to the victim of a very unfortunate incident, I decided to kick-off Mission Shakti campaign from Balrampur & I'm extremely delighted to launch this programme. Mission Shakti aims at guaranteeing security & respect for every woman in the state." He warned that there will be zero tolerance in cases of crime against women, and those guilty will be dealt with an iron hand. Adityanath also held a 'virtual dialogue' with women on self-reliance, and empowerment on the second day of 'Mission Shakti'.
महिलाओं एवं बेटियों की सुरक्षा व सम्मान की भावना के प्रसार हेतु जारी 'मिशन शक्ति' के द्वितीय दिवस पर स्वावलंबन, आत्मनिर्भरता और सशक्तिकरण की प्रतीक 'महिला जनप्रतिनिधियों' से वर्चुअल संवाद… https://t.co/Zwwq9oDY0v

— Yogi Adityanath (@myogiadityanath) October 18, 2020
However, just a day before, yet another rape allegation came to light in Uttar Pradesh's (UP) Jaunpur district. The victim, a 15-year-old girl, was allegedly raped by two men in a paddy field outside a village in Sikarara area of eastern Uttar Pradesh's (UP) Jaunpur district on Friday October 16, evening, stated news reports. According to the police, the men accused were on the run. It was reported that the girl was allegedly attacked when she was returning home after buying medicines from a local market. "Her family members have informed that the youths caught her while she was returning home from a medical store, which is located on the outskirts of the village," a police officer was quoted by news reports. The teenager confided in her parents, who filed a complaint at the local police station. Angad Prasad Tiwari, station house officer (SHO) of the police station, told the media that a first information report (FIR) has been filed under the relevant sections of the Indian Penal Code (IPC) and the Protection of Children from Sexual Offences (POCSO) Act, 2012.
The state under the leadership of Hindu priest-politician Adityanath has been under the scanner since the lockdown for multiple instances of crime against women in Uttar Pradesh. The incident reported on Friday, is just another in a long list from October 2020 alone. The public outrage and political attention that had flared up after the rape, muder, and hastry cramtion of the Dalit teenager from has begun to fade it seems.
While launching this latest 'Mission Shakti' project for women, CM Adityanath said, "there will be a separate room now for women complainants in 1,535 police stations across the state, where a female Police constable will attend them & there will be urgent action on their complaint. Culprits of crimes against women will be punished swiftly."
However the ground reality is different and it is not known how 'Mission Shakti' will help change anything. Here is just a sample of crimes against women reported from Uttar Pradesh state in just October 2020
October 14, Barabanki: Teenage Dalit girl's body found in paddy field
The victim's family suspect rape as they found the half-naked body of their teenage daughter on night of October 14, 2020, in a paddy field where she had gone to work. The Uttar Pradesh's Barabanki police found her the tied-up and half-naked body of a teenage Dalit girl in the village paddy field. The area is only 40 km from the state capital Lucknow. Media reports quoted Superintendent of Police RS Gautam saying that an initial probe suggested that the girl was strangled by her own shirt. The family members alleged that her semi-naked condition suggested sexual assault too. Gautam said the girl was missing, after she left home to cut paddy crops. The family found her body in the field while searching for her on the same night. The incident occurred in Tipri village within Satrikh police station limits. Police and the administration did not share the post-mortem report but sought the opinion of doctors, who carried out the post-mortem examination, regarding the possibility of rape.
October 13, Gonda: Three Dalit sisters, minors, attacked in their sleep with acid
Three Dalit sisters, all of them minors, were attacked with acid while they were asleep inside their residence in Uttar Pradesh's Gonda district. It was a tweet by the Gonda police that made the incident public. The oldest of the three, aged 17, had 35 per cent burn injuries, while the other two, aged 12 and 8, escaped with 25 per cent and 5 percent burn injuries, respectively. The family members told police that at around 2 A.M, all the three sisters came running downstairs, howling in pain. Their father initially thought the burn injuries were from a gas cylinder, but later realised it was an acid attack. The girls' parents recently fixed the marriage of their eldest daughter, a high school passout. She received the maximum burn injuries out of the three girls. The family does not suspect anyone so far, SP Pandey said, adding that the attacker must be from the same locality as it's a small town.
October 11, Jhansi: Teen alleges rape on college campus
A class 10 student alleged that she was raped by a college student, robbed and filmed by around a dozen more. The 17-year-old girl complained to the police that she was raped on Sunday, allegedly by a student of a Jhansi college. She alleged that the assault took place in the college campus even as preliminary exams 2020 were underway for the Uttar Pradesh Provincial Civil Services (PCS). According to a report in The Hindustan Times, the girl, a class 10 student, alleged in her police complaint that "around a dozen students of the college forcibly took her inside the campus". She alleged that while one of them assaulted her, and many others filmed an objectionable video. The teenager added that the accused also thrashed the boy she had gone to meet, and threatened to to "make the video viral if she revealed the incident to anyone." A news report stated that the college principal said the accused were second year students, and that the institute was cooperating with the police in establishing the identity of other students involved in the incident.
October 11, Chitrakoot: 15-yr-old Dalit 'gangrape victim' takes her own life
In a gruesome case of gendered assault, her family members have alleged after her death that she was raped by three men in a forest area on October 8, the UP police said. The Dalit teenager, who was allegedly raped by three men, ended her life by hanging herself in the Chitrakoot district of Bundelkhand, Uttar Pradesh, police officials stated. The Superintendent of Police (SP), Chitrakoot Ankit Mittal publicly stated that the 15-year-old girl hanged herself in her house in the Manikpur area on Tuesday. It was after the girl's death, her family members alleged that she was raped by three men in a forest area on October 8, the officer said. On the basis of a complaint from the victim's family members, a former village head's son Kishan Upadhyay and two others were arrested under the relevant sections of the Indian Penal Code (IPC), the Scheduled Castes and Scheduled Tribes (Prevention of Atrocities) Act and the Protection of Children from Sexual Offences (POCSO) Act, Mittal said.
These are just some incidents of crime against women which have been placed on record, there may be many more which may have not even been reported.
According to the National Crime Records Bureau's 'Crime in India 2019' report, Uttar Pradesh had registered 59,853 cases of crimes against women, the highest in the country from January 1 to December 31, 2019. The NCRB report was made public September 29. Uttar Pradesh reported the second highest number of rapes: 3,065, after Rajasthan which reported 5,997 rapes. Uttar Pradesh reported 34 rape-murder cases out of 278 reported all India, it was the third highest.
Meanwhile, 'Mission Shakti' in its first phase will focus on "spreading awareness towards ensuring the safety and dignity of women and girl-child" stated a report in The Tribune. The CM said: "Those who cast an evil eye on the dignity and self-respect of women will find no place in the state. Perpetrators of such crimes are a blot on society and the government will deal with them with an iron hand." The campaign will continue for the next six months.
As far as the Ministry of Women and Child Development is concerned, it has not even addressed the spate of crimes against women in Uttar Pradesh, or any other state, because according to the minister "Police and public order are a state subject and thus the state's responsibility." Recently, when she was asked about government measures to contain the menace of violence against women, Union Minister Smriti Irani said, "Police and Public Order are State subjects under the Seventh Schedule to the Constitution of India. The responsibilities to maintain law and order, protection of life and property of the citizens rest primarily with the respective State Governments." This statement came along with data that showed a growing rate of crimes against women. In December 2019 it was reported that Parliament data showed many States had failed to effectively use Nirbhaya Funds.
Related:
A 17-year-old Dalit girl was found hanging in Delhi, why is no one asking questions about
CJP moves Supreme Court in Hathras case
Hathras horror: News channel teams up with serial hate offender to spread anti-victim propaganda
No cases of child sexual violence in Gujarat since 2017?
Whatever happened to 'zero tolerance' for child abuse by 'godmen' and priests?
Another Rape! 17-Year-Old Kidnapped, Gang-Raped For 22 Days: Odisha
Woman sets herself ablaze in front of Assembly building in Lucknow!
NAPM condemns Caste and Gender-based violence in BJP ruled-states