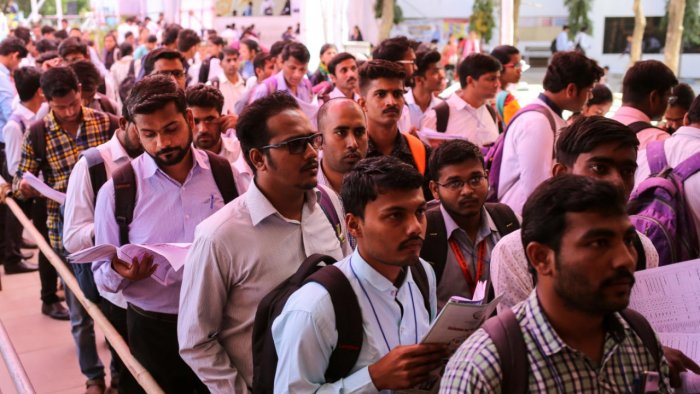 Representation Image | Reuters
Out of every 100 persons in the north Indian state of Punjab, currently ruled by the Aam Aadmi Party (AAP) only seven are unemployed. This was revealed in the unemployment data recently released by the Centre for Monitoring of Indian Economy Private Limited (CMIE). With an unemployment rate of 6.8 per cent, Punjab has fared better than the national average of unemployment, which is at 8.6 per cent. State elections were held in Punjab in February 2022, before which this state has been consistently with the Congress party.
However, according to the same data, both Himachal Pradesh (HP) and Punjab are states that are better placed than neighbouring Haryana having an unemployment rate of 37.4 per cent. Himachal Pradesh is also at 7.6 per cent, 0.8 per cent more than Punjab. Haryana has been ruled by the Bharatiya Janata Party (BJP).
Predictably, economists of the state itself have looked at the data with suspicion. Government sources state that the government was working to provide jobs to the youths especially the labour department as well as the employment generation department in Punjab. Punjab's record is interesting: it has set up District Bureaus of Employment and Training and has been imparting skill training to the youth. Former Chief Minister Amarinder Singh's government had stated Ghar Ghar rozgar scheme under which Rozgar Melas were held and the youth were given placement options.
Economists in Punjab, however, do not agree with the data, reports The Indian Express. Dr Lakhwinder Singh Gill, Prof of Economics, Punjabi University, Patiala said that it is difficult to draw long term conclusion from the quarterly data, "Relatively, the rate of unemployment is not only high but very high in Punjab if you look at the situation especially in last 10 years. The unemployment rates are much higher if you look at the number of youths going abroad in search of jobs, filing applications with various embassies, and preparing for IELTS. It clearly shows the younger generation is disheartened."
He further told IE that the disillusionment has reached a pinnacle in Punjab whereby youths are so disillusioned with the whole system that they do not report unemployment that they do not get registered with the employment exchanges. Further poor conditions of employment, put them off. Another noted economist, Dr SS Johl asked, "The labourers get work. How many jobs do MBAs and MCAs get?"
Government defense
A functionary of the government however said that around 21,000 youth have got employment since April 1. More than 22,000 government jobs have been advertised.
Defending actions to increase employment opportunities, the employment department through its district offices is facilitating employment in private sector with target of facilitating private sector employment to 13000 candidates per month. In addition, self employment facilitations are provided as per the state level bankers committee targets. As many as 15,000 employers post vacancies and jobseekers apply against these vacancies without the mediation of the government, through a government digital platform.
The skill training eventually aimed at targeting training of 70,000 youth per year is being made available by the Punjab Skill Development Mission (PSDM).
Also read: Declining trend in unemployment rates in urban and rural areas: Ministry of Labour when in the just concluded Parliament session, the Ministry put forth data to indicate that total unemployment rate for 2020-21 was at 4.2%
Who is CMIE?
The CMIE is a privately held company that serves as both an economic think tank and a source of market intelligence data. The CMIE research department has developed databases on India's economy and private sector companies. The unemployment rate is computed as the number of persons not employed but willing to work and actively looking for a job as a percent of the total labour force, where the total labour force is the sum of all those who are employed and those who are not employed but are willing and looking for a job. The data for the year 2022 is as follows: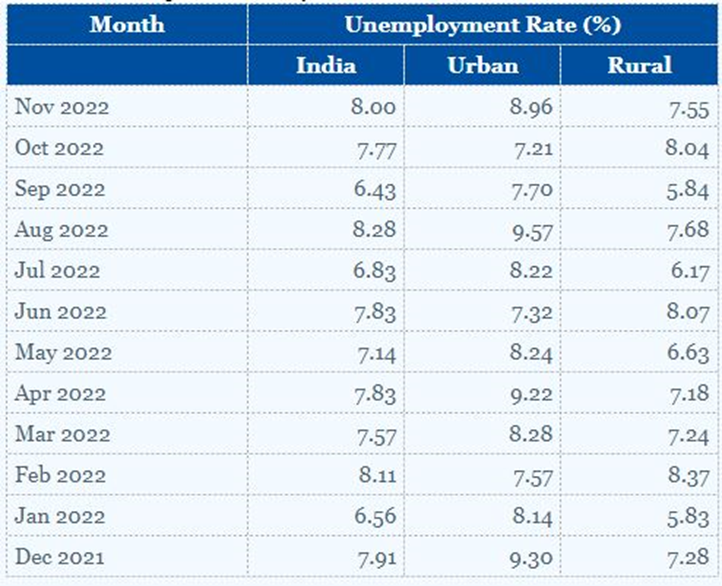 Related:
Fewer Jobs, Lower Wages: Workers Flay Centre for Neglecting their Interests
Madhya Pradesh has 7.72 Lakh Registered SC/ST Youths Without Jobs: Govt Data