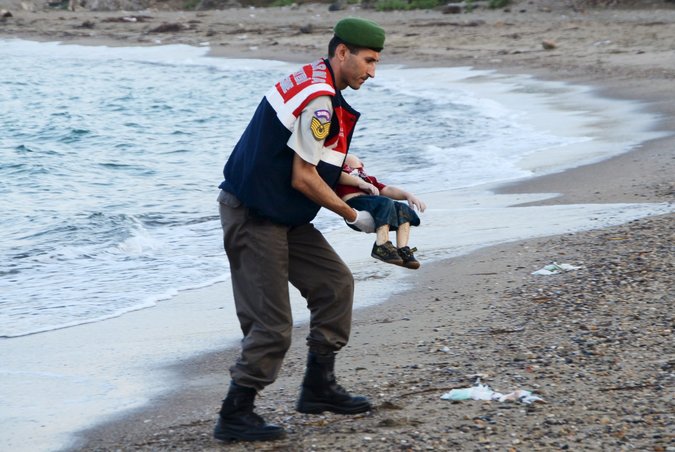 Courtesy: Nilufer Demir/DHA, via Reuters
When the photograph of a young, innocent Syrian boy, face down in the sand as his dead body was washed onto a beach in Europe, shook the world, there were mixed reactions on social media (anti, sic) as always. Wisely many asked whether we would be or are moved when we see pictures of a poor, hungry, almost dying Indian child. Not so pretty, not in jeans, not in the West. Others asked why Muslims go to the Arab countries when they want to pray but to the West when they want rights (and dignity).

The City of Vienna had a wonderful, dignified message for the refugees, put up on a plaque "We have prepared for supporting you during your stay and as you continue your journey. Members of the Austria Federal Railways, Caritas [Christian charity], the Vienna paramedics and the police are here at the railway station to meet you. You can recognise all members of the assistance team by their special clothing. If you have any questions please do not hesitate to ask them. Many Viennese are supporting us as we distribute food and water to you. Interpreters (translators) are available. Any medical assistance you may need can be provided on site. We are doing our very best to organise assistance. You are safe. The City of Vienna." The Pope too had a wonderfully compassionate message.

Critical thinkers pointed out that it was US Foreign Policy, its greed for oil and its cynical play on politics that had caused the havoc and misery in Syria, Iraq, Yemen, Palestine, South Sudan, Afghanistan etc, where people's lives are at risk. There is no food or healthcare, no access to education; sexual violence is an everyday reality; and forced slavery is rampant. When an overcrowded shanty little boat at sea is safer than the land you have called home, desperation takes on a new meaning. But there is another question that needs to be asked. Blame as we will and must the West for its dark designs through foreign policy what about the well heeled Shaikhs in the wealthy Arab World? Will they escape censure or comment altogether? And why?

Britain must be criticised for its narrow-minded cold heartedness, Germany and Austria praised. But why is almost nothing said about another set of stakeholders who almost certainly should be doing more: Saudi Arabia and the wealthy Arab states along the Persian Gulf. It has been pointed out, the six Gulf countries — Qatar, United Arab Emirates, Saudi Arabia, Kuwait, Oman and Bahrain — have offered zero resettlement places to Syrian refugees.

Jordan is a wonderful exception. Iraq has also taken many in. The crisis began in 2011. Every year of the conflict has seen an exponential growth in refugees. In 2012, there were 100,000 refugees. By April 2013, there were 800,000. That doubled to 1.6 million in less than four months. There are now four million Syrians scattered throughout the region, making them the world's largest refugee population under the United Nations' mandate. At this rate, the U.N. predicts there could be 4.27 million Syrian refugees by the end of 2015 — the worst exodus since the Rwandan genocide 20 years ago.

Jordan's Za'atari, the first official refugee camp that opened in July 2012, gets the most news coverage because it is the destination for newly arrived refugees. It is also the most concentrated settlement of refugees: Approximately 81,500 Syrians live in Za'atari, making it the country's fourth largest city. The formerly barren desert is crowded with acres of white tents, makeshift shops line a "main street" and sports fields and schools are available for children.
A new camp, Azraq, opened in April 2014, carefully designed to provide a sense of community and security, with steel caravans instead of tents, a camp supermarket, and organized "streets" and "villages." Because Jordan's camps are run by the government and the U.N. — with many partner organizations like Mercy Corps coordinating services — they offer more structure and support. But many families feel trapped, crowded, and even farther from any sense of home, so they seek shelter in nearby towns.

Iraq has set up a few camps to house the influx of refugees who arrived in 2013, but the majority of families are living in urban areas. And in Lebanon, the government has no official camps for refugees, so families have established makeshift camps or find shelter in derelict, abandoned buildings. In Turkey, the majority of refugees are trying to survive and find work, despite the language barrier, in urban communities.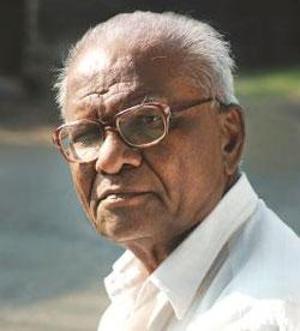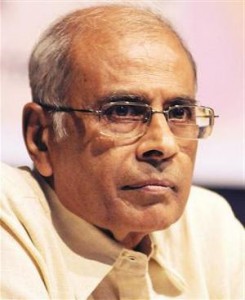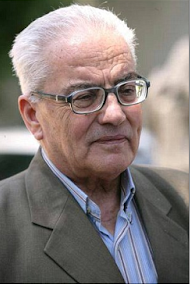 Dr Kalburgi, Govind Pansare, Narayan Dabholkar, Khaled-al-Asaad

So it is a problem of huge proportions, which we, the people of this world, need to address from the prism of humanitarianism, not identity. Yet, when I raised the issue on Facebook, I was asked what should be done when 'Muslim migrants go on the rampage at the Austria/Italy border and behave like savages?' There is a link to a particularly rabid piece that says this is a 'savage take over of a civilized West.'

And just a few days before this news, Khaled-al-Asaad, an 81 year old world renowned archaeologist who studied, wrote and documented the ancient ruins of Palmyra in Syria for 40 years was cold-bloodedly beheaded by Islamic State (IS) militants. He had been held for about a month by the group, which seized the Unesco World Heritage site in May this year. The 81-year-old's family informed Syria's director of antiquities Maamoun Abdul Karim that he had been beheaded after being tortured. He was killed and a spectacle made of it, at a square outside the museum in the modern town next to the ruins, also known as Tadmur, in front of dozens of people. Mr Karim said IS militants had tried to extract information from Mr Assad about where some treasures were hidden. He described Mr Asaad as "one of the most important pioneers in Syrian archaeology in the 20th Century".

The murder has been denounced as a "horrific act" by Unesco, the UN cultural organisation."They killed him because he would not betray his deep commitment to Palmyra," Unesco Director General Irina Bokova said in a statement. IS has demolished several ancient sites in Iraq, and there are fears that it will destroy Palmyra, one of the archaeological jewels of the Middle East. Photos apparently showing Mr Asaad's body tied to what appears to be a lamp-post adjoining a main road have been circulated online by IS supporters. His severed head was placed underneath it. A sign attached to the body accused him of being an apostate who was in regular communication with and supported the government of Syrian President Bashar al-Assad.He was also accused of representing Syria at overseas conferences with "infidels", in addition to being director of Palmyra's "idols". The summary killing was one of several that have been carried out by IS in and around Palmyra since they took the city in May.
Mr Asaad spent most of his life working to promote and protect Palmyra. He died died trying to protect it. Since overrunning Palmyra, IS has destroyed a second century statue of a lion and two nearby Islamic shrines, which it described as "manifestations of polytheism". Syrian government forces have sought to drive IS out of the Palmyra area in recent months and there has been fierce fighting in nearby towns. UNESCO's statement said that Mr Asaad's death was part of two intense blows within a week that had been endured by Syria's cultural heritage community. It said that Qasem Abdullah Yehiya, a senior member of the Directorate-General of Antiquities and Museums, was also reported to have been killed in a rocket attack on the Citadel of Damascus last week.

In 1990-1991 as the Gulf was plunged into an endless cycle of war of the USA's making, the first brute assault on the region's history and culture had taken place. US forces destroyed, without remorse, the Museum(s) and sites housing and symbolising ancient Iraq, Mesopotamia's treasures, which in fact are the world's history. There was little acknowledgement, and remorse from the West.

Yet as today we see signs of this growing intolerance and violence, raising its vile head in our own land, what should be our response? Babri Masjid was destroyed in full public view on 6th December of 1992. The ideological descendants of that crime ensured over 270 Durgahs and Masjids were reduced to rubble in 2002. Yet the rich shaikhs of the UAE welcomed those culpable even as week's later one road in our capital was purged of Aurangzeb and re-named Kalam. Dr Kalburgi was shot dead, what possible threat could a 78 year man be except through his ideas? Before that, this year Govind Pansare and even before that Narayan Dabholkar.

When I gaze at the awesome structure of Humanyun's tomb in New Delhi I wonder how it will be re-named to? But then I wonder whether I should also see the powerful temple structures at Hampi in south India as mine as much as anyone else's?
Our history is all history, not just the Hindu or Islamic or Christian part.
It is these labels that have brought out the bloodthirsty mob in us.

A version of this appeared as the author's weekly column in the daily, Rashtriya Sahara in early September 2015