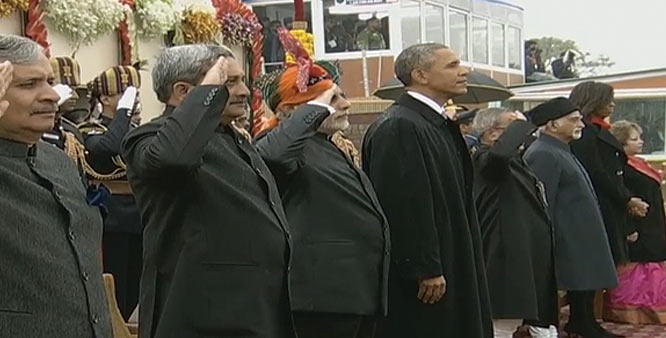 Courtesy: DD National
What was different about this Republic Day? The fact that a pracharak stood as elected head of the Indian government in clothes costing, at the very least 1,000 days of minimum wage earnings and at worst three times that obscene sum? Or the fact that the government of India's customary advertisement in newspapers greeting Indians, conspicuously omitted the word 'socialist' and 'secular'? Or the fact that when the US head of state stood at the Parade, he was not allowed to stand next to our President as is protocol so that photo-ops could be the sole preserve of one individual?
Or the vitriol unleashed on the anti-social media against our vice President Hamid Ansari because he observed protocol and did not salute the national flag? It seems that no matter how many times a Muslim swears his allegiance to India, doubts will always be cast. The disgusting levels of discourse on twitter and facebook, using labels like 'Jehadi sympathiser', 'anti-India' and 'traitor' for Mr Ansari will most certainly not be acted upon. The otherwise over-zealous IB and police machinery will cynically allow this abuse of our Vice President to simply happen, and pass…
What is the actual protocol? According to section VI of the Flag Code of India, , "During the ceremony of hoisting or lowering the flag, or when the flag is passing in a parade or in a review, all persons present should face the Flag and stand at attention. Those present in uniform should render the appropriate salute". Prime Minister Narendra Modi, President Pranab Mukherjee, vice president Ansari, US President Barack Obama, defence minister Manohar Parrikar were not in uniform and were therefore not required to salute the flag. Yet Ansari, by observing protocol has become the target of bitter and violent hate-letting.
What is it about the visible/audible Indian psyche on the internet that is so aggressive, narrow-minded, and almost always threatening in tone and tenor? It is almost as if genuine discussion and dialogue are infra dig and Hate Rules ..on the internet. It appears obvious that much of this violent hate-spilling is calibrated and sponsored by powerful right-wingers on both sides of the ideological spectrum, prepared, ready, paid and willing to pounce…on the victim. At a discussion in Hyderabad on internet freedoms and privacy, a year ago, I had made a strong pitch for disclosure parameters on the internet so that new users would know who and what is guiding their thoughts. Disclosure on who owns sites and portals.
It has been an eye-opener for me to find out how, Niticentral a BJP-Modi backed (Lower Parel, Mumbai-based portal) swiped India Against Corruption's entire data base to spread its sinister tentacles in support not just of the last election campaign, but in spreading insidious lies against the perceived enemies of the fuhrer. If the young and enthusiastic internet user were to be informed about the monopolistic and sponsored twitter handles and facebook pages and emails –all going back to associated sources—motivations behind this hate letting would become very clear.
Turning back to the month of January, and the start of the new year, communal violence was carefully fomented in Bihar (Muzaffarpur), Gujarat (Hansod) and Maharashtra (Pachaura, Jalgaon). Lives were lost in Muzaffarpur (minorities were the brute target) and agricultural lands were made the target in Hansod. Over 150-200 acres of sugarcane fields were razed to the ground as a police force again watched. A fact-finding team under the PUCL is soon to be bringing out a report. In Pachaura, Jalgaon, local peace initiatives by a citizenry backed by a non-partisan police administration helped quell an escalation of violence after local Vishwa Hindu Parishad and Bajrang Dal units launched unprecedented attacks on the Jama Masjid and the Noor Masjid. Thanks to local peace keeping efforts matters were controlled overnight.
What was different about this Republic Day? The fact that a pracharak stood as elected head of the Indian government in clothes costing, at the very least 1,000 days of minimum wage earnings and at worst three times that obscene sum
The time is ripe for a national citizens initiative for peace mapping and promotion and tackling the build up to violence. With the current regime in Delhi investing in hatred rather than civilised behaviour, it is clear that we Indians cannot expect much from a government that wishes to keep communal temperatures on the boil. We need to assert out rights under Indian law and the Indian Constitution and these rights guarantee us a life free of hatred and violence. Jointly, through city and village level, cross community initiatives we need to assert these rights with the police and district administration, No more violence, no more holding our villages, towns and cities as victim to violence. The police and administration must act under the law; if they do not we must together, Hindus and Muslims alike, ensure that they act and give us a life of both peace and security.
Hence our ambitious Peace Mapping initiative in which I invite you to join. Help us identify the build up to violence: the signals are sure and time-tested. Hate speeches and hate writings; provocative actions by state and non-state actors, socio-economic boycott, segregation, rumour mongering, visits by a certain class of politicians, unsubstantiated campaigns by local media . These are some of the time-tested categories which, if monitored closely and acted upon, can actually be the warning signals for us to pro-actively intervene with the local communities and the administration to prevent the outbreak of violence. If sometimes and unfortunately violence does break out, we must move in to contain the fall-out. No more can we depend upon the state for this assurance of peace.
Come then let us ensure that we help keep the peace. Map the build up and intervene. Not to do so would be to become mute spectators to a sinister plan to keep public temperatures on the boil through hate-letting, allowing violence to be spilt whenever it is politically expedient.
Hate Hurts, Harmony Works…let us put that maxim into real time practice.

A version of this appeared as the author's weekly column in the daily, Rashtriya Sahara